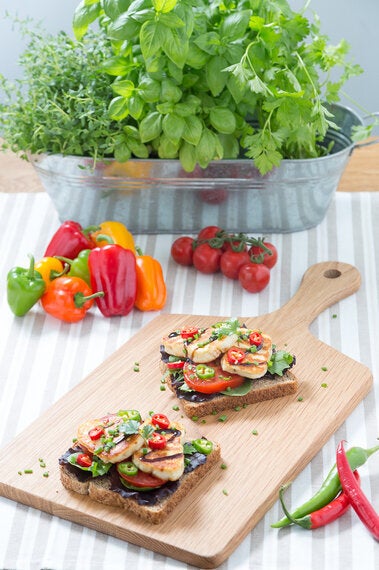 This open grilled halloumi sandwich is perfect for little ones over the school holidays, summer picnics and garden parties.
Ingredients (for 4 slices)
For the balsamic reduction
250ml of Modena balsamic vinegar
2 tablespoons of an unrefined sweetener, I use honey but you could also use coconut sugar or maple syrup.
200g of good quality halloumi cheese, sliced.
4 slices of rye bread or gluten free bread
A handful of garden leaves
2 large salad tomatoes, sliced
2 fresh chillis, de-seeded and sliced
A handful of fresh chives, diced
a sprig of fresh coriander.
Start by making the balsamic reduction by adding vinegar and honey to a medium sized pan. Bring to a simmer over a medium high heat then adjust to a low heat for around 10-15 minutes whilst the liquid thickens and reduces.
Keep an eye on the syrup - you don't want it to burn. Reduce until you reach your desired thickness and then store in a glass bottle.
For the open sandwiches, start off my heating the grill. Line a baking tray with foil and place on your halloumi slices. Grill until golden brown - which should take around 3-4 minutes.
Lightly toast your bread and then top with leaves, tomatoes, halloumi, chilli and chives.
Drizzle a generous helping of balsamic.
Finish off with a sprinkle of freshly ground black pepper and the coriander leaf as garnish.