Spring is here, and it's the best time of the year to spend a Saturday looking for choice pieces for your home on a budget - time to hit the flea market and find the bargains that will transform your house (after a bit of spit and polish).
Flea market shopping is more popular than ever, with home and living budgets becoming smaller, and the eclectic style - explained here - growing into a hot trend. But hitting the markets can also a test. Wave goodbye to the comfort of IKEA and furniture showrooms and get ready to face the bargaining workout of your life. Here is a guide on how to prepare and face the crowds while hunting for your dream bargain.
Make a list, don't Stick to it
Scope your home and think about what you really need - a new bedside table? A vintage mirror for your living room? Make sure these are the items you are specifically looking for so you have a focus in the messy world of flea markets.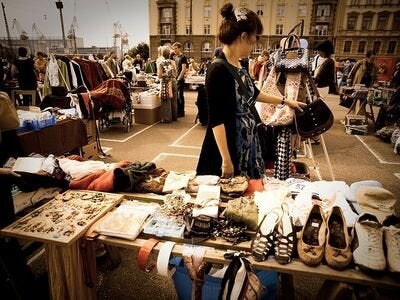 However, don't completely cut yourself off - the real excitement in flea market shopping is discovering the unexpected items you never even knew you needed, or unusual items you think you really finish off a room, but make sure you don't blow your entire budget on these treasures.
Make sure you have transport sorted - a car with lots of room and a roof rack is ideal, or even a van (you never know what you're going to fall in love with at a flea market). If you don't own a car, bring a friend who can drive and offer to buy them lunch, or even hire one for the day. Make sure you park as close as possible to the market (this will involve rising early and getting there before the market opens).
The list is your plan and you are bound to veer wildly away from it - but make sure you give yourself a break to grab lunch and account of how much money you've spent. Most flea markets have food trucks where you can grab some delicious street food - remember to take a little extra cash for your shopping fuel!
It's a Flea Market, not a Catwalk
Don't dress up, dress sensibly - Comfortable shoes, light clothing, and a bag filled with a bottle of water, snacks, sunglasses and plenty of cash (make sure it's secure) is needed. Make sure you don't wear anything with a label on show - comfortable non-brand clothes will make it easier for you to bargain.
A perfect flea market accessory is a trolley with wheels - just like what grannies take to the supermarket!
Take a certain amount of cash with you - whatever you are willing to spend in one day. This keeps you at a budget, and the temptation to blow it all on a single vintage chandelier is gone. If you *really* do fall in love with a piece outside your budget, ask to reserve it and run to the nearest cash point!
Arrive early and leave late - it sounds exhausting, but this is the best way to spend your money. You can catch the best items in the first couple of hours, and grab some real bargains in the later hours when stand owners are looking to get rid of as much as they can.
Don't visit every Single Booth
If you don't like what you see when you eyes fall on it, you're not likely to find anything perfect when you dig around. Visit the stands that instantly appeal to you. If you fall in love with an item - go for it. If you love the item, so will other people, and if you save to snap it up later, you may find someone else had the same idea as you - but ten minutes earlier. Flea market shopping is a little dog eat dog as there will only ever be one of each item - so don't browse and float - love something and buy it!
Haggling is a fine art which is hard to get right first time around - don't nod and smile when you hear the price. Insist that you can only afford a certain amount, but don't insult the stall owner - make sure you offer a price that is 25% knocked down, not half the original price. Be friendly and don't whine about prices. It helps to choose multiple items before offering to make a purchase, it makes haggling for a deal much easier. If you're buying a big and a small item, the small one might end up being a freebie!
Keep your eyes peeled for designer pieces - You will not believe what some people will chuck away. If you have favourite designers and artists, read up on their style and check for anything that may be one of theirs - designer ceramics, furniture and accessories are often exchanged for mere pennies on the flea market scene. Earlier this year, a woman in Virginia found a priceless Renoir at a flea market. You won't find a magical discovery every time you hit the market, but the more knowledge you acquire, the more often you will find something very special.
Appearance Isn't Everything
Don't ignore the items that look a little unloved. If an item is very cheap and needs a little work, upcycling an old piece will give you a completely unique piece of furniture that doesn't cost too much. Take into account the extra cost of reupholstering, updating light fixtures and giving your items a polish and lacquer, but if an item is a little beat up - you can fix it up and make a huge saving.