Whenever you see a fundraising campaign, the charity beneficiaries always seem to be the same, time after time. Whilst charities such as Cancer Research and the Save the Children Fund are vital, there are many much smaller charities that are helping people and saving lives that most have never heard of.
It is so important that these smaller charities receive exposure too as they vitally need funding as well. With this in mind, today I want to highlight a charity called "National Ugly Mugs" which aims at protecting sex workers from violent offenders.
The term Ugly Mugs was first developed in Australia in 1986, where the phrase 'ugly mugs' was used to describe punters who became violent. They understood that distributing descriptions of 'ugly mugs' could warn other sex workers and help to keep them safe. The first schemes in the UK were started in 1989 in two cities and are now run nationwide.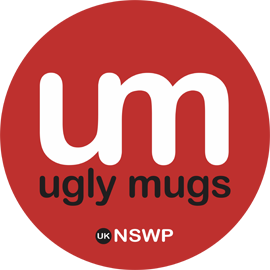 So why should you care about the lives of sex workers?
Since 1990, 149 sex workers have been murdered in the UK. A study undertaken by the Home Office shows that more than half of women in prostitution have been raped and or seriously assaulted and at least 75% have been physically assaulted. Those figures would pose a significant argument for crimes against sex workers being treated as hate crime.
A report by the Trussell Trust has showed an appalling rise of 163% in people having to utilise food banks, with nearly one million adults and children being forced to access them in the last year. The austerity measures implemented by the Government has forced many people into looking for alternative ways to make ends meet and for some, this can lead to sex work.
The atypical image of a sex worker is a scantily dressed woman on a street corner but the truth often is, especially in the current climes, that it could also easily be your next door neighbour; un-noticeable to a passer-by in the street.
The Home Office study shows that 74% of women in prostitution identified paying household expenses and supporting their children as being the primary instigators in being drawn into prostitution.
This is why National Ugly Mugs needs your help. Everyone deserves help and everyone deserves support. You cannot impose a moral line on safety depending on what you deem to be acceptable. It is only with schemes like the National Ugly Mugs that sex workers are feeling more confident about coming forward and reporting crime because of the stigma involved and the worry that they will not be taken seriously.
Whatever someone's reason for turning to sex work is, they deserve to be safe and need assistance in being able to obtain and maintain that safety. This is where National Ugly Mugs comes in.
Alex Bryce, Director of Services at National Ugly Mugs has said
"National Ugly Mugs is saving the lives of some of the most unfairly stigmatized people in our society and bringing to justice some of the most dangerous offenders."
The National Ugly Mug's reporting scheme is vital in bringing information about dangerous individuals to the attention of local constabularies and the National Crime Agency. This has already led to nine convictions of serial repeat offenders. In its first year of offering supporting, 480 incidents were reported, including 120 sexual assaults.
You can make a simple one off donation via text to "UGLYOO £10" to 70070 or donate whatever amount you wish via Just Giving.
Donating just £5 would pay for 100 SMS alerts to be sent out. 16% of sex workers have reported that they have been made aware of and avoided dangerous individuals as a result of these text messages. Even the smallest thing can make a difference to someone's life.