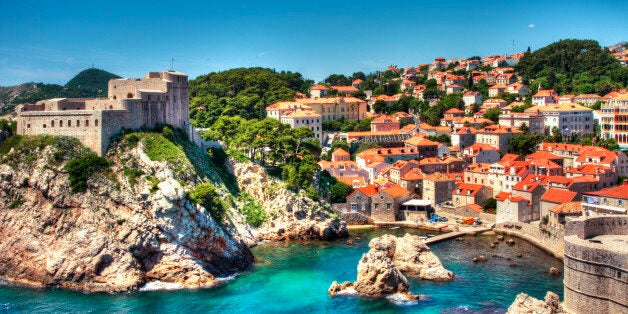 Renowned for its enchanting architecture, translucent azure waters and dazzling sunshine, it's little wonder that Dubrovnik has been a top Mediterranean tourist destination for several centuries. At the southernmost tip of Croatia on the Adriatic coast - now a UNESCO world heritage site - it has won the heart of everyone from Byron to Beckham. So here are some suggestions for how to make the most of 48 hours in this charming city:
10am. The number one thing to do in Dubrovnik is take a tour of the ancient city walls. This 6m-thick impregnable barricade of stone, intersected by fortresses, has kept hostile Venetians and Turks at bay since medieval times. At ground level, Dubrovnik can often feel like an unfathomable labyrinth of winding streets and plazas, but from up here you can begin to understand the town's geography. Glorious views of boats gently bobbing in the harbour are more than enough reward for the 2km walk.
1pm. Stradun is the main street and central hub. Unusually it's paved with marble, buffed to a glossy sheen by millions of footsteps trudging over it year on year. It's flanked by myriad pizza restaurants and cafes which are usually overflowing with tourists. But if you deviate from the main stretch, you can find some great little Konobas (cafes) preferred by locals. For example, Yummi Fast Food, Caffe Bar Rio and Skola.
3pm. Dubrovnik is famed for its stunning beaches; the most iconic being Banje at the foot of the city wall. Boasting views of the harbour, the old town and neighbouring islands, it's a gorgeous way to spend the afternoon swimming and sunbathing and the perfect place to watch the mesmeric sunset. But if that's too crowded, head to the West Gate where you can relax at the hidden Sulic pebble beach.
7pm. Being a maritime town, the seafood in Dubrovnik is outstanding. The local cuisine has unmistakable Italian influences, resulting in mouth-watering dishes such as squid ink risotto and grilled lobster with gnocchi. Top restaurants include celeb haunt, Proto, and the equally prestigious Nautika near the Pile-Gate.
9pm. The Dubrovnik nightlife is centred around Stradun in the old town. Here you must try the local liquor -Rakija - a potent herbal spirit and the locally-produced wines. The D'vino Wine Bar in the old town is renowned for its extensive selection of drinks, Buza (by Ilije Sarake) for candlelit vistas, or if you prefer to trip the light fantastic with international celebrities, East-West on Banje beach is the place to be.
10am. Limber down to the harbour and take a boat to Lokrum, the mysterious green island inhabited by peacocks which lies just beyond the harbour. Steeped in history (legend has it Richard The Lionheart visited en route to the Third Crusade) it's home to magical lagoons, an exotic botanical garden and a Benedictine monastery. It's perfect for a lazy morning of sunbathing and swimming. For the brave, there's even a nudist beach.
1pm. With a handful of restaurants on the island, food is readily available on Lokrum. For example, in the charming monastery restaurant. However, your best bet is to pick up fresh local ingredients beforehand from the outdoor fruit and veg market in Gundulićeva Poljana Square, take it with you on the ferry, and enjoy a sumptuous picnic under a shady tree.
3pm. From its illustrious era as a wealthy republic (in fact it was one of the world's first) to the more recent turmoil of the Croatian War of Independance, everywhere you look Dubrovnik is brimming with culture and heritage. This has resulted in a fine collection of museums, most of which are located in the historic city centre. Culture vultures should check out the Maritime Museum, then learn about Croatia's great painters at the Museum of Modern Art and the Dulčić, Masle, Pulitika Gallery.
7pm. Before you leave, try some traditional Bosnian cuisine at the highly-acclaimed Taj Mahal. It's the only restaurant of its type in the city and the perfect place to try delicious middle-eastern dishes. Foodies will know that this style of cuisine is a burgeoning trend in the UK and you shouldn't miss this golden opportunity to sample the real thing.
9pm. From July 10th - August 25th, Dubrovnik has a rich programme of outdoor musical concerts for its summer festival season. Watch a Symphony Orchestra perform in the historic Rector's Palace Atrium, or ballet on the terrace of the medieval Revelin fortress. But if you'd prefer something more contemporary, the Troubadour Jazz cafe is open all year round, and in September Dubrovnik plays host to an international Jazz and Wine festival.
You can see all of my recommendations together on a map here.
Flights out of London go from Stansted, Heathrow and Gatwick. Also, you can fly from East Midlands, Newcastle, Manchester, Leeds Edinburgh, Aberdeen and Belfast. Check out sites such as Expedia and Secret Escapes to compare deals.
July and August are the peak tourist seasons. For a quieter stay and cheaper hotel rates, June and September are ideal off-peak months for visiting.
The Hilton Imperial is the oldest of the grand hotels in Dubrovnik, built in 1897. Located a stone's throw from the old town, it's an ideal base from which to discover the city. Another stunning 5* boutique hotel is the Pučić Palace in the historic old town or if you're looking for somewhere slightly less opulent, Hotels Lapad, Zagreb or Berkeley offer great value for money.