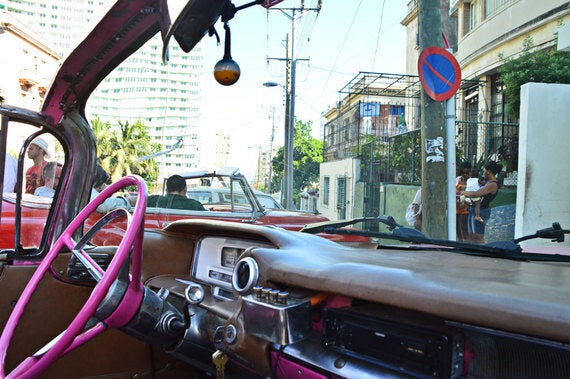 Photo Credit: Victoria Ferran
An impressive number of the world's most famous drinks have come out of Cuba: Mojito, Daiquiri, Cuba Libre, Pina Colada... The list goes on. During a recent visit, I had the opportunity to learn why so many classic cocktails were invented here and discover the best cocktail bars in the city - both new and old.
So why does Cuba have such an influence on what the world drinks?
When Prohibition (1920-33) banned the manufacture, transportation, and sale of alcohol in the US, it certainly brought a steady stream of top bartenders to the island. But according to Dave Broom, drinks expert and author of Rum: The Manual, Cuba's cocktail success is largely due to the rum being drier than its Latin cousins and therefore naturally lends itself to cocktails. "Cuban rum is one of the new kids on the block as far as rums go, the spirit really comes into life in the 19th century. They had a vision to make white rum and create a lighter, cleaner, more delicate spirit. So they brought in modern technology, innovative stills from the UK and France, and fused Jamaican expertise with Cuban vision."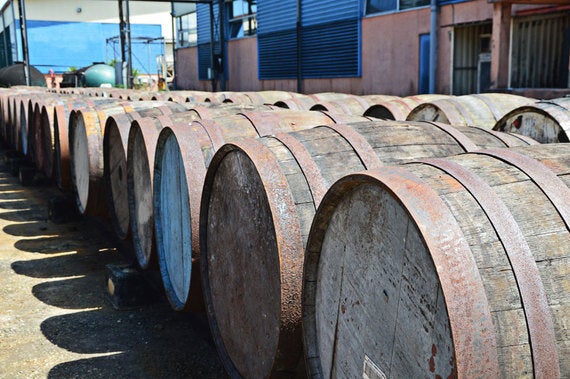 Photo Credit: Victoria Ferran
Fast-forward two centuries and rum is deeply embedded within the country's culture. It fuels music, dance, religion and most of the social activities integral to island life. Something Nick Blacknell has experienced first hand: "People give you rum at their house, musicians drink it, people dance with it. Could you have Cuban dance without rum or vice versa? It's interesting to wonder."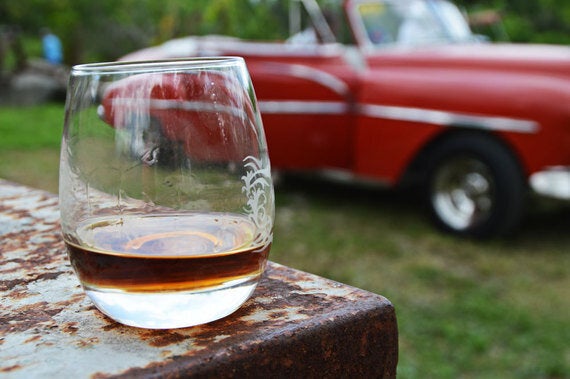 Photo Credit: Victoria Ferran
The Hotel Nacional(Calle Obispo Esquina A S/N) is the oldest hotel in the city and a majestic symbol of Cuba's past. Built in the 30s by American architects, it was the most glamourous hotel on the island, a battle site during the revolution, and Castro's headquarters during the Cuban missile crisis. In the 90s, it resumed its role as Havana's most famous hotel, if not quite restored to its former glory. On the central terrace, traditional rum cocktails are served by attentive waiters in black tie. And at $5 for an expertly-prepared Mojito, Daiquiri or Cuba Libre, you can't really go wrong.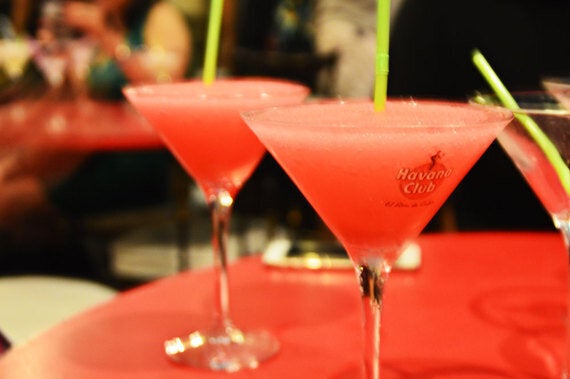 Photo Credit: Victoria Ferran
Bar Floridita (Calle Obispo) is the most famous bar in all Havana. A site of pilgrimage for bartenders and cocktail aficionados from around the world, their Cantineros (bartenders) get through 50-70 bottles of rum a day. For award-winning spirit expert and cocktail historian, Jared Brown, La Floridita is one of the best bars in the world and their frozen daiquiris are an unequivocal symbol of Cuban culture.
The daiquiri is basically Cuban rum, white sugar and fresh lime juice mixed with ice. But there are myriad variations: a Floridita comes with dash of Cuban maraschino liqueur and the Mulata is made with Creme de Cacao. The Cantineros don't measure out the quantities (perish the thought) because they know off by heart how much of each ingredient to put in the blender. And when the whirr of the motor reaches a certain pitch, it's ready to serve.
The bar boasts a glamorous history: the Duke and Duchess Windsor, Ava Gardner, Paco Rabanne, Naomi Campbell and Errol Flynn are just a few of the celebs to have passed through its door. It's most frequent punter, however, was Ernest Hemingway. His vacant chair still stands across the counter and on the menu you'll find a Papa Hemingway Daiquiri with grapefruit and no sugar (he was diabetic). Take note - this isn't the only homage to Hemingway. Cuba is completely obsessed with its former resident.
When you arrive, Jared recommends asking the doorman if Alejandro Bolivar is in. A legendary figure in cocktail circles, Alejandro is the Head Cantinero: "His influence on the bartending community in Havana is remarkable because they see him as an international star which they didn't realise you can become if you work hard enough at it." Ask nicely and he will take you through his passion for classic Cuban drinks.
Given the cliched view of Cuba as a time capsule nation stuck in the 1950s, I wonder if the demand from tourists for endless rounds of retro cocktails might be holding Alejandro - and by extension the Cuban cocktail scene - back? How can the Cantineros experiment and innovate if the blender constantly beckons? Jared and his wife Anastasia Miller (also an esteemed cocktail historian and co-organiser of the Cocktail Grand Prix) explain that tourists throw the Cantineros a lot of money to make the classics: "because when they arrive in Cuba, the level of expectation is "where's my Daiquiri?"".
But they both insist that when looking to progress beyond the classics, Alejandro is your man. "He will take you on a tour of lesser-known Cuban classics such as the Hi-Li or the Cuba Baya or Mazagran". Not just rum but gin too. As Jared points out, gin and rum share parallel histories. "The only difference between a gimlet and a daiquiri is the spirit. It's the same drink".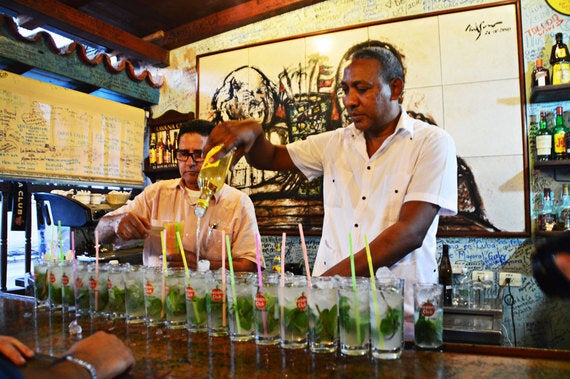 Photo Credit: Victoria Ferran
Cocktail pilgrims also head to Bar Bodeguita(Calle Empedrado), another Hemingway haunt. But for one thing alone - a Mojito. And Sloppy Joe's(Calle Agramonte) - which was originally open from 1917 until 1962, then reopened three years ago in all its former glory, with mahogany bar intact. Bar Monserrate(Esquina Monserrate Obrapía) is also on old classic.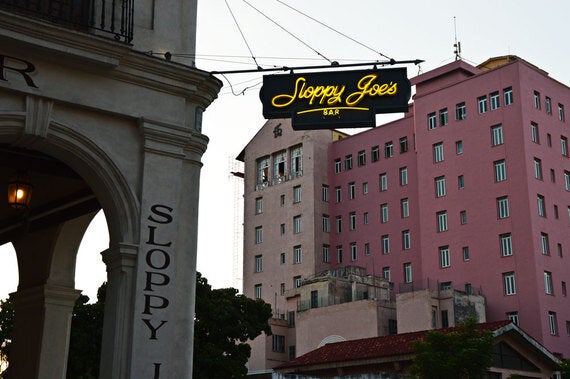 Photo Credit: Victoria Ferran
After a change in legislation, there has been a boom in private businesses across Cuba. Old bars are upping their game whilst new ones are popping up all over the city. Here are some recommendations:
Restaurant La Guarida's roof terrace (418 Calle Concordia) - an immensely popular restaurant recently visited by Beyonce and Jay-Z. The bar just worked on a new drinks menu with award-winning British bartender Andy Loudon - the 2014 Grand Prix champion.
El Cocinero(Calle 26)- this abandoned warehouse in Vedado is a beautiful setting for late night cocktails. The trendy hangout for Cuba's new middle class.
Sia Kara Cafe(Calle Barcelona, esquina calle Industria)- named after a Santeria initiation ritual, an exciting new bar which hasn't yet become a tourist hotspot.
O'Reilly 304(Calle O'Reilly) - If you're not a rum lover (perish the thought), this bar makes excellent gin cocktails.
Versus 1900(Calle Linea, 504 second floor, between D and E) - one of the newest and exciting "paladars" or private-run restaurants.
The Asturias Club roofbar (Prado No. 309, corner of Virtudes) a classic which has just recently reopened.
Jared and Anastasia also recommend going up to the top floor of the Sevilla Hotel(Calle Trocadero No 55, Old Havana) - if you walk out of the elevator and round the back there's an unmarked door. If it's open, you're in a tiny hidden upstairs bar with one of the top Cantineros de Cuba - it's so cool.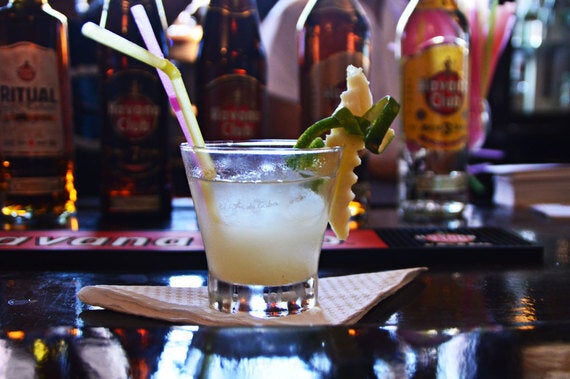 Photo Credit: Victoria Ferran
The future of Cuban cocktail culture?
In its 20th year, the Havana Club Cocktail Grand Prix is the oldest international cocktail championship and is also partly designed to address this question of heritage vs innovation. Global Marketing Director, Nick Blacknell, is well aware that Cuban cocktail culture is in danger of becoming static: "You go to most of Havana bars and what's good is they can all make you a cocktail and there's not many places where you can say that. But they're making the same drinks. So what we're trying to do is fuse the tradition of Cuban cocktails with outside influences, bringing bartenders in and working with them". In this way, the competing bartenders are not rewarded for technique alone but for interacting with the Cuban culture around them.
But do the Cubans want to fuse their revered cocktail culture with the outside world? Nick nods enthousiastically: "Yes. Very much. Cuba has always fused in its art, music and dance with outside influences. It's a country that for all the political situation is very very open to outside countries and influences more than people imagine. So we're trying to inject into cocktail culture what's happened in other areas. Make bartenders think about culture and evolve Cuban cocktail traditions."
Dave Broom agrees: "What's fascinating is how Cuba absorbs all these influences from around the world and they make it their own." Particularly music - from early jazz and then even under Castro there have been fascinating fusions, Dave explains: "The connection with America dwindled but new styles were imported: psychedelic, electro-acoustic, funk." He also has a theory about the role of music in developing Cuban cocktail culture in the 1920s: "If you're a Cantinero during golden age of cocktails, that's going to affect your shake. You'd be listening to upbeat, exciting, emotional music. So it's no coincidence that so many light, fresh, vibrant drinks were created during that time."
However, Cuban journalist and photographer Alain Gutierrez is worried that when America finally lifts its 50 year embargo, his hometown might suffer from too much fusion too soon. His blog, A Taste of Cuba, champions traditional Cuban dishes and local chefs. He tells me: "I want to put my small brick in the wall for the continuation of culinary history in Cuba." For example, he recommends Cafe Ajiaco in Cojima - where they cook the kinds of traditional recipes that nobody else is making in Havana. "It's amazing. It's not expensive but you can find for example a sweetcorn dish that nobody else has."
Alain explains his reason for blogging - which isn't easy in a country with highly unreliable and expensive internet: "If we have economic relations with the US, they are going to bring a lot of new things to Cuba. So what is going to happen with our culinary history in our country? That's the point of my blog. I want to tell stories about the culinary heritage we have in Cuba right now - transmit that to Americans and encourage Cubans to recognise what they have. What they have is valuable. I want to encourage Cubans to continue traditions and persuade them they can build businesses with that." Nevertheless he remains an optimist " I think we're going to have a huge future. We're going to succeed in the end."
Anastasia and Jared are similarly upbeat about the anticipated stampede of American tourists, once the embargo eventually lifts. I asked them how the cocktail bars will cope: "Floridita will be turning people away or they will possibly expand by annexing extra space."
There is much to be optimistic about. Dave Broom and Nick Blacknell, both agreed that Cuba has been openly fusing outside culture with its own throughout its history. But it's also true that Havana is changing at alarming speed. According to Nick, now really is the sweet spot: "You have almost the perfect mix because if Cuba over-modernises a lot will be lost."