Last week London's Merchant Taylor Hall was alive with the sound of whisky. A harmonious melody of fruit, spice, peat, malt, ice and wood filled the air at Johnnie Walker's decadent multi-sensory experience - Symphony in Blue - an event designed to celebrate the cardinal flavours of their most treasured blend.
Each defining characteristic of the whisky was given an opulent room of its own: from an ice palace serving whisky on 10,000-year-old rocks, to a weather room in which guests were thrust into a perfect storm of vaporised whisky, thunder and lightning.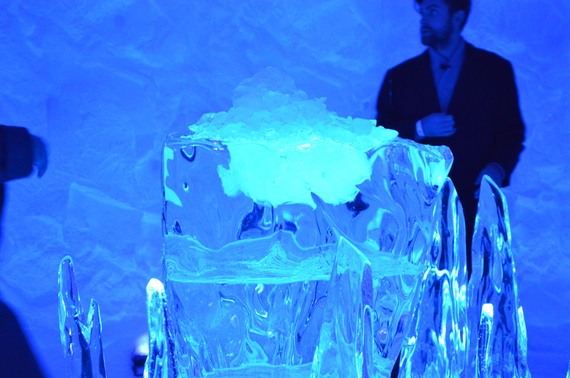 Photo By Victoria Ferran
The pièce de resistance was a majestic organ called the flavour conductor which took centre stage in the banqueting hall. The brainchild of eccentric food empresarios Bompas & Parr working in collaboration with celebrated experimental scientist Professor Charles Spence, it was used to play a three-minute composition written to enhance the six flavour notes found in Johnnie Walker Blue Label.
The possibility of expressing a flavour acoustically may sound like the stuff of science fiction and synaesthetes. However, I've written about beer and music pairing before and the flavour conductor works in a similar way. It's based on cutting edge cross-modal science: neuroscientists have successfully demonstrated how our senses can overlap. Unlike synaesthesia which is a rare neurological condition, this affects all of us and so it's possible for scientists to find general agreement. For example, most people perceive yellow to be more like a high note than a low one. Similarly tests have shown that we tend to associate sweeter flavours with higher musical notes - just think of Tchaikovsky's Dance of the Sugar Plum Fairy.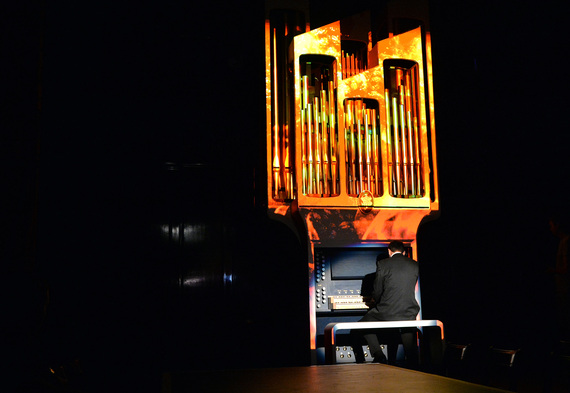 Photo By Johnnie Walker Blue Label Symphony In Blue
Whilst many are matching popular music with food and drink, the flavour conductor goes one step further: Bompas & Parr actually commissioned a specific piece of music to represent the flavours of the blue Label whisky, following a year of intensive research.
"What we did with Professor Charles Spence was a piece of work mapping the cardinal flavours of the whisky and then we described them textually and sonically: in terms of rhythms, patterns, which colours they relate to and what forms of visuals best encapsulate that. And by playing the composition back as you're drinking the glass of blue label, it's almost as if someone's waving a magic wand across the glass and directing your attention to all those cardinal flavours that you find in the whisky itself."
But their endeavour didn't end there. They then had to design and build an instrument capable of playing their multi-sensory piece with exact precision.
"Together we went through a year of iterations of designs of how we could take what we knew and translate it into a living spectacular organ. With an organ it's an entire orchestra in a single instrument. It's also iconic and epic. We've been fabricating it since January and it was only finished three weeks ago."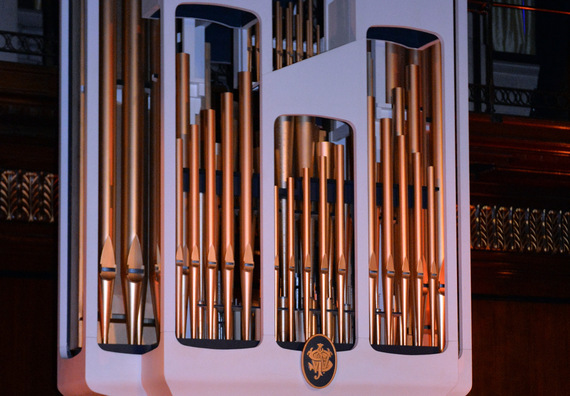 Photo By Johnnie Walker Blue Label Symphony In Blue
The flavour conductor took over 10,000 man hours to build and was crafted in a converted school house in Bethnal Green. Each of the pipes are designed to play a specific note, as indicated by the research, with mystical light projections to further enhance the multi-sensory experience. Furthermore, the instrument is also unique in that it can also be built and disassembled in 24 hours flat enabling it to go on a world tour. But how does the organ correspond to the drink? Bompas & Parr believe that many parallels can be drawn between the whisky and the organ. As Sam Bompas explains, "It's about marrying up historic craftsmanship with something that's very contemporary and forward looking."
The instrument itself is also a nod to the longtime literary fascination with overlapping senses and all its creative possibilities. After all, the classic view of individual senses was first established not by men of science but by philosophers such as Aristotle. In Aldous Huxley's Brave New World, revellers are entertained by a scent organ which emits "rippling arpeggios of thyme and lavender". Before Huxley, French symbolist poets were questioning accepted theories of perception and exploring multi-sensory experiences through metaphor: Charles Baudelaire, in his poem Correspondences, compares the smell of perfume to sounds, colours and textures. Later, Arthur Rimbaud went as far as to assign a colour to each vowel sound: A black, E white, I red, U green, O blue.
Baudelaire and Rimbaud wanted to create much the same effect as the flavour conductor: excite the senses of their audience and raise our experience of reading poetry to a whole new multi-sensory level. Now neuroscience has caught up and is bringing it off the page into everyday life in ways which may not even realise. Restaurants, bars and coffee shops have already begun matching background music to the flavours on their menus.