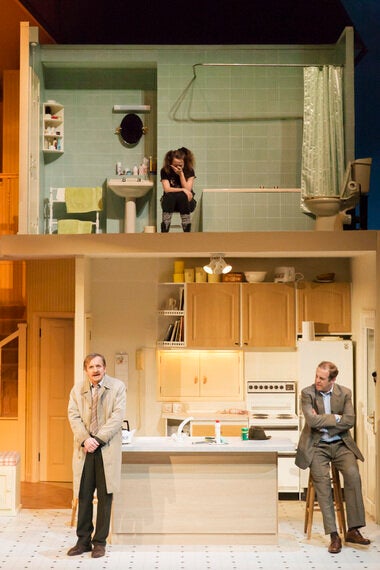 Image credits: upstairs - Alice Sykes - Samantha McCracken, downstairs Matthew Cottle -Benedict Hough, Nigel Lindsay - Jack McCracken © Johan Persson National Theatre
Written by Alan Ayckbourn, A Small Family Business at the National Theatre is a comedy about an honest man corrupted by his family's dishonest ways. Jack McCracken (a terrific Nigel Lindsay) has left his office job of many years to take over from his father-in-law in the family's struggling furniture business. But no sooner has Jack started in his new role then it all seems to come apart.
A mysterious private investigator, Benedict Hough (Matthew Cottle) turns up unannounced at the family house on the pretence of charging Jack's teenage daughter with theft of a £1.87 mascara from a local shop. Only he actually has compromising information on the family business, which he threatens to use as a bargaining tool with Jack in exchange for dropping the charges against his daughter.
Refusing to be blackmailed, Jack races against time - and Mr Hough - to find out the truth of his family's behaviour. And what he finds sends him reeling. But protecting the family and acting with integrity cannot both win in this set-up so which will it be - anything to protect the family or anything to do the right thing?
This is played as a high-energy dark comedy and there's certainly plenty of japery, even farce. As Jack scrambles through the myriad of arrangements between family members who are all out to make a little (or a lot) on the side, there are plenty of comical revelations to be had.
Each family member is given a shtick for comedy value - the married woman with her series of Latin lovers the dunce of the family, the old head of the family bumbling with dementia (is that a source of comedy???), the carer with sticky fingers, the wife more obsessed with her cute little dog than her husband, and so on. It's all very one-dimensional.
But what sets this apart from more usual farcical fare is the very dark undercurrent to this story.
Matthew Cottle really stands out as Benedict Hough, the chilling, insidious private investigator that always seems to be one step ahead of Jack. But Alice Sykes also shines as Sammy, the difficult teenager. This role easily fits into the one-dimensional tag that blights all these roles but Alice brings a tender pathos to her troubled character.
But this production, for me, has more problems than just the simplistic characterisation. This Ayckbourn play originally debuted in 1987 and it really does show its age. This is very much a play about the 1980s, about the corrupting influence of capitalism, of greed and therefore, of course, Thatcherism.
"Theft is theft is theft" Jack booms at the start, when he finds out about Sammy's shoplifting, And his move away from such a black and white stance is the driving theme of this play.
But capitalism isn't really anything new to us today. If anything, we are beyond that, dealing with how we are going to correct the damage it has inflicted. As a result, A Small Family Business very much seems a play of its time. It doesn't shed any light on our society today.
It's not helped by the fact that the whole production is set in the 1980s with plenty of permed hair and shoulder pads.
And I didn't really warm to the set design. The large interior of a house has been recreated on the stage, enabling a lovely myriad of scenes between a variety of characters to take place simultaneously in different rooms, contributing to the energy, but the house itself - a red-brick suburban new-build from the 1980s, had quite a doll's house feel to it that only emphasised the artifice.
The play also comes in at about 2h 45m, which is a long running time for a play that is supposed to buzz with energy. It does drag a bit in places, causing the buoyant energy to deflate too much at times.
But if you've already got tickets, don't be too put off. The cast really give it their all and there are plenty of laughs to be had. However if you haven't bought tickets yet, I'd suggest you'll find more relevant shows elsewhere. Nevertheless, this play is an interesting, enjoyable experience, though maybe not a challenging one.
But if you'd like an evening watching this witty farce but wish it were a bit cheaper, the play is being broadcast as part of NT Live in cinemas on June 12, 2014. I'd advise that this might be better value for money than the top-price tickets of £50.
Popular in the Community