Alexander Calder was truly one of the ground-breaking artists of the 20th Century, a sculptor who revolutionised the art form through his creation of mobiles - sculpture that was not restrained within inert, static objects, but instead dynamic, ever-changing works to be experienced in real-time.
Mobiles are so common to us now that we rarely consider how they were created. But Alexander did create them. And the Tate Modern has brought together 100 of his works, some of which have never been seen in the UK before, in an impressive show that allows visitors to see the development and achievements of this pioneering artist.
Alexander was always fascinated by freeing sculpture from the burden of heavy materials such as marble and bronze. You can see this in his early works as he experimented with engaging figurative wire portraits, whether this a sculpture of tennis player Helen Wills Moody reaching for a volley at the net, or work that captures the sensual curves of performer Josephine Baker.
But it was a meeting with the abstract artist Mondrian that propelled Alexander in a new direction.
On visiting Piet Mondrian's studio, Alexander was captivated by the pure abstraction and wondered whether such an approach could be reflected in sculpture. Piet Mondrian was sceptical but where he saw only limitations, Alexander saw possibilities.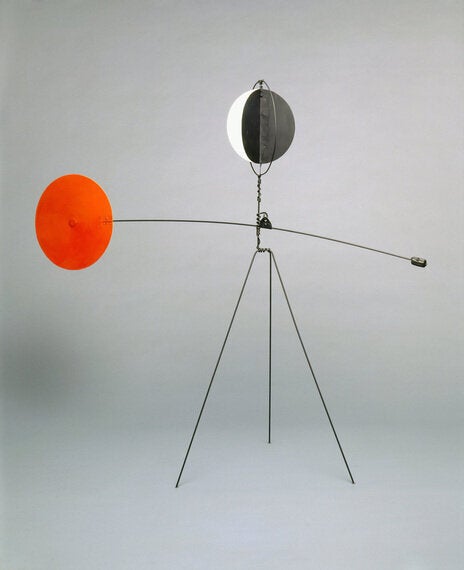 The result is a stunning collection of works that seem to be three-dimensional versions of abstract paintings. Bold backgrounds of yellow or red with figures and objects raised out towards you in exaggerated relief. These works feel exciting and fresh.
And it is this revolutionary spirit that would lead Alexander to create his mobiles and moving sculpture - arrangements of delicately balanced shapes and objects that move in response to the world around them.
This is sculpture liberated. The absence of weight is uplifting. And this emotion is captured in Alexander's subject matter too.
The magic and wonder of the night sky is wonderfully reflected in Black Constellations, painted wooden planets and stars skilfully connected via thin pieces of wire. And, my favourite piece in the show, Snow Flurry I 1948 - an evocative collection of white spheres delicately hanging from the ceiling. And as the gentle breeze created by the visitors drifts through this mobile, the flurries float like light snowflakes.
It is this elegant, graceful movement that captures the visitor. And the shadows created by these pieces on the pale white walls of the galleries add to their impact. Yet for all the romance there is also impressive technical achievement, reflecting Alexander's training as an engineer.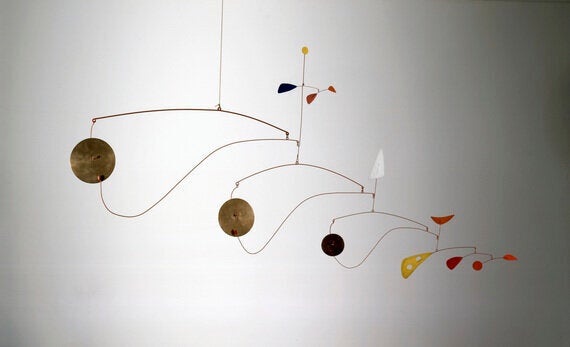 Alexander explored creating motorised mobiles - mobiles that used a motor to turn through pre-set motions. Unfortunately these works are now too delicate to be in constant motion but looking at their construction is fascinating, and the Tate has put on video loops showing the works in motion.
And as well as the smaller, finer pieces, there are also large, dynamic works incorporating numerous weights of significant size that somehow remain balanced on the thinnest of wires. The finest example of this is Black Widow, c.1948, a stunning large scale mobile over three metres high that is on show outside of Brazil for the time ever.
This is the last piece in this fine exhibition and it is a fitting close as it a dramatic piece that impresses as much with its technical achievement as it does with its purpose - Black Widow exists as a powerful visual metaphor of the post-war world, an era of new beginnings and a rejection of the previous social order.
It is hard for any image to do a work of art justice, but you feel that acutely with Alexander's mobiles. Their scale and their emotional impact is hard, if not impossible, to convey in a still image. This collection of some of his works is a rare opportunity to witness his brilliance and feel the delight for yourself. Take this opportunity!
Tate Modern, London to April 3, 2016
1.Alexander Calder (1898 - 1976), Red and Yellow Vane 1934 Calder Foundation, New York, NY, USA Photo credit: Calder Foundation, New York / Art Resource, NY © ARS, NY and DACS, London 2014
2.Alexander Calder (1898 - 1976), Triple Gong c.1948 Calder Foundation, New York, NY, USA Photo credit: Calder Foundation, New York / Art Resource, NY © ARS, NY and DACS, London 2015