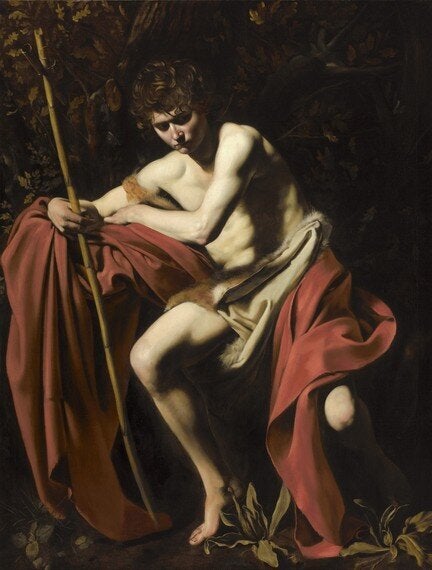 Michelangelo Merisi da Caravaggio, Saint John the Baptist in the Wilderness, about 1603-4, Oil on canvas. The Nelson - Atkins Museum of Art, Kansas City, Missouri. Purchase: William Rockhill Nelson Trust, 52-25. Photo Jamison Miller © The Nelson - Atkins Museum of Art, Kansas City, Missouri.
In the final room of this new exhibition at the National Gallery is one of the finest paintings I've ever had the honour of admiring. Caravaggio's Saint John the Baptist in the Wilderness, 1603-4, on loan from The Nelson-Atkins Museum of Art in Missouri, encapsulates all that was radical and extraordinary in this artist's work.
Gone is the stoical reverential religious depiction so common at the time. Instead, we have a young man - a real flesh and blood man - in front of us. The naturalism is astonishing. And the dramatic use of lighting isn't just revolutionary, it has purpose. Saint John's flesh is bleached in bright light but his furrowed brow is in shadows. His eyes are hidden from us. This young man is lost in his thoughts. This is intense and brooding, and a bold examination of deep introspection.
Caravaggio didn't just rip up the rule book, he had the talent to paint in a way that no artist at the time could come close to. Nor many since. He brought reality into religious art - often using life models to represent iconic figures. His dramatic lighting was not just for effect but infused his works with emotional power. And his celebration of the ordinary and everyday - his passion for genre painting - became a hallmark.
And, of course, there was his penchant for violence and drama, which is perfectly captured in the stunning The Taking of Christ, 1602, where Judas and Jesus are surrounded by soldiers - their armour glistening and their skin sweating - with the betrayer standing so close to the betrayed, just inches from him, yet their faces do not touch. It is a moment of heightened emotion and anguish. A tumultuous scene.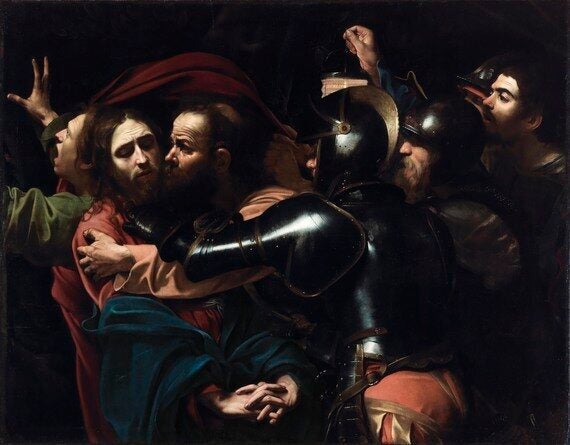 Michelangelo Merisi da Caravaggio, The Taking of Christ, 1602, Oil on canvas 133.5 x 169.5 cm. On indefinite loan to the National Gallery of Ireland from the Jesuit Community, Leeson St., Dublin who acknowledge the kind generosity of the late Dr Marie Lea-Wilson. Photo © The National Gallery of Ireland, Dublin.
So far ahead of his peers, so revolutionary in style, there was always the risk that this show, which explores Caravaggio's influence on the other artists working at the time, would result in a very lop-sided affair with the other paintings - those from his followers - not able to live with the works from the great man.
And there is a bit of that.
Though Caravaggio's The Incredulity of Saint Thomas, 1601-02, is not on loan to the show, the influence of this painting of Thomas prodding deep into an open wound in the side of the risen Christ can be seen in Giovanni Antonio Galli's Christ displaying his Wounds, 1625-35, among others nearby. But though there's much shadow and light, the paintings do not engage - faces are flat and emotional depth is often absent. There's no sense of drama, though these other artists have tried desperately to emulate Caravaggio's naturalism.
Some though do impress. The Fortune Teller by Bartolomeo Manfredi doesn't just follow on from popular Caravaggio subject matter, the painting draws you in. A woman's fortune is being told, but as she's distracted her pockets are being emptied by a thief. The spectacle draws you in, the composition has much in it, and each face is unique and life-like, whereas too many faces in other works have nothing behind the eyes. This is one of the better non-Caravaggio works in the show. A real beauty.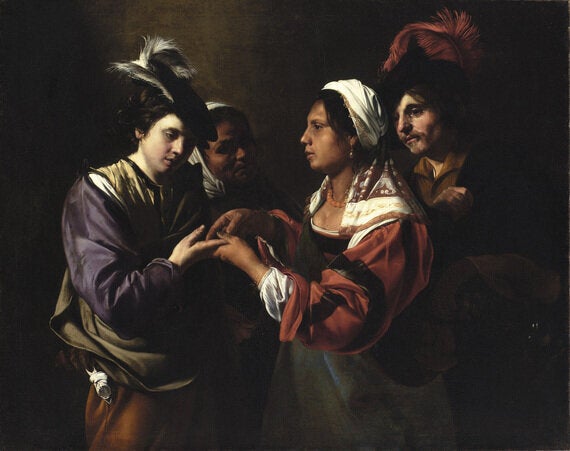 Bartolomeo Manfredi, The Fortune Teller, about 1615-20, Oil on canvas. Detroit Institute of Arts, Founders Society Purchase, Acquisitions Fund © Detroit Institute of Arts, USA / Founders Society Purchase, Acquisitions Fund / Bridgeman Images.
What fascinates is that Carvaggio's brilliance has only recently been re-discovered, as is highlighted in an informative film that runs on loop in the show. The Carravagesque fan club didn't last out the 17th Century. His paintings and his style fell out of fashion, which just seems extraordinary in retrospect. But it wasn't until the early twentieth century that his work was revisited and his place at the sharp end of the list of greats was restored.
There are about half a dozen Carravagio paintings included in this show, about half of which are from the National Gallery's own permanent collection, the rest on loan from the Queen's collection and overseas.
Those Caravaggios not painted on to chapel walls are too precious to move so a large travelling Caravaggio-specific show was always unlikely. Nevertheless, there is value in this exhibition. It is revealing to see what those artists who worked in proximity to Caravaggio, what they were drawn to, which elements of his work they lifted like magpies. What it was that Caravaggio brought to art that none had seen before.
Not that Caravaggio took much satisfaction in being adored so much - he reportedly picked fights with those artists he felt swindled much-desired commissions from under him. But then that was Caravaggio all over. Explosive - on canvas and off. And, I suppose, it was always inevitable that though others tried, they all came up short in comparison.
National Gallery, London to January 15, 2016.