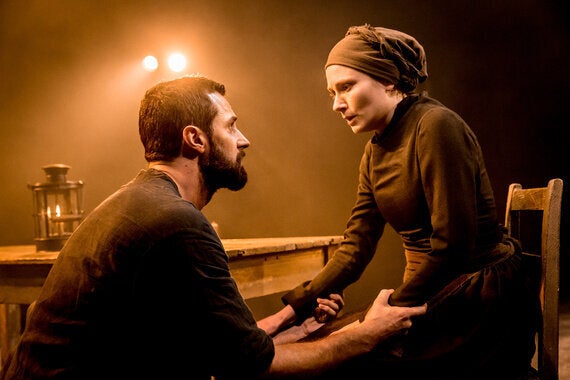 Our former Education Secretary Michael Gove may not have liked it on our syllabus but The Crucible remains one of the most important and influential plays of the twentieth century. Arthur Miller's tale of religious hysteria in the Salem witch trials of 1692 is a masterpiece of profound social and political commentary mixed beautifully with human emotions and relationships on a small, interpersonal level.
Directed by Yaël Farber, this production at the Old Vic balances the madness with moments of real tenderness and poignancy, driving up all the emotions necessary for this play to succeed - anger at the injustice, sadness for those who lose all they have and heartbreak for those who face their deaths with the one thing they have left, honour.
At the heart of this production is an immense performance from Richard Armitage who perfectly captures the profound inner conflict within John Proctor, a man increasingly at odds with both his wife and the society in which he lives.
Armitage has such a wonderfully deep, rich voice that brings authority to his character but as an instrument, his voice really takes the strain as his character runs the gamut of emotions as his life unravels at the hands of Abigail, a young girl he has a brief affair with and who takes her revenge by whipping up accusations of witchcraft throughout Salem. One can only hope Armitage's voice holds up for the whole run.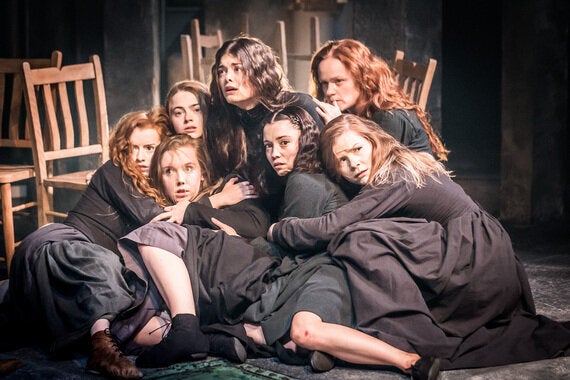 Creating hysteria on stage can be tricky, with the high risk that it can tip over into overwrought acting. A couple of performances fall on the wrong side of that fine line (though, interestingly, not from any of the young women) but they are balanced out by some excellent performances elsewhere in the cast.
Anna Madeley as John Proctor's wife Elizabeth gives a performance of great restraint as the dutiful wife trying hard to reconcile herself with her husband's infidelity. Adrian Schiller is also superb as Reverend John Hale, a man struggling to come to terms with the increasing injustice in the trials that he had, at first, been only too keen to start.
But the real star of the show remains Arthur Miller's writing. What's interesting, 50 years on after McCarthyism, is how this play speaks to us about so much more than anti-communist hysteria. We live in a world of increasing fear about religious fundamentalism - whether that by Muslim, Jewish or Christian - and this play serves as a warning on how profound religious loyalty can be manipulated by those seeking to serve their own ends.
But more than the political, through John and Elizabeth, Miller captures a broken relationship where trust has gone but love and duty remains. The two scenes between husband and wife - before the trial and after - are the tenderest scenes in the play and really give it its heart.
However Miller might not readily be described as much of a feminist and I wince still as Elizabeth takes a lot of the blame for her husband's infidelity because she "kept a cold house."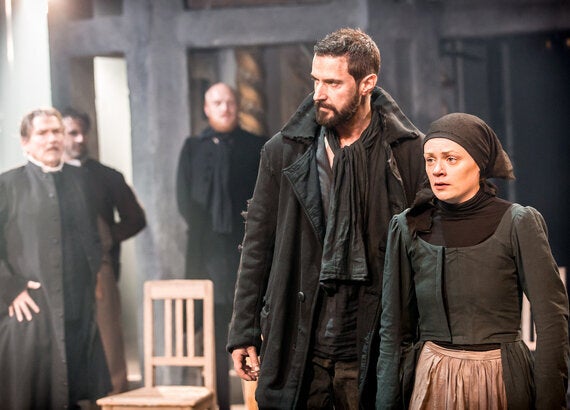 The cast is ably served by a stark set from Soutra Gilmour, the very talented designer also responsible for the very busy 1970s set in Jamie Lloyd's Richard III. The minimal set here though could not be more different.
With the stage in the round, the stripped floorboards, wooden chairs and rusty bedframes not only reflect the impoverished condition of the Salem community but give the cast much room in which to whip up the mania, with some impressive choreographed movement from the young girls in thrall to the rejected, volatile and dangerously charismatic Abigail (a passionate performance from Samantha Colley).
Much has been said about the play's running time - it comes in at three and a half hours. I had seriously doubted those who had seen the show and said that the time just flew by but really, it did. I was completely enwrapped in this very dramatic but also moving production.
Accompanying me to the show was a grandma and an 11 year old girl, neither of whom were that familiar with the text. Both of them though were completely engrossed in the play and distraught with the injustice of the story. The power of Miller's writing lives on.
Old Vic Theatre, London to September 13, 2014
1. Richard Armitage (John Proctor) and Anna Madeley (Elizabeth Proctor) photo credit Johan Persson
2. The Crucible Cast photo credit Johan Persson
3. Richard Armitage (John Proctor) and Natalie Gavin (Mary Warren) photo credit Johan Persson