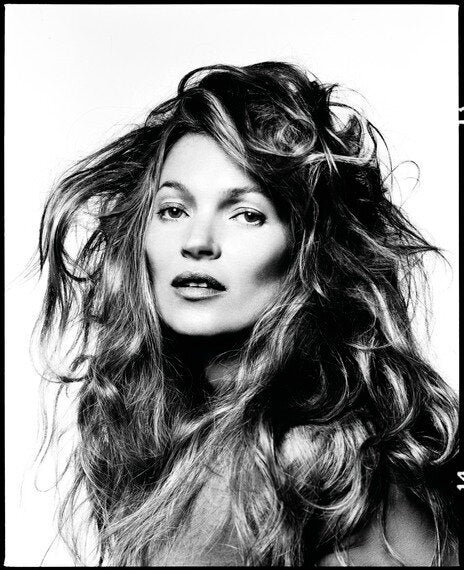 David Bailey is one of the world's most distinguished and distinctive photographers and this exciting exhibition at the National Portrait Gallery, the largest exhibition ever of Bailey's work, reflects the diversity of his extraordinary career as well as putting on show his most defining images.
The scale of this exhibition is vast. There are over 300 portraits on display and each has been selected by Bailey himself. Of course what dominates the exhibition are the black and white portraits of the rock stars, fashion icons, artists, actors... All the great and good have posed for David Bailey and the great and good are all on show here.
Lennon & McCartney, the Rolling Stones, Warhol, Kate Moss, Helmut Newton Vivienne Westwood, Freddie Mercury, Mandela, Dali, Johnny Depp... It'd probably just be quicker to list those who haven't sat for him.
These images will be the ones that draw in the crowds but many of the performers are, well, performing - Jack Nicholson laughing manically, Bowie being glacial and complex, Beyoncé being flawless... All that is pretty standard.
But it's when you see Bailey capturing a Mick Jagger unsure of himself, Damon Albarn emanating insecurity or a George Michael portrait from 1985, when the man was the biggest heart-throb in the world, where he's looking deeply conflicted and troubled that you realise Bailey's talent in capturing what even the most experienced performers can try to hide.
David Bailey has bristled at the suggestion that this is a retrospective of his work, preferring it described as a collection of his favourites. Either way, the exhibition is a great way to introduce those only familiar with his work on celebrities into the photo journalism work Bailey has done and continues to do.
In 1984, as reports of the famine in Ethiopia started to emerge, Bailey went out to the region to report on the tragedy as a photographer. His images of starving babies and defeated mothers are haunting even today, to an audience that could be considered numb to images of suffering.
It's this part of Bailey's work that captures the emotions and it's clearly a line in his work that he is deeply passionate about as many of similar projects are reflected in the exhibition.
There is a sadly nostalgic collection of photos of London's East-End in 1968, of Bethnal Green and Brick Lane. Emotive pictures of people drinking pints in working men's clubs and rows of boarded up shops, all completely unrecognisable from the area now.
There's also a large number of images from his recent travels to Nagar Falls, a mountainous region in North-East India, and previously from his travels to Papua New Guinea and Australia to capture images of tribespeople and village elders with traditions and a way of life that is being gradually eroded, soon to vanish.
Yet it's interesting that in spite of capturing all these celebrities and agent provocateurs, sensuality and sexuality only comes through in the photos of his wife, Catherine Bailey, who David photographed extensively.
A whole room in the exhibition is dedicated to photos of Catherine and though there is plenty of nudity, it's more erotic than exploitative. And it reveals a lot about the man behind the camera that of all the women that have sat for this self-confessed ladies' man, it's only photos of his fourth wife that are so sensual and intimate.
Photo credit: Kate Moss by David Bailey, 2013 © David Bailey