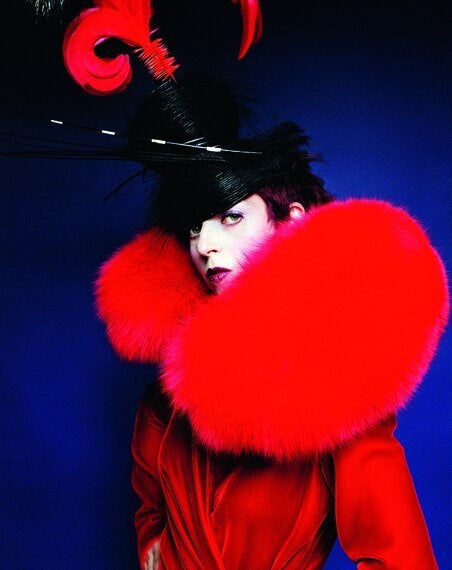 Seven years after her death, Isabella Blow's image remains deeply etched into the public consciousness. Though she sadly took her own life in 2007, she is remembered because of her extraordinary sense of style. This unique fashion legacy is celebrated in this dynamic and exciting exhibition at Somerset House.
The wardrobe on show is vast. The exhibition covers dozens of rooms across two floors. And the quality of the curation is superb. An army of mannequins dressed in the most exquisite fashion, numerous catwalk video clips, recorded interviews and fashion shoot photography all weave together effortlessly in this confident presentation.
As expected, the exhibition is dominated by pieces from her most favoured designers. Isabella's eye for talent was, and remains, unmatched. She was drawn to the brilliant, to the innovative and could spot them a mile off.
Alexander McQueen pieces are everywhere. This was after all a man Isabella famously picked for success straight from his graduation show at Central St Martins in 1992, spotting the craftsmanship in his Jack the Ripper-inspired collection. The exhibition is almost as much a reflection of his work, with pieces from his debut collection all the way through to 2007.
There is also much Julien Macdonald, especially his revolutionary knitwear from the early stages of his career. There is also plenty of Hussein Chalayan and Manolo Blahnik.
And then there are the hats! Dozens and dozens of extraordinary Philip Treacy designs in every colour and structural design possible. A real eye-catcher is the 'galleon' hat - a ship with sails about a foot tall made entirely from black feathers. That this is a testament to the period when ladies wore hats shaped as boats to commemorate English naval victories against the French reflects Isabella's appreciation for the heritage of fashion as well as the new.
In one of the interviews projected against the wall in one of the rooms, Isabella talks about how it's this mix of reverence and revolution that draws her to certain designers. Yet it's clear the complexity she admired in others reflected her complex self.
The show has great reverence but there's also great humour. Each mannequin has a signature pair of deep red lips as an homage to the muse. There's also Isabella's business cards and her rolodex filled with contact details, all written in her signature pink ink. Penis-shaped confetti, polaroids and fashion shoots she designed... It all brings warmth and character to the exhibition.
Another lovely touch was the inclusion - without apology - of Isabella's more damaged items such as her scuffed Givenchy mules and the McQueen coat complete with cigarette burns. It's a lovely reminder that what Isabella loved, she wore. And wore and wore and wore. Nothing was saved for special occasions in her wardrobe. To her, these pioneering fashion items were not museum pieces.
However this exhibition is very much focused on Isabella's fashion legacy. Her personal life is not centre stage. There are scant details about her family (a previously wealthy landed family who lost their estate), her marriage or her suicide.
Perhaps the intention is to let Isabella's dramatic and unique wardrobe speak for and reflect her complex personality. Or perhaps, only wanting to remember Isabella positively, her personal troubles are obfuscated.
Either way you do leave the exhibition not knowing that much more about the woman underneath the wardrobe than you did when you entered. But the primary message of this show is that fashion needn't be disposable and superficial but innovative brave and emotive. And most importantly, fashion should be worn.
Picture credits: Isabella Blow, 1997 © Mario Testino