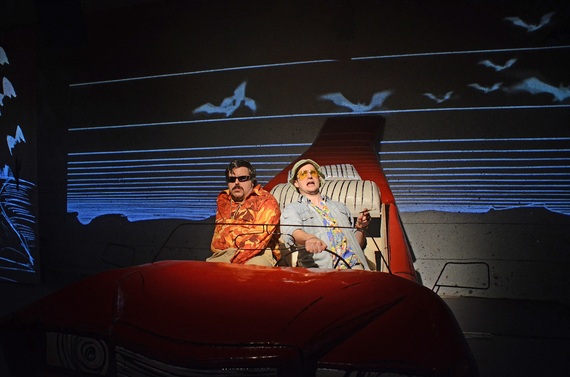 Fear and Loathing in Vegas is cult property. The brilliance and craziness that flows from those pages is practically palpable. But not all of that magnetism has found its way into this keynote production at the Vault Festival 2014.
The story follows Raoul Duke (Ed Hughes), the character Hunter Thompson bases on himself, and his attorney Dr. Gonzo (Rob Crouch), as they take a drug-fuelled trip to Las Vegas to cover a track race and then, subsequently, a District Attorney's conference.
The plot keeps its narrative drive well in the first half but kind of loses its way after the interval where it gets a little bogged down in playing recorded tapes rather than keeping to the story.
But there is plenty of charisma and humour in Rob Crouch's performance as Duke's attorney. A larger than life character, Crouch dominates the stage as far more a troublesome travelling companion than a safe pair of hands.
Unfortunately his performance also dominates over Ed Hughes who gives a rather lacklustre performance as Raoul Duke. Fear and Loathing doesn't need the two leads to run a funny man/straight man set up as reality kind of takes the place of the straight man here (or, as Hunter would have us believe, he is the straight man in a world that's truly crazy).
Duke's craziness and charisma should be bouncing off the walls. But the supporting ensemble make up for a lot of that with cracking performances as a myriad of characters from highway cops to district attorneys, from Las Vegas showgirls wayward whacked-out love interests. Their sudden metamorphoses into lizards and reptiles, reflecting how they are seen through Duke's and Gonzo's drug haze, are particularly impressive.
The set design from Rosie Moon is inventive, imbuing the production with a lot of its personality. In the cramped stage area she's created a versatile set that moves effortlessly from being a convertible Cadillac to a hotel bedroom, then from being a poolside bar to a casino floor.
The set design is complemented by a creative use of projections and lighting. The instantly recognisable Ralph Steadman illustrations that are so synonymous with the Fear and Loathing book are beamed onto the bare concrete walls along with evocative landscape shots of Nevada and the flashing neon signs of Vegas.
The production has a spritely pace and the many witty sequences of the drug-fuelled pair navigating the crazy world of Vegas certainly generate the laughs, which is lucky as if you go to this show it is highly likely you will be in immense discomfort.
Seating is packed in on a series of thin wooden benches. These benches are so damn uncomfortable they make the benches at Shakespeare's Globe seem like sofas. My back started clicking midway through the second half, which played havoc with my attention.
No doubt others will see the wooden benches as integral and in keeping with a show in the effortlessly cool Vault tunnels but personally I don't believe entertainment should be an endurance test.
This production isn't without its flaws but it's a brave and enjoyable effort to tackle very challenging source material.
Vault Festival, London
To March 8, 2014