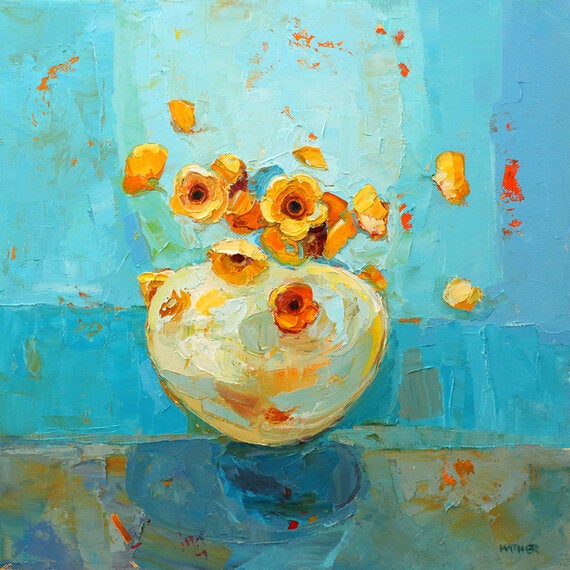 Picture © "A fine light" by Kirsty Wither. Oil, 30x30xm, £1,500 with Cameron Contemporary Art at the Affordable Art Fair, Battersea
Saturday 8 March marked International Women's Day, and this year the Affordable Art Fair is using the tie-in to showcase some of the industry's brightest female art stars from both the UK and abroad.
Whether it's a captivating photographic fine art print from British photographer, Kirsty Mitchell, or a beautifully intricate illustration from London-based Kristjana S Williams, the work of many talented female artists currently making their mark on the art scene can be snapped up at the Fair.
Famed for its friendly and inclusive atmosphere, the Affordable Art Fair has become something of an institution. The first fair launched in Battersea Park in October 1999 and the event was a surprise success with over 10,000 visitors.
A second event was held in March 2001, also in Battersea Park, where twice the number of visitors arrived. It's been a phenomenon ever since, so much so that the Affordable Art Fair now takes place in cities including New York, Milan, Singapore and Hong Kong.
This March the Fair returns to its original location in Battersea Park for a four-day event with over 100 galleries showing their work. The aim remains though to encourage people from all backgrounds to enjoy and own art, rather than the privileged few, so all pieces for sale will be between £40 and £4,000.
Buying a piece of art though is always a personal choice so if you're new to buying art, where to begin?
Given low interest rates and repeated observations that, for the wealthy, art is very much an investment rather than an aesthetic purchase, there might be the temptation to do the same. My advice? DON'T!! Not, don't buy art - buy it because you like it, rather than for investment reasons.
Identifying new stars is always tricky and if you get it wrong, you'll be left with art that you don't like. There's plenty of art in museums. What you should own is art that you want to see every day.
And different rooms in your home can bring with them different needs. If you have a space on your kitchen wall, put a piece there that you'd love to wake up to every morning, something that nourishes the soul. Whereas the living room or a dining room, a place where you have visitors, might be a more suitable place for the more dramatic piece that you might have your eye on.
Certainly the Affordable Art Fair is aware that buying art can seem a little scary so they've laid on plenty of support for the new buyers such as an art buying guide on their website, the Fair will be staffed by plenty of gallerists (so ask questions!) and a lot of the galleries on show offer payment in instalments.
The choice is so diverse and varied at the art fair that really, you will find something to your taste. And there's a variety of media too with paintings, original artist-made prints, sculpture and photography all covered.
Two pieces that really stood out for me, for completely different reasons were Kirsty Wither's A Fine Light (above) and Kirsty Mitchell's The Queen's Armada (below).
Kirsty Wither is one of the UK's most successful women painters, regularly selling out exhibitions across Britain. Kirsty, who is based in Brighton, paints brightly coloured and textured still lifes, figures and landscapes and A Fine Light I found just a really positive but restful piece. The kind of piece that would make you feel better each time you looked at it.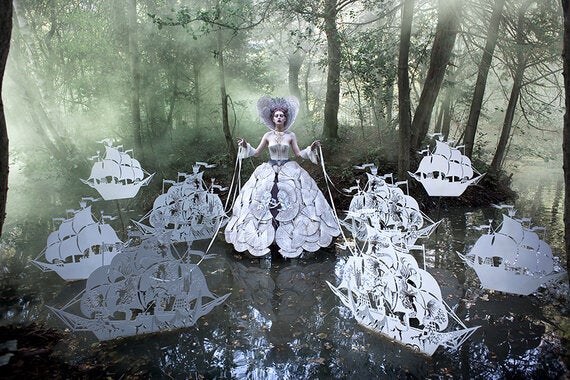 Photo © "The Queen's Armada" by Kirsty Mitchell. Achival pigment photographic print, 67 x 100cm, £2,500 with Mark Jason Gallery at the Affordable Art Fair, Battersea
Kirsty Mitchell's The Queen's Armada I just thought was such a stunning photograph. Incredibly intricate design and detail in the content of the image, then the very bold staging that fills the frame.
The focus on female artists is not superficial either. The Fair is dedicated to supporting established and up-and-coming female artists from all over the world so on Friday March 14th, the Fair will be teaming up with fashion house Gudrun Sjoden, whose spring collection has been entirely inspired by strong, artistic women, and host talks from Susan Mumford, Founder of the Association of Women Art Dealers.
The Affordable Art Fair runs this weekend at Battersea Park but if you miss it, there are other fairs this year. And remember - don't be intimidated by art. Trust your instincts - they're bound to lead you to make the right decision for you.
Affordable Art Fair Dates:
Battersea Park, London March 13 - 16, 2014
Hampstead, London June 12-15, 2014
Bristol 19-21 September, 2014