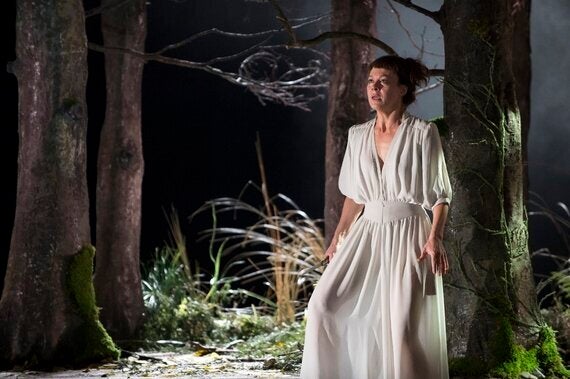 I don't think I've ever been so traumatised by a theatrical production ever. Not that Medea is a happy tale, of course. The story of a jilted wife, who murders her children as a way of revenge against her soon-to-be ex-husband is always going to be dark but Carrie Cracknell, in this new version of Euripides' work by Ben Power, brings us a genuinely disturbing production.
If you're unfamiliar with Medea, nothing I've told you is much of a spoiler. At the start of the play, the Nurse, a member of Medea's dwindling household, explains to the audience all that is to follow. What's left for us to consider is simply, is this a logical chain of events?
That's a hell of a gauntlet to lay down for any actor - to portray a chain of events, of thought, that could convince us that Medea's murderous acts are not just inevitable but understandable.
Taking up that challenge in the lead role is Helen McCrory and her performance is, well, is extraordinary enough? The superlatives could go on forever.
Her performance traumatises, it cuts deep into your soul to the point where you actually feel sorry for her. You pity Medea, at times you even understand her logic. But then at the end, as this broken insane mother crumbles in front of you, you just feel gutted to the core.
She's supported with a superb performance from Danny Sapani as Jason. That's Jason of the Argonauts fame, and her soon-to-be ex-husband.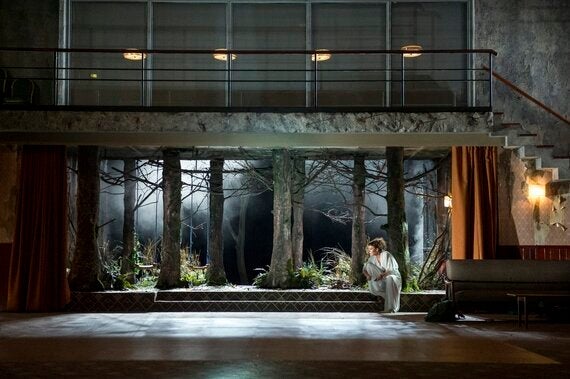 As he and Medea battle over his excuses and perverse logic of abandoning his wife for the sake of a political marriage that could save them all, the two seem to be more a middle-aged couple in crisis rather than a Greek tragedy version of Romeo and Juliet.
At first I was thrown by this. To validate a crime of passion, which is how I always figured Medea's crimes, I'd expected to see much more lust and love between this sparring couple. Yet actually this depiction of a couple where the first throes of passion are long gone robs Medea of that excuse and paves the way for what is a truly extraordinary study of an insanity that drives a mother to commit an act that seems unthinkable.
The very talented Carrie Cracknell directs but in spite of her many achievements to date (including A Doll's House at the Young Vic and Blurred Lines at the NT Shed) this production of Medea, for me, is her best.
The piece deteriorates into darkness at just the right pace, with brief moments of gallows humour breaking up just enough of the bleakness to keep us engaged without watering down the trauma.
And much is employed to echo this unravelling of Medea's mind.
The two-level stage design from Tom Scutt splits the interior of Medea's house from the streets of Creon, but more than this, it employs a dark forest as a metaphor for the dark places of Medea's mind.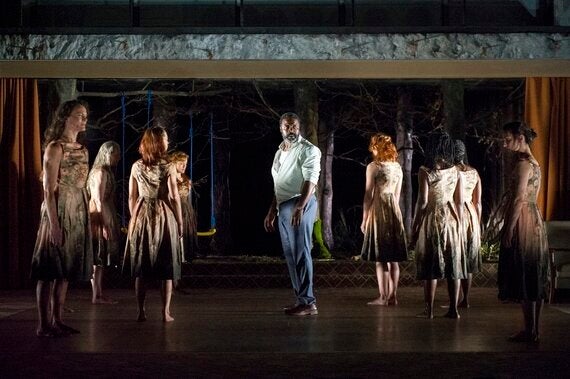 Carrie Cracknell also brought in choreographer Lucy Guerin to transform the women of Creon into an army of contemporary dancers, almost Stepford Wives-esque in their uniform of perfectly pressed A-line dresses with floral pattern.
But as these women move in choreographed steps, and speak in monotone almost mechanical voices, they seem to morph into outward projections of the voices in Medea's head, her unravelling mind laid out for us all to see.
The incorporation of this frantic contemporary dance to support and interpret the haunting score from Goldfrapp brought so much to the production. Its atmospheric impact is profound.
As the women jerk and convulse with the flashes of rage in Medea's mind, then dance distraught and wretched with the murder of Jason's new wife, I was genuinely quite shaken.
That's not to say that everything in this production is perfect. The quality of the supporting cast is not at the same level as Helen McCrory and Danny Sapani but given that they are only brief characters in the play, it isn't enough to dilute the pain in the piece.
At the end, as Medea staggers back onto stage under the weight of her crimes, I felt shattered, quite distraught. Such was the conviction and brilliance in Helen McCrory's acting that for Medea, this really did feel like the only possible, though god-awful end for her.
And for us to get to that conclusion is reflective of a quite brilliant production.
National Theatre, London to September 4, 2014
1. Helen McCrory as Medea, image by Richard Hubert Smith
2. Helen McCrory as Medea, image Richard Hubert Smith
3. A scene from Medea, Danny Sapani (centre) as Jason. Image by Richard Hubert Smith