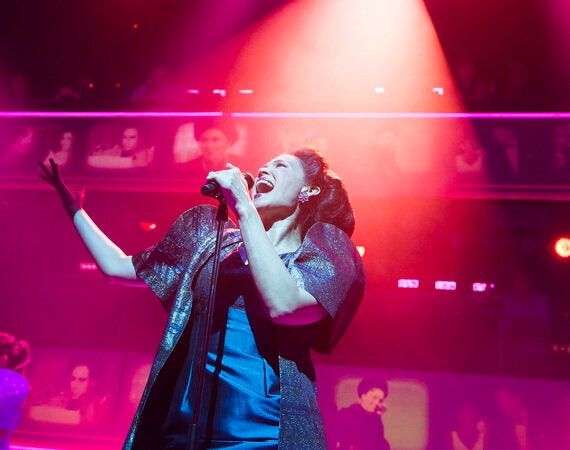 Here Lies Love is a bold, vivid, mega-kitsch, extremely loud, Studio 54-esque club-thumping, disco-dancing musical about the rise and fall of Imelda Marcos.
David Byrne and Fatboy Slim teamed up to create their version of Evita, only with Imelda Marcos the rags to corrupted riches hero. The show debuted last year in New York and has transferred to London as the debut show for the National's brand new Dorfman Theatre.
And the show is just addictive.
Its heady mix of beats, theatre and archive footage combine to deliver not just a thrilling piece of entertainment but also an educational one as we follow the heady rise of Imelda from impoverished Philippine girl, to glamorous beauty queen who catches the eye of Presidential candidate Ferdinand Marcos and then on to First Lady.
The show is led by an excellent performance from Natalie Mendoza who shines as Imelda. Her voice is superb and she is a cracking actress, bringing real star quality to the production. Dean John-Wilson also impresses as Ninoy Aquino, the democratic opponent to Ferdinand Marcos and (interestingly) Imelda's former boyfriend.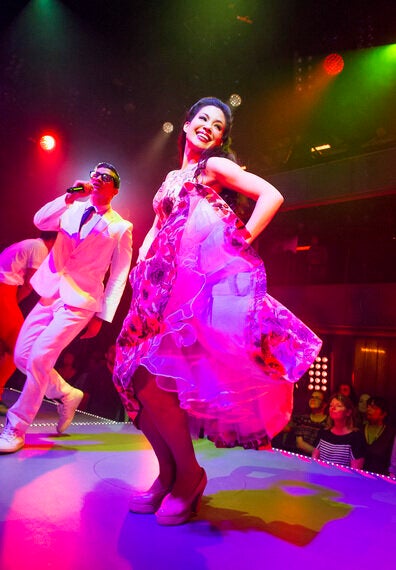 After a wobbly start, this high-octane piece finds its feet and it sears through Imelda's hedonistic life, all set to an addictive club beat. But why has the life of Imelda Marcos been set to a club soundtrack?
Well, creator David Byrne was fascinated by Imelda's love of the New York club scene. When she first came to New York in the Sixties it turned her head. Of course the New York club scene in the late 1960s was legendary and it's that Warhol-esque Studio 54 spirit that's captured in this show.
And there are some memorable numbers in this soundtrack. Star and Slave stands out as Imelda's dedication to her people, her promise to both dazzle them and to serve them. And that's quickly followed by the foot-stomping Please Don't with Imelda portraying herself as local girl done good with the catchy chorus of "Please don't; Don't let them look down on us. Please don't; Like they used to do to me."
I also am a big fan of Order 1081, a dramatic number based around the executive order issued by President Marcos crushing all opposition. It's the moment when you finally feel the weight in the drama. Addictive as all the parties are, the musical needs this gravitas.
How truthful is the story we're told? Well, by framing Imelda as the pill-popping naïve wife of a philandering dictator, it comes close to absolving Imelda of any responsibility for the tyrannical actions of her husband's regime, and indeed her own as she took power when her husband fell ill.
But it's the self-delusion that interests in this portrayal of Imelda, that she really believes that her impoverished, oppressed people would love her for her riches and glamour. And the musical does not pull its punches on the murderous brutality of the regime, or its impact on the people of the Philippines with some remarkable use of news footage to supplement the staging.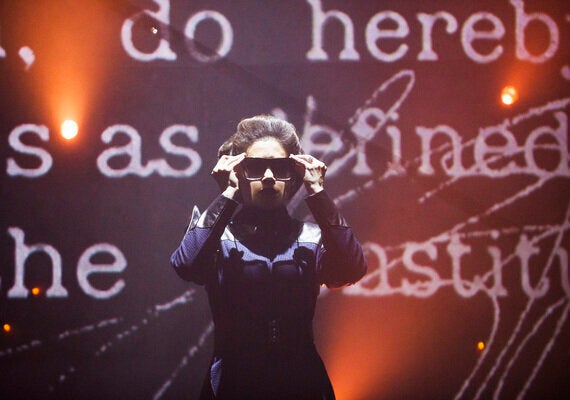 In fact, the innovative use of video projections from Pete Nigrini is a real plus. There is little, if any, spoken word in this show. Instead character and location names mix with archive video footage, which is all projected onto the walls of the theatre.
But though I loved much about this show I found the dynamic staging from Director Alex Timbers a distraction as much as an asset.
The floor of the theatre is set up as a club floor with the audience surrounded by platforms and a huge dazzling glitter-ball overhead. The audience/clubbers stand (and some even party) throughout the show but the stages around them are constantly shifting.
I felt sorry for those with standing tickets who were constantly pushed around like cattle by marshals in the crowd. Admittedly some of them didnt seem to mind at all but with every shift of the stages, out would come the marshals, herd the crowd in a certain direction and the crew would move the stage. And this happened after almost every song. I was grateful I had a seat!
There's no doubt the staging is inventive and dynamic but I found it overdone. Of the short 100 minute running time, 15 minutes must be taken up by crew shuffling the stages. That's just too much and it robs the production of energy at crucial points.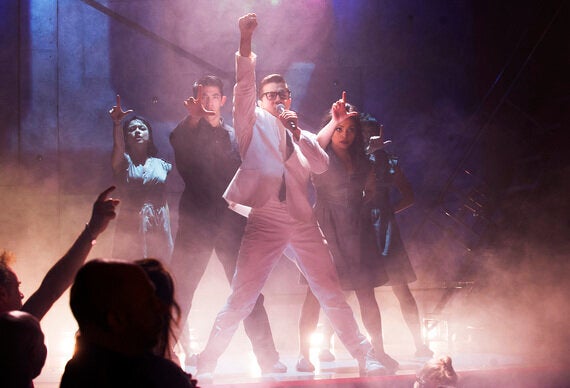 This is the first show at the new Dorfman Theatre in the National Theatre building and it's as if the thinking was, hey, we've got this incredibly dynamic new space, let's show off all that this new theatre can do in one show. A shame, as less would have been considerably more.
But that's not the worst sin as, bizarrely, Imelda wears the same pair of shoes throughout the show - a very plain pair of beige high-heels. I know David Byrne has stated this is because Imelda's vast shoe collection wasn't discovered until after the Marcos fled but still, a bit of a missed opportunity.
But though these flaws are frustrating, it doesn't stop this show being a gloriously addictive experience. The show sweeps you up with its high-octane energy and its fresh attitude. I'd rather sit through this show again and again than any new Lloyd Webber.
National Theatre, London to Jan 8, 2015
1. Natalie Mendoza (Imelda Marcos) Here Lies Love credit Tristram Kenton
2. Dean John-Wilson (Ninoy Aquino) and Natalie Mendoza (Imelda Marcos) Here Lies Love credit Tristram Kenton
3. Natalie Mendoza (Imelda Marcos) Here Lies Love credit Tristram Kenton
4. Dean John-Wilson (Ninoy Aquino) and company Here Lies Love credit Tristram Kenton