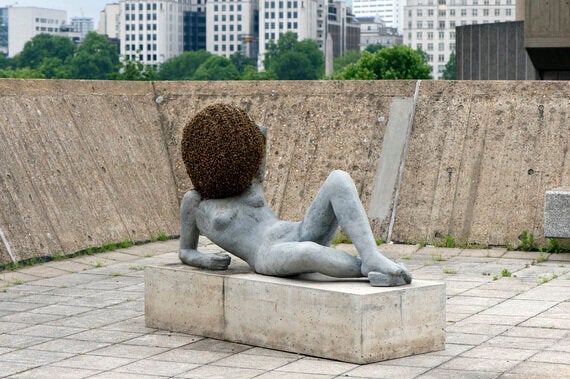 Twenty-five seems to be the magic number for this fascinating and provocative exhibition at the Hayward Gallery that looks at how leading artists have explored and fashioned new ways of using the human form in sculpture.
The works on show are from 25 leading international artists and span the past 25 years. Some of them are funny, some are traumatic. Some of the pieces seem so real, so true to life you could be forgiven for believing you are looking at a living statue.
But together they are a terrific and thought-provoking showcase that uses the figure to reflect such far-ranging concerns as voyeurism, sexuality, violence, mass consumerism and even morality.
For me, the most stunning and most controversial piece of work on show is Paul McCarthy's That Girl, 2012-13 a display of three figures based on the same model.
These figures are incredible. Made from silicone, paint and even real hair, their bodies, their skin is so true to life you are drawn in, disbelieving that these are not real people. You want to reach out and touch the "skin". Faint traces of veins can be made out, as can the wrinkles around the knuckles and even the flush of red in their ears.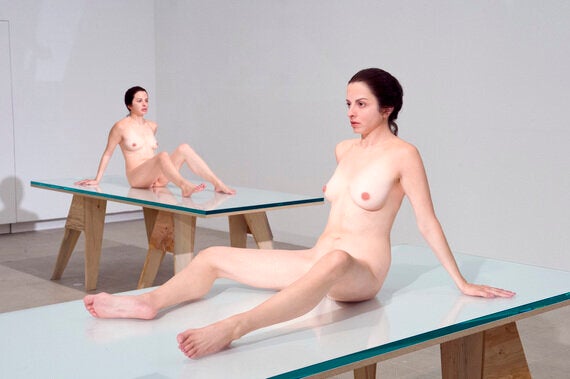 But the pieces are controversial - deliberately - because of what they provoke in the audience.
On entering the room where these figures are placed, the first thing your eyes are drawn to is the labia of the first model you see. For the models are all completely nude and sat with legs spread on bare tables.
It was fascinating watching the visitors come into the room, witnessing their initial reaction. Most were surprised, some were shocked. Almost all looked away, just briefly, embarrassed and a little unsure where to look.
And that is just the kind of reaction the pieces are designed to provoke as these are a commentary on how we respond to the female nude. What is the line between spectatorship and voyeurism? What is prompting us to look away when we see female genitalia so exposed as, in comparison, the number of penises on display elsewhere in this exhibition?
The sexualised female form surrounds us every day, objectified and air-brushed for our entertainment but here, we don't know where to look. Fascinating.
This exhibition has been superbly curated, making great use of the available space. You can definitely see why it has just been short-listed for the Art Fund prize of Museum of the Year.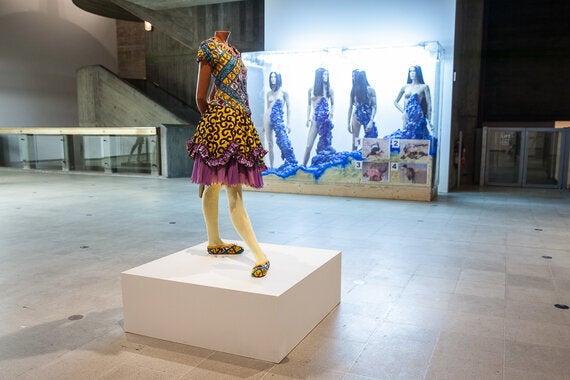 The sculptures are given plenty of room throughout the galleries to allow visitors to move around the pieces, really see each piece without being distracted by cramped, overfull galleries. Some pieces are even displayed outside on the gallery's terraces.
Some of the works on show though are bright and colourful, which act as a great contrast to the more traumatic and sombre pieces on display.
Jeff Koons' Bear and Policeman 1988 looks at the impact of power and mass consumerism in relationships by having a life-sized bobby, usually the symbol of authority, being dwarfed by a giant teddy bear.
I particularly liked Georg Herold's oversized vivid pink form comprised of wooden batons encased in a wet canvas that shrunk over the sculpture, giving it a "skin." With its hips thrust forward and arms aloft, it comes across as both sexually aggressive and vulnerable.
As well as the human form in life, death is a theme addressed by a number of the pieces on show and some of these are quite harrowing.
Paloma Varga Weisz's Lying Man 2014 is a charred wooden male nude lying on the gallery floor. Its body parts are severed, as if the piece has been attacked by a machete. It makes you think as much about the human body not on show here - the person who wielded the weapon - as it does about the figure on the floor.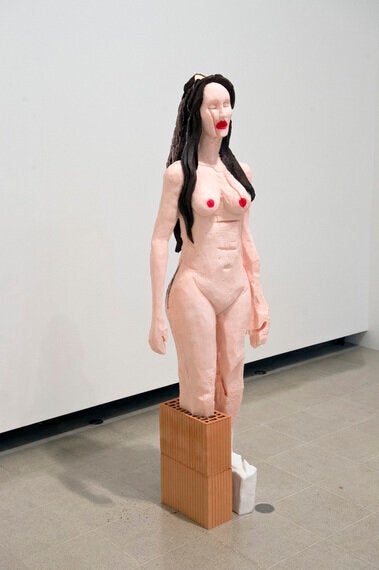 Thomas Hirschhorn's 4 Women, 2008 is even more troubling. Four female mannequins, each gradually drowning further in blue liquid, are shown alongside four images (downloaded from the internet) of mutilated male corpses - a commentary on the abstraction of the destroyed human body.
But for all these violent deaths and dismembered bodies, I found the most thought-provoking piece on this subject to be Urs Fischer's Untitled, a cast wax candle sculpture of a body that is melting away under the heat from the flame. A constantly evolving piece of art, the work is reshaped every moment through the drips of wax and the disintegrating form. As in life, nothing remains the same even in death.
Art though wouldn't be art without it being divisive and not all of the pieces on show appealed to me.
Rachel Harrison's satirical pieces Jack Lemmon, 2011, a figure of Dick Cheney fishing for lemons, and Schmatte with President, 2006 a pastiche on Mount Rushmore with a mask of Abraham Lincoln affixed to a polystyrene block, passed me by.
Katherina Fritsch also had a few pieces on show such as Riese Und 4. Postkarte, 2008 and Koch Und 6. Foto, 2006/8 where figures, such as cooks and caveman-like trolls, were placed in front of giant location images such as a restaurant or a forest. I didn't really take much from them either.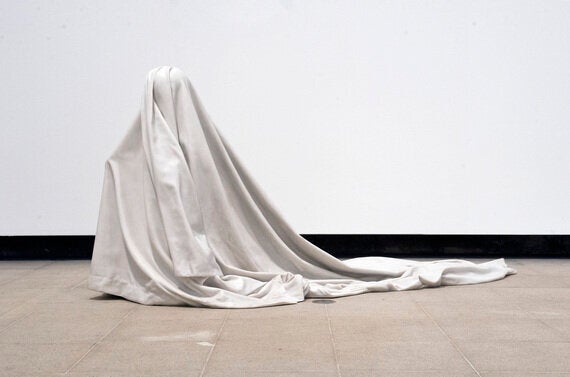 But in amongst all this angst and analysis, there are moments of beauty. So let's end this on one of those moments.
Ryan Gander's Tell my Mother Not to Worry (ii), 2012 is a life-sized representation of his 4-year old daughter playing around with bedsheets, pretending to be a ghost. There's something so touching, so playful about this. It reminds you that the body can be used for as a medium for joy and happiness too. Wonderful.
Hayward Gallery, Southbank Centre to September 7, 2014
1. Pierre Huyghe Liegender Frauenakt (Untilled 2011-2012), 2012 Installation view, The Human Factor, Hayward Gallery 2014, Photo Linda Nylind
2. Paul McCarthy, That Girl (T.G. Awake), 2012-2013 (detail), Installation view, The Human Factor, Hayward Gallery 2014, Photo Linday Nylind © Paul McCarthy
3. Installation view, The Human Factor, Hayward Gallery 2014, Photo Victor Frankowski 51 including Yinka Shonibare's Girl Ballerina and Thomas Hirschhorn's 4 Women, 2008
4. Urs Fischer, Untitled, 2001. Installation view, The Human Factor, Hayward Gallery 2014, -® The Artist, Photo Linda Nylind
5. Ryan Gander Tell my mother not to worry (ii), 2012 Installation view, The Human Factor, Hayward Gallery 2014 © the artist Photo Linday Nylind