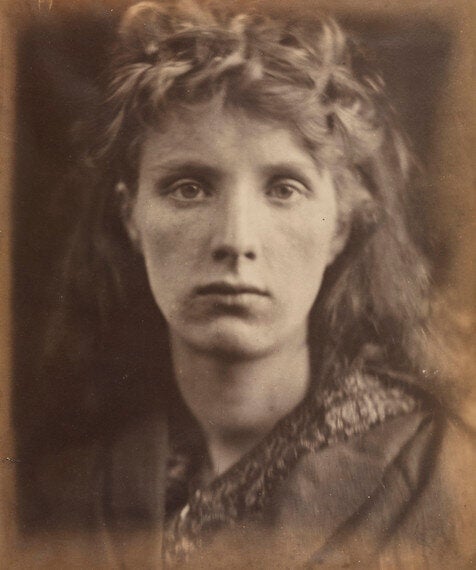 Julia Margaret Cameron is an inspiring figure. This is a woman who picked up a camera for the first time when she was 48 years old and yet, in her short 15 year career, became a pioneer in photography.
History is littered with women whose extraordinary achievements are overlooked or watered down. Even omitted completely. So it's wonderful that the Science Museum has decided to use the bicentennial of Julia Margaret's birth to create an expansive display of her work to not just commemorate but also to increase awareness of one of the most influential figures in the history of photography.
Born in Calcutta in 1815, Julia Margaret worked for most of her photographic career from her house on the Isle of Wight, Dimbola Lodge. However she moved to Sri Lanka in 1875, when her husband's income from plantations started to fall, yet she continued her work there (though with reduced frequency) until she died in 1879.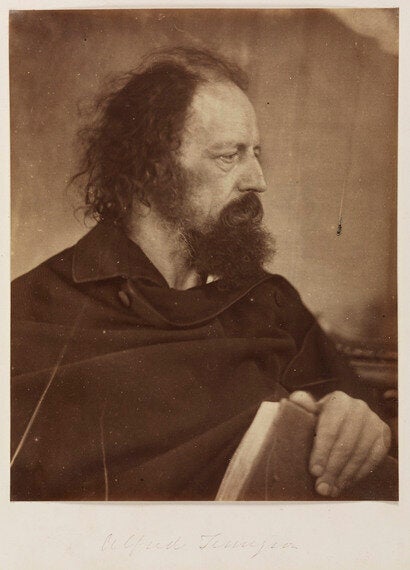 Broadly, her work can be compartmentalised into three broad categories: her naturalistic and striking portraits of friends and family, her intriguing staged shots that evoke religious and dramatic texts, and (my personal favourites) her breakthrough work on local communities in Ceylon (now Sri Lanka).
There are many of her distinctive portraits on show. Her photographs of Alfred Tennyson very much defined the familiar image we have of him. She also photographed other respected people in her social circle, including the Irish poet Aubrey de Vere and Robert Browning.
But Julia Margaret often drew on dramatic texts and religious narratives to create staged tableaux. A great catalogue of these fascinating images are on show, many of her longtime maid, Mary Ann Hillier, who was often roped in and made to dress as the Virgin Mary.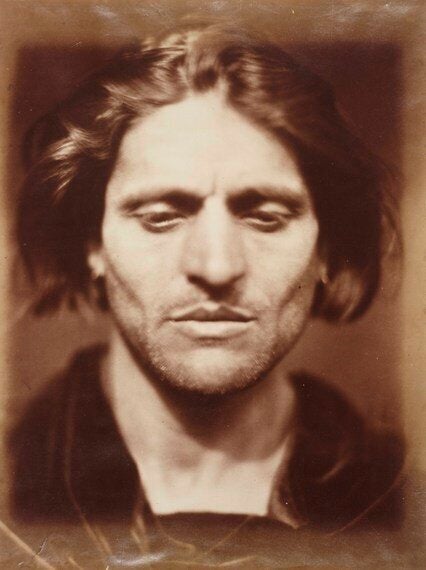 And as well as iconic religious imagery, Julia Margaret also created visual representations of texts including Romeo and Juliet and The May Queen, and included in this display is the only existing print of her iconic image of an unnamed Italian actor as Iago from Othello
But it's her stunning work from her time in Ceylon that grabbed me most. Her portraits of workers and local residents were unusual in that they were naturalistically observed pictures of individuals, photos that brought to life people and personalities, rather than the more common group images at the time that just depicted non-British people ethnographically, as a singular mass of faces rather than as individuals.
But common across the photographs is evidence of Julia Margaret's unique and trademark style. She loved soft focusing backgrounds in her images, which only emphasised more those parts of the image that she put into sharp focus. A great example of this is her arresting photo The Mountain Nymph, where the face is so sharp and clear, it seems to thrust out of the photo straight out at you.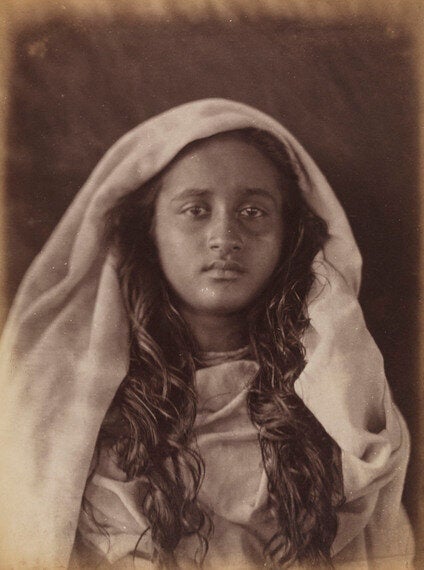 Julia Margaret also liked scarring her images and embraced technical faults, even bringing them in deliberately, to add artistic expression to her photographs. This unconventional approach infuriated many critics at the time who looked to photography to generate clear, precise 'perfect' images.
But of course it's the individuals and the risk-takers who leave a legacy. Julia Margaret's insistence in sticking with her approach, in spite of the criticism, created her reputation as a pioneer and amongst the first to blend art with photography.
In fact, when a collection of work, known as the Herschel album, was sold to a private collector at Sotheby's in 1975, the transfer was blocked by the UK government and the action marked the first time that photography in Britain was officially classified as works of art.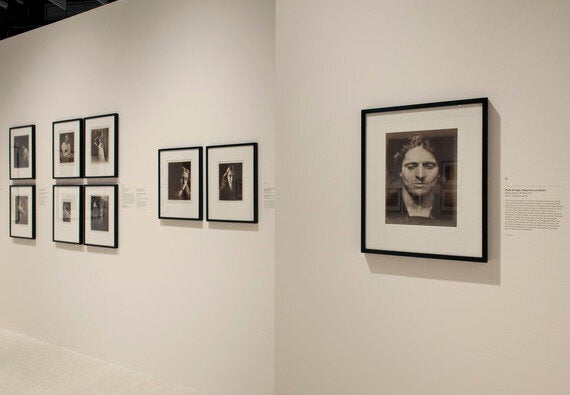 It's also worth noting that, such was the impact of Julia Margaret Cameron on photography, that this is the not the only exhibition planned to mark her bicentennial. Over the road, the V&A will be opening their own show on Julia Margaret's work at the end of November. That exhibition, like this one, will rightly increase understanding about this brilliant and pivotal figure.
Science Museum, London to March 28, 2016
1.The Mountain Nymph Sweet Liberty, June 1866, Julia Margaret Cameron © National Media Museum, Bradford / Science & Society Picture Library
2.Alfred Tennyson with Book, May 1865, Julia Margaret Cameron © National Media Museum, Bradford / Science & Society Picture Library
3.Iago, Study from an Italian, 1867, Julia Margaret Cameron © National Media Museum, Bradford / Science & Society Picture Library
4.Young Ceylonese woman plantation worker, c.1875-1878, Julia Margaret Cameron © National Media Museum, Bradford / Science & Society Picture Library
5.Installation Shot - Influence and Intimacy at Media Space, London
Popular in the Community