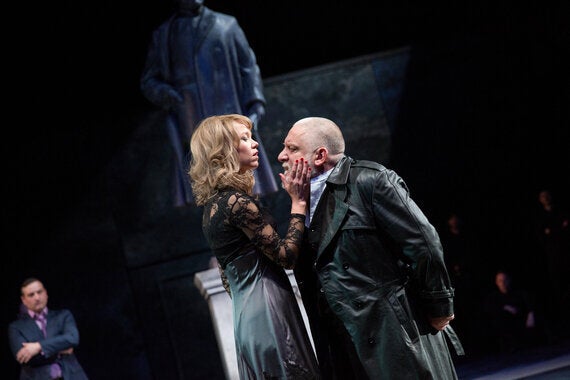 In this version of King Lear at the National Theatre, Sam Mendes and Simon Russell Beale have created a dark, violent depiction of the last days of a mad dictator.
Following other recent Shakespearian productions at the National, this Lear is brought into a contemporary setting. Sam Mendes, who directs, has set this Lear in a dystopian world based very much on the dictatorships that were the sad hallmark of the 20th century. Lear is a tyrant, yes, but with his army of terrifying blackshirts at his beck and call, and the public squares dominated by statues of himself looming over his broken populace, Lear's empire owes much of its appearance to Stalinist Russia and Hitler's Germany.
But all power diminishes. And Lear finds himself in a fight both to keep a grip on his sanity and to prevent his circling enemies from taking power for themselves. And inevitably, from a man who has long since lost touch with reality, the self-sabotage is in full effect. When Lear wilfully humiliates and banishes daughter Cordelia (Olivia Vinall) for refusing to flatter him with lies like her deceitful sisters (Kate Fleetwood and Anna Maxwell Martin) he pushes away the one person who truly loves him.
This combination of a modern dictatorship in self-destruction as its insane leader completely unravels makes this production look and feel very similar to Downfall, Oliver Hirschbiegel's extraordinary film based on Hitler's final days. Certainly there are many parallels but this is also an exceptionally violent production that doesn't shy away from the barbaric cruelty in the text. The eye-gouging, the throat sliding... it's all there. And with an unexpected murder thrown in too.
The bloodshed was a bit too much for a few in the audience who visibly winced and turned their heads away - a few didn't return after the interval. But I thought it was necessary and truthful to the text and the interpretation. Dictatorships indulge the cruel and this is as true in Lear as it is in reality.
But at the heart of this production is a truly brilliant performance by Simon Russell Beale. The quality of his performances are so high in everything that he does that we've come to expect it almost as standard, which is unfair on the man given how hard he must work on his roles.
Lear is a tough character to play. Shakespeare never shows him in his pomp - Lear's power, health and sanity are already in decline when the play starts. But in Simon Russell Beale's hands, this portrayal of a man so long alienated from balanced reasoning or accountability is completely believable.
The scars of Lear's legacy as a tyrant are already apparent in his court - family and servants cower as soon as he enters the room. But this is also an aging man battling the onset of dementia. Beale is as convincing in his moments of terrifying rage as he is in the delicate, tender portrayal of man both aware and unaware of what is happening to his mind without it ever becoming cliché-ridden or pitiful.
The production isn't without its flaws. As often happens in a piece with an exceptional lead actor, not all of the cast are quite able to match that level of performance, though special praise must go to Stephen Boxer as Gloucester, Adrian Scarborough as the brave and wise Fool and Anna Maxwell Martin as the morally corrupt, almost sadistic Regan for superb performances.
And the pace and tone of the scenes without Lear, where the conspiring court and whispering cliques hatch their plans, isn't quite there - some tension is missing. But the achievements on show outweigh these few issues.
This production came with huge expectations - the run was sold out almost as soon as tickets went on sale. That burden of expectation would weigh heavy on any show. But definitives are always elusive in art so to hope this would be the greatest production of Lear you could ever see is unfair on the creatives. Nevertheless this is an interpretation of exceptional quality.
More tickets go on general sale on February 14 but these will go quickly. If you are unable to get a ticket then do bear in mind that this version of King Lear will be broadcast in cinemas nationwide as part of the NT Live programme on May 1, 2014. If you can catch it, do. It's quite a production that can keep you transfixed for 3 ½ hours. And this is quite a production.