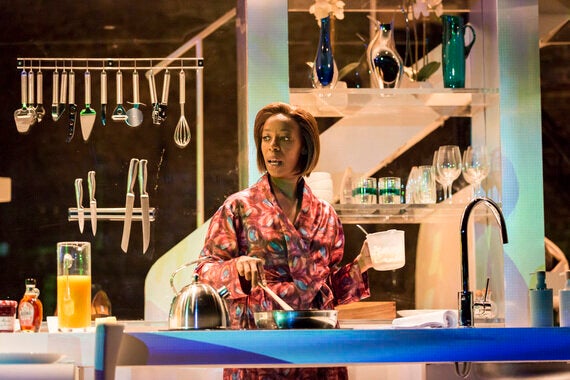 Nobody was talking about Kim Cattrall as we, the audience, filed out of the theatre. Because that was who was originally supposed to be playing Linda in this new play from Penelope Skinner at the Royal Court. Yet only a couple weeks before the show was due to open, Kim had to quit for medical reasons and in her place came Noma Dumezweni.
And now, courtesy of a little old press release on the Harry Potter musical, everyone is talking about Noma. Everyone. So how thrilled I was to catch her here before she becomes huge next year.
And what a performance she gives.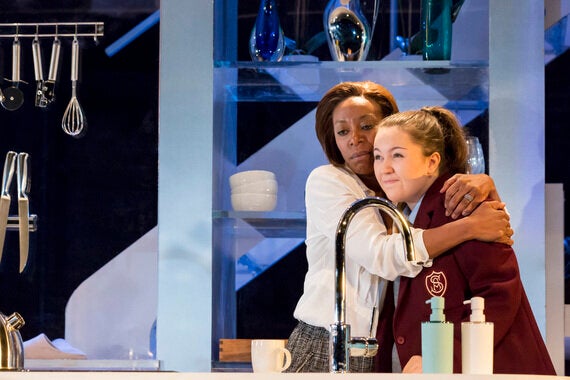 Linda (Noma) is a woman battling to stay current, to stay relevant and, fundamentally, to stay visible.
A woman in her fifties who should be reaping the rewards for a career that has seen her launch a Dove-esque marketing campaign to improve female self-esteem at her skincare company Swan, whilst successfully bringing up two bright children is instead facing terminal decline.
Everywhere she turns, a younger woman is trying to push her off stage.
Her husband is dealing with his mid-life crisis and his fragile masculinity - challenged by being overshadowed by his dynamic wife - by having an affair with a woman young enough to be his daughter. And at work, Linda finds her position imperilled by an ambitious and devious younger woman.
And added to that, her company is abandoning her trailblazing campaign to promote female bodies of all shapes and sizes for a return to more 'aspirational' marketing i.e. the airbrushed images of 20 year olds promoting anti-ageing products are back. (A quite brilliant echo of what has actually happened to the Dove campaign itself).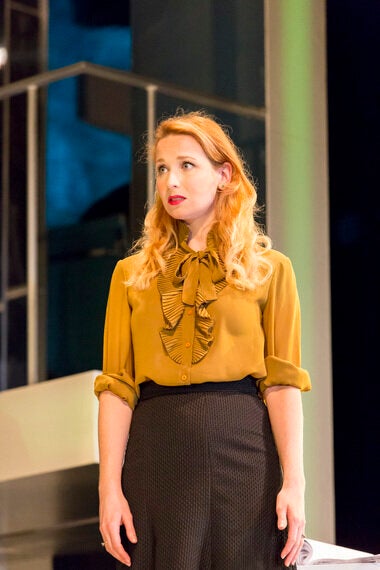 This is a play for our times, for sure. Women-centric and it focuses on many issues that are flowing through current discourse - when women above a certain age are just put out to pasture by society, ignored and overlooked.
This could have been a minefield of clichés, a checklist of concerns that we already know. Yet not only is the writing biting and brilliant, all this is juxtaposed beautifully with Linda's troubled daughter Alice (Karla Crome) who desperately wants to be invisible in her world of online shaming and bullying, peer pressure and the troubling impact of the ever-present male gaze.
It's a wonderful contrast - the mother who desperately wants to be noticed, the daughter who wants to disappear. And both prevented from getting what they want by a sexist society that judges them.
Penelope Skinner certainly packs it all in. Not only are there sub-plots of beauty campaigns, cheating husbands and workplace politics, but the play also has revenge porn, self-harming, double standards on female behaviour, absent parents, and even King Lear references.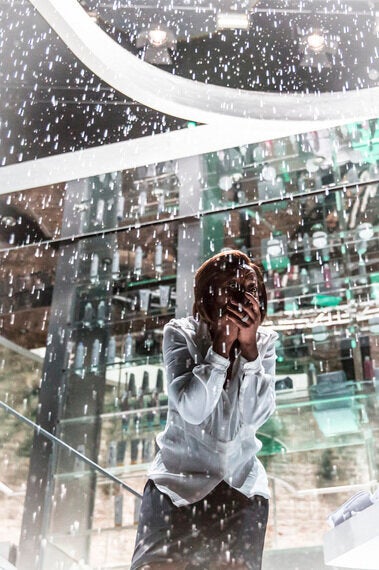 The play is energetic, dynamic and director Michael Longhurst powers it through its 2h40min running time to a highly charged dramatic climax. In fact, the ending is close to being OTT and it's questionable whether such a sensational climax is earned.
But nevertheless, the play smartly brings the two lives of both Linda and Alice full circle with some excellent writing.
In fact, there is excellence throughout this production, from Es Devlin's multi-storey 360 degree revolving set, to each performance from this very talented cast.
But Noma's performance is just, hands down, awesome. She breathes life into Linda. Her delivery is fascinating, and she just oozes charisma as Linda is on the way up - and you feel that sudden shock to her system, the panic and the fear as it all crashes down around her. Her unravelling is perfectly done. A towering central performance in a timely and tightly-plotted play.
Royal Court Theatre, London to January 9, 2016
Image Credits: All photographs by Johan Persson
1. Noma Dumezweni (Linda)
2. Noma Dumezweni (Linda) and Imogen Byron (Bridget)
4. Noma Dumezweni (Linda)
Related