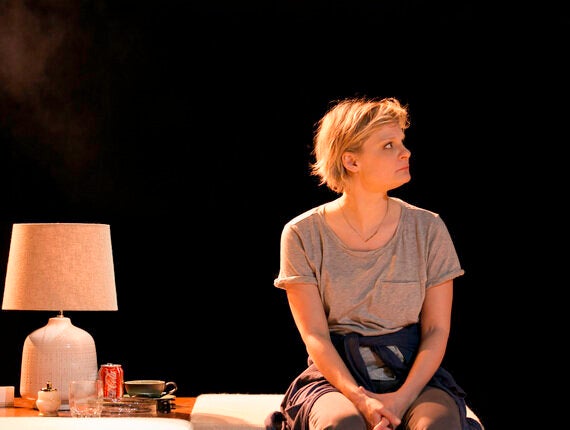 Photo ©Martha Plimpton (Brooke Wyeth) in Other Desert Cities at The Old Vic Photo by Johan Persson
Other Desert Cities is a superb, viciously funny but dark family drama that is the perfect start to The Old Vic's exciting in-the-round season.
Set in the desert city of Palm Springs, California in 2004, Other Desert Cities is a story about a family, the Wyeths, that is riven with conflict, divided in every way. The parents Lyman (Peter Egan) and Polly Wyeth (Sinéad Cusack) are veterans of the Republican party, deeply conservative in outlook, and a complete antithesis to Brooke (Martha Plimpton), their eldest daughter, a writer who is visiting for Christmas from her home in New York.
Scruffy, liberal and recovering from a nervous breakdown, Brooke has thrown all her energies into writing her new novel, one that she wants to share with her parents, as well as her brother Trip (Daniel Lapaine) and her aunt Silda (Clare Higgins) (who, herself, is fresh out of rehab).
Only the book she written is no gift. Instead it is a memoir, an exposé, on the darkest secret her family holds - the suicide of her older brother Henry some 30 years before following his involvement in a left-wing radical movement that bombed an army recruitment centre.
Written by Jon Robin Baitz, this play, a drama with a sting in its tail, was a finalist for the 2012 Pulitzer Prize for Drama - and rightly so. The pacing is tight and holds your attention completely.
And it's not just the writing that impresses - the acting from each member of the stellar cast is superb.
On paper, roles such as 'alcoholic out of rehab,' 'Republican wife modelled on Barbara Bush,' and 'liberal leaning manic depressive writer' could all be clichés but here, each character is multi-layered, complex and as self-deceiving as they are deceitful.
Sinéad Cusack is outstanding as Polly, the mother holding herself and her family together. Her ability to be simultaneously loving and poisonous is as scary as it is splendid.
Martha Plimpton, in her West-End debut, gives a passionate and weighty performance as Brooke, the firestarter as desperate for her parents' validation as she is to provoke them.
Lindsay Posner's staging, with its close-quarters verbal sparring, is served superbly by the reconfiguration of the Old Vic into an in-the-round setting.
As soon as you walk in to the auditorium, the new layout grabs you. It is wonderful, and clearly a lot of effort has gone into the transformation as the changes weave seamlessly into the Old Vic's existing décor and structure.
However those up in the Lilian Baylis circle, up in the gods, are likely to miss out on a lot of the benefits to this intimate set-up, being so far removed from the heart of the action.
The Old Vic works hard to obtain corporate sponsorship and other financial support to support their work but with the premium seats in the stalls priced at £75 and £53, those seats that get the best out of this new configuration, it's clear that the challenges that exist in bringing new audiences, a broader demographic, in to theatre remain.
Related