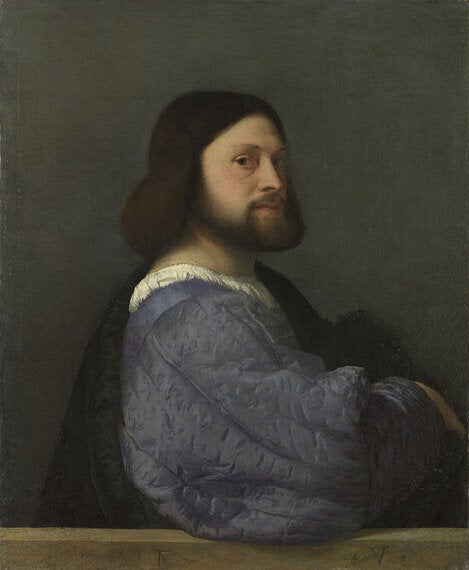 The National Gallery has scored a real winner with its summer show, Painters' Paintings, which explores great paintings from an unusual perspective - that of the artists who owned them.
Over 400 years of art history is crammed into this exhibition which sees works from Van Dyck to Freud on the walls, including paintings from such Masters as Titian, Degas, Gauguin, Cezanne and Picasso.
The collection on display is mightily impressive. Yet, specifically, these great works were all once owned by other artists and it allows us an opportunity to look at the significance of these works to their owners. What is it that drew them to these particular works? What inspired them? And what did they then incorporate into their own works?
The exhibition starts with Van Dyck and you can see the theme of this show working straight away. Titian's glorious Portrait of Gerolamo Barbarigo, 1510, with the sitter looking over his shoulder, his puffed sleeve dominating the foreground, was one of the many artworks from this artist that Van Dyck owned, and a clear inspiration for his own self-portrait from 1629, which hangs alongside.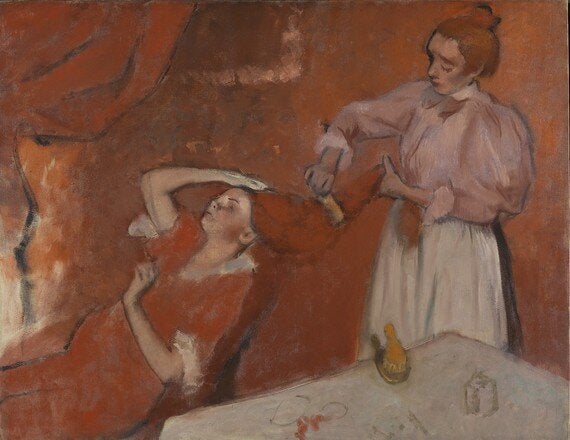 Not that each work on display was owned by the noted artist because they wanted to learn from it - much like any other collector, some artists simply wanted to own the art to enjoy it. That certainly feels the case for Joshua Reynolds and Thomas Lawrence with their collections of Rembrandts and Raphaels respectively.
The exhibition really hits its stride with Degas who was a vociferous collector - and for many reasons too. Not only did he like to learn from works he bought, as is ably demonstrated by how Degas replicated the colours in Delacroix's study of a sky at sunset in his own painting, Beach Scene, 1869, but he also wanted to support his fellow artists, for example through his sole Sisley, which is on display here.
Such was Degas' passion for art that his acquisition of art became almost compulsive. (I have an infinite respect for anyone who requests to be paid in pictures!) He owned twenty-two paintings by Ingres, another sixteen from Delacroix, and plenty more from other greats, including a gloriously colourful still life from Gauguin - A Vase of Flowers, 1896 - and Manet's iconic, The Execution of Maximilian, 1867, both of which are on show here.
Of course, other artists wanted to own Degas too and one of his most popular paintings, Combing the Hair, 1896 - that glorious cauldron of reds - was owned by Matisse, a man who knew a lot about colour! And here, works from his own collection are included in the display. And what a collection it is....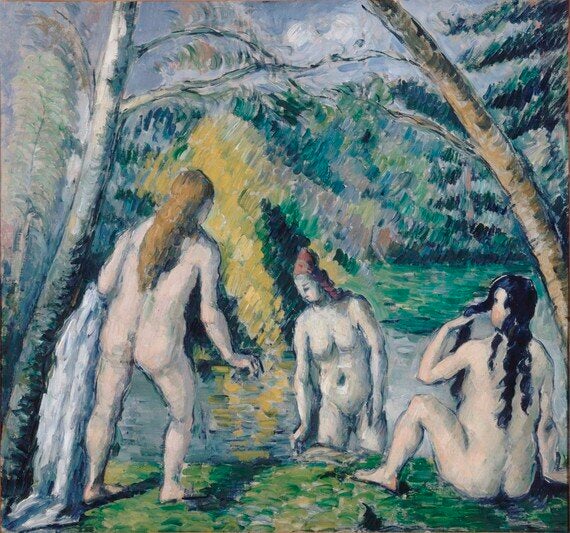 Picasso, Cezanne, Gauguin, Signac... And all displayed alongside some of Matisse's own masterpieces, including a self-portrait and portrait of Greta Moll. And there's also one of his bronzes, a solid, chunky female nude whose lines bear more than a passing similarity to the nudes in Cezanne's Three Bathers, 1879-1882, on display alongside, which was a work Matisse also owned.
This is a show dense with masterpieces and it's such a delight to walk through this exhibition as there is so much to enjoy. But more than this, this exhibition has really brought the painters to life through this review of their collections. Not only can we examine their influences, but we can also glimpse their personalities.
Such as here with Matisse. He has a couple of Picassos in his collection as, you know, Picasso was his mate. Oh the fortune to be friends with Picasso! Not only do you get his paintings handed to you as gifts but, look closely at his portrait of Dora Maar that he gave to Matisse for inscribed in the corner is a touching dedication from the man to his friend as well.
And this is evident too in the last room of the show. Focusing on Lucian Freud, we get to see a birthday card drawn for him by Frank Auerbach. As well as a photo of one of Auerbach's intense paintings which Freud hung in his drawing room, next to his beloved Corot, which is on show here and is the main promotional image for this exhibition.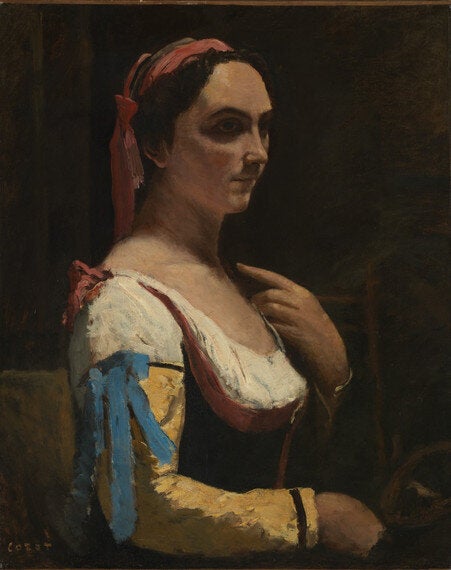 Corot's Italian Woman is such a striking portrait. It's no wonder Freud loved it so much but you can also see the influence of the bold lighting in some of Freud's distinctive nudes which hang nearby.
Not only is this a terrific exhibition in its own right but it may well be the best pay-to-enter art show on in London this summer. So many masterpieces, and so much to learn and admire. Wonderful..
National Gallery, London, to September 4, 2016
Admission £12 (concessions available)
1. Portrait of Gerolamo (?) Barbarigo Titian about 1510 © The National Gallery, London
2. Combing the Hair ('La Coiffure') Hilaire Germain Edgar Degas about 1896 © The National Gallery, London
3. Three Bathers Paul Cézanne 1879-1882 © Petit Palais / Roger-Viollet
4. Italian Woman, or Woman with Yellow Sleeve (L'Italienne) Jean-Baptiste-Camille Corot about 1870 © The National Gallery, London'
Related