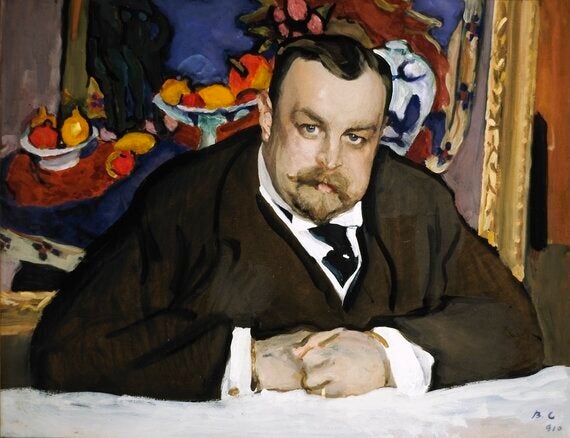 The turn of the 20th century was not a happy time in Russia. The Imperial dynasty was moribund and its Tsar, Nicholas II, was a hopeless and feeble leader who inflicted terrible hardship and violence on his people. And all this misery and angst of this period of political turmoil is captured in an extraordinary collection of portraits that have been brought together in Russia and the Arts at the National Portrait Gallery.
It is one of those rare and fortunate coincidences that, in the same period as his country was facing extraordinary upheaval, a young industrialist called Pavel Tretyakov began to commission Russia's leading painters to complete portraits of the biggest names in, not just Russia's creative arts, but the world's.
Between 1867 and 1914, Tretyakov accumulated portraits of greats such as Leo Tolstoy, Ivan Turgenev, Fedor Dostoevsky, and Anton Chekhov, amongst many others. And the selection here is an impressive glimpse into his collection, which would become the bedrock of the State Tretyakov Gallery in Moscow, Russia's national gallery.
Vasily Perov's portrait of Dostoevsky has the great writer ghostly pale, dressed in browns and beiges, and almost submerged in a shroud of darkness. Whereas in Nikolai Kuznetsov's portrait of Tchaikovsky, the great composer is almost swallowed whole by the black background.

This era of revolution and violence in Russia led to a period of profound self-examination for creative artists as they struggled with their role and responsibility to shed light on the struggles and sufferings of their fellow Russians. Certainly the need to mark a clear distinction between Mother Russia and the corrupt Imperial dynasty was the focus of more than a few.
The art critic Valdimir Stasov stands proud and triumphant in his dazzling red Cossack-style attire in his portrait by Ilia Repin. The writer Vladimir Dal, who worked tirelessly to showcase the Russian language at a time when many in the Russian elite spoke French, is also in simpler, more traditional Russian attire than the Western-style suits worn by others - only his portrait is of an older man, his skin sinking into the hollows of his cheeks, and his white beard a shocking contrast to the dour palette of blacks and browns.
Sadly, though the Romanov dynasty would eventually be toppled, what followed was, arguably, worse. And the repercussions for outspoken creative artists under the Communists were terrible.
Olga Della-Vos-Kardovskaia's proud representation of the poet Anna Akhmatova stands as a testament to a woman who would go on to speak out as many of her colleagues and countrymen suffered under the Communist purges. Her work was censored and suppressed, yet she refused to leave Russia. And she suffered too - her husband was executed and her son thrown in the gulag.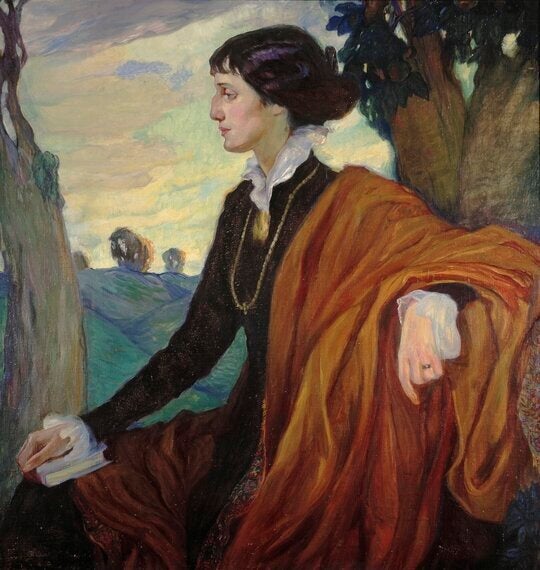 But as well as the tragedy, these portraits also demonstrate how experimental and innovative Russian artists were. Mikhail Vrubel's portrait of his wife and opera singer, Nadezhda Zabela-Vrubel, displays his radical approach - a form constructed of pale, thick, brisk brushstrokes. And Valentin Serov's portrait of Ivan Morozov captures the sitter's love for avant-garde art in both the painting's composition and style.
This is an evocative collection of portraits that is dramatic, intense and passionate, and it is a show suitably enhanced with music from the likes of Rachmaninoff and Tchaikovsky played through the speakers.
This rare opportunity to see these portraits has come about as a result of an unprecedented cultural exchange between the National Portrait Gallery and the State Tretyakov Gallery. For whilst we enjoy this exhibition, the National Portrait Gallery has lent portraits of Mary Wollstonecraft, Charles Dickens, Elizabeth I and the Chandos portrait of Shakespeare - amongst others - to the Moscow gallery to comprise Elizabeth to Victoria: British Portraits from the Collection of the National Portrait Gallery.
Russia and the Arts is an exceptional collection of works. Many of these works had never left Russia prior to this exchange, and certainly most have never been seen in the UK before. But more than this, it is a genuinely fascinating show that reveals much of the variety in artistic styles in Russian painters at that time, and, in the shadows that haunt their sitters, these portraitists reveal much of the turbulence and turmoil that engulfed Russia in these years.
National Portrait Gallery, London to June 26, 2016
Admission: £6 (concessions available)
1.Ivan Morozov by Valentin Serov, 1910 © State Tretyakov Gallery, Moscow
2.Baroness VarvaraIkskul von Hildenbandtby Ilia Repin, 1889 © State Tretyakov Gallery, Moscow
3.Anna Akhmatova by Olga Della-Vos-Kardovskaia, 1914 © State Tretyakov Gallery, Moscow
Popular in the Community