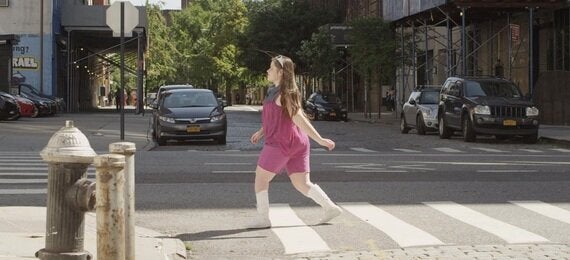 Now, I have to be honest, I don't think I ever would have imagined that I'd be recommending an art show comprised entirely of video installations but, I'm telling you, The Infinite Mix is an exhilarating show. I've read others describe it as the 'show of the year.' Big claim. But you know what, it's in with a damn good shout. And I would say that, right now, it is easily the coolest show in town.
The Hayward Gallery is closed for refurbishment right now - it's sorely missed - and The Infinite Mix is their only planned offsite show whilst the permanent premises on the South Bank are redone. And thank god this exhibition has been put on because, in one visit, it has transformed my view of film and video in art as something to approach with a little fear (and quite a bit of trepidation) into something approaching joy as the Hayward has curated together ten contemporary audiovisual artworks which are fresh, exciting, and are a thrilling mix of pop culture cool, sensory exploration, theatre, and social documentary.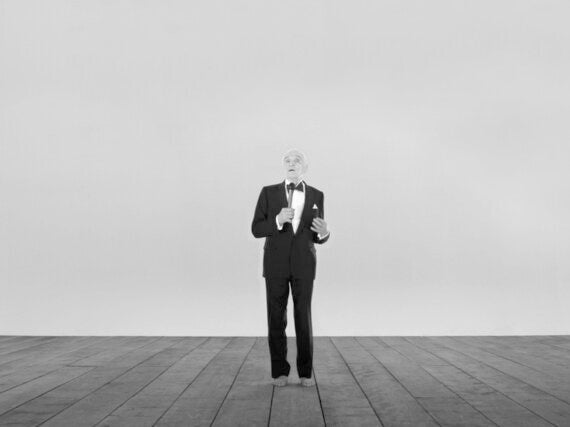 The big draw is, for sure, Kahlil Joseph's m.A.A.d., which sees him team up again with long-time collaborator Kendrick Lamar to present a day of life and loss in Compton. This may be familiar territory - especially the dramatisation of gun culture, discrimination, and men hanging upside down from ceilings and lampposts - but as a blend of music video and social commentary, it's a form of visual poetry. And then add to that a Kendrick soundtrack and, well... No wonder this is the most popular exhibit.
But it isn't the only one to thrill.
Jeremy Deller and Cecilia Bengolea's trippy Bom Bom's Dreams follows a Japanese dancehall champion as she twerks her way through Jamaica's dance competitions. Her ferocity and her ambition - as well as her brilliance - is something else. But it's that challenge of seeing women compete for male validation and approval with moves that really play to sexual availability and performance... What a juxtaposition and what a provocation. Loved it.
Then you wander out, turn the corner to head towards the next artwork only to come face to face with a floating, ghostly apparition of a singing Maria Callas. Your jaw hits the floor. Like something from Ghostbusters, you can almost reach and touch La Divinia, dressed in her instantly familiar blood-red dress as she sings her arias. It's an illusion but, my god, you'd be forgiving for thinking Dominique Gonzalez-Foerster had raised the dead.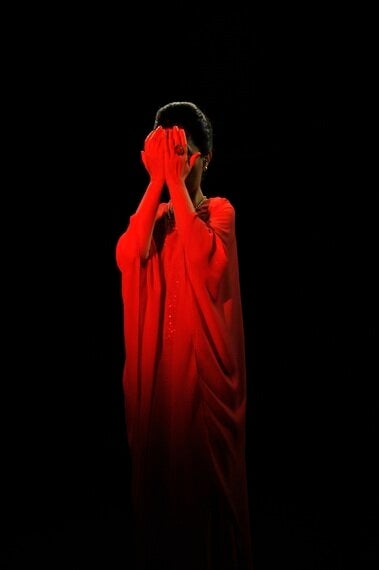 Martin Creed amuses with his film of people crossing a New York street on loop - making something theatrical and beautiful out of the mundane and routine; Elizabeth Price's work on a fictional group of professional mourners is surreal and wickedly brilliant; and Ugo Roninone's immersive installation which has beat poet John Giorno reflecting on life, death and regrets hits your heart as well as your head.
With the Hayward shut, The Infinite Mix is running at 180 The Strand, a warehouse of exposed brickwork, sawdust and graffiti. The location is as cool as its installations. By the time you walk out from the last film in this show - Cyprien Gaillard's Nightlife, a 3D film which sees footage of trees and bushes buffeted by high winds set to a dub soundtrack - you'll know you've experienced a hell of a show. Terrific, challenging but immensely enjoyable and emotional.
180 The Strand, London to December 4, 2016
1. Martin Creed Still from Work No. 1701, 2013 4 minutes 36 seconds © Martin Creed Courtesy the artist, Hauser & Wirth and Gavin Brown's Enterprise, New York/Rome
2. Ugo Rondinone THANX 4 NOTHING, 2015 Film Installation. Black & White, stereo sound 2×4 films on video projections (films 2k, 4/3) 2×16 films on monitors (films HD, 4/3) 24:14 min Ed. no. 2/3 + 2 AP Image courtesy the artist; Galerie Eva Presenhuber © Ugo Rondinone
3. Dominique Gonzalez-Foerster OPERA (QM.15), 2016 HD Video, 8 minutes 30 seconds © DACS, 2016. Courtesy the artist and Esther Schipper, Berlin
Popular in the Community