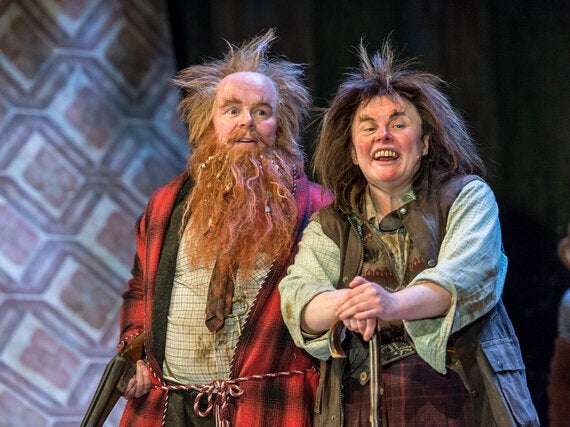 For a theatre that has been so focused on plays with a political message of late - Hope, God Bless the Child, Teh Internet is Serious Business, 2071 - the programming of a Roald Dahl adaptation at the Royal Court is an odd choice, especially during a General Election. Perhaps they were wishing for a runaway smash like Matilda. If so, they haven't made it.
There is a delicious darkness to Roald Dahl's original book about a vile and dirty couple who are rotten to the core. You relish their horrid plots and laugh at their wickedness. I desperately wanted this adaptation to capture that spirit but the result is not good, patchy at best.
Visually, The Twits is sumptuous. Chloe Lamford has recreated the Twits' grim home wonderfully, with its grubby kitchen and overgrown tangled garden.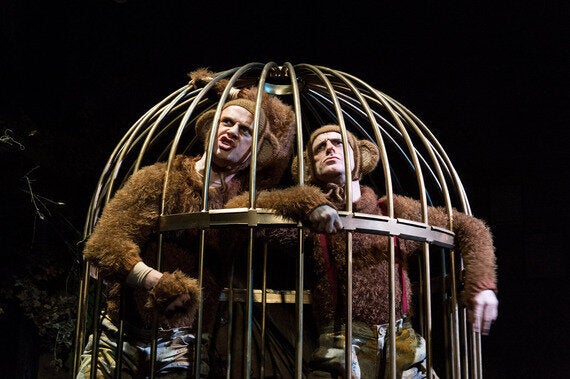 The impressive production design is complemented by some terrific performances from a cast that give it everything. Jason Watkins and Monica Dolan throw themselves into the roles of Mr and Mrs Twit. They are full of grisly pleasure, wringing every drop of enjoyment possible out of torturing their caged monkeys, unsuspecting passers-by and even each other.
However, director John Tiffany's decision to play this for laughs reduces the Twits to a more pantomime couple, more Punch and Judy. There's lots of smashing each other with pots and pans and rolling on the floor. Dahl's darkness gets lost in this attempt to lighten it up, and that's a mistake. Kids like being scared and they know when they're being patronised.
Glyn Pritchard, Cait Davis, Oliver Llewellyn-Jenkins and Aimee-Ffion Edwards also shine as the family of monkeys trapped inside their cage, forced to perform cruel sketches that needle at the deepest insecurities in their audience, whilst all the while plotting their escape from the clutches of The Twits.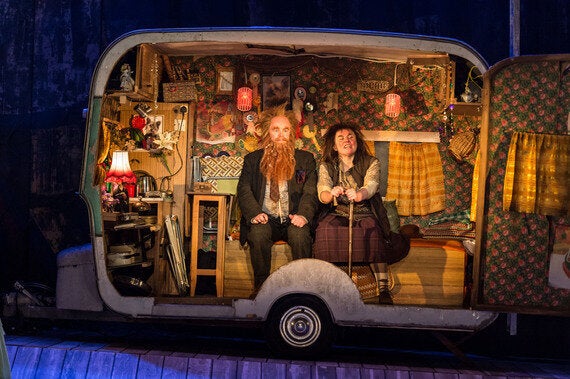 In this adaptation from Enda Walsh, the monkeys become the heart of the show, its main characters. But there's just not enough to make you care as though there are some great ingredients, this show is missing the most crucial one of all - an engaging plot.
The flimsy story sees the Twits lure in a team of fairground workers with the promise of returning to them the fairground they swindled from them some time before. Implausibly these caravaners take up home in The Twits' back garden for the best part of a year waiting for this fairground, which they are perpetually promised is 'just up the road.' I mean, why don't they just leave?
And frankly if they are stupid enough to believe the Twits are going to give them their fairground back then they really do deserve their fate.
Only their dreadful fate seems to have been more inflicted on us, the audience. The two hour play is little more than a series of sketches. There's no forward momentum, little purpose and the whole piece just lacks any kind of narrative drive.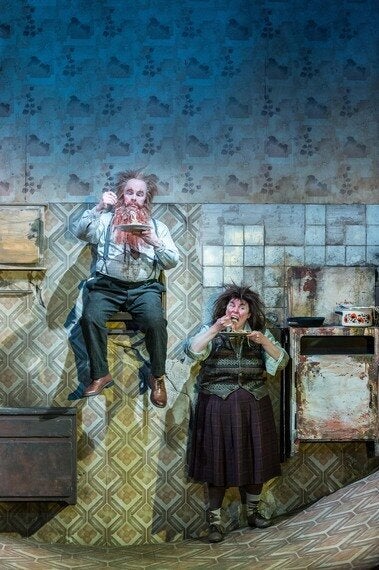 Again and again, the caravaners are forced to sit down in the corner whilst the Monkeys and the Twits put on shows, set up grisly Christmas lunches and serve up magpie pie. It just goes on and on and on without any discernible point.
It is numbing and quite disheartening to have such darkness watered down and served up so blandly. As a result, the play just drags and you find yourself willing the end to come. Such a shame. Read the book again instead.
Royal Court Theatre, London to May 31, 2015
1. Jason Watkins (Mr Twit) and Monica Dolan (Mrs Twit), The Twits, Royal Court Theatre © Manuel Harlan
2. Oliver Llewellyn-Jenkins (Monkey Son) and Glyn Pritchard (Monkey Dad), The Twits, Royal Court Theatre © Manuel Harlan
3. Jason Watkins (Mr Twit) and Monica Dolan (Mrs Twit), The Twits, Royal Court Theatre © Manuel Harlan
4. Jason Watkins (Mr Twit) and Monica Dolan (Mrs Twit), The Twits, Royal Court Theatre © Manuel Harlan