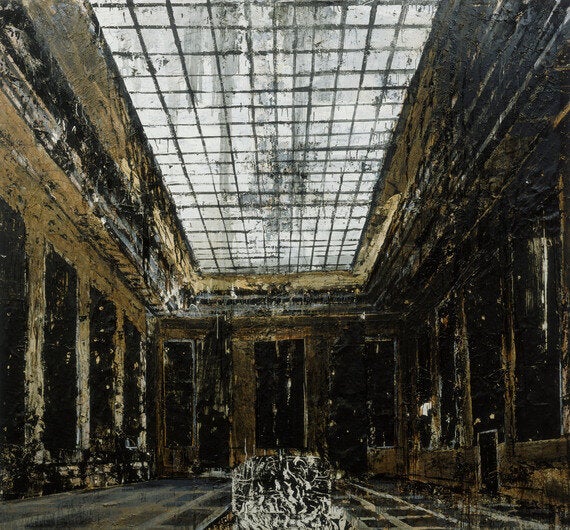 Anselm Kiefer is widely considered to be the most influential artist working today. However he is not a household name. With this in mind, this new exhibition at the Royal Academy succeeds in not only showcasing a broad range of Kiefer's extraordinary work, but also in bringing much depth and context to the pieces on show.
This is the first retrospective of Kiefer's work ever in the UK and the galleries are filled with his huge canvases from across his 40 year career to date. The canvases are vast, often covering an entire wall, and include just about every element going whether it's paint, lead, diamonds or sunflowers.
But it's the content, the premise of Kiefer's work that gives it its power. For Kiefer was born in Germany in 1945 and this location and timing is everything when examining Kiefer's art.
The shadow of Nazism loomed large over post-war Germany, its bloody legacy incredibly hard for Germans to come to terms with. In Kiefer's eyes, this had developed into a worrying culture of silence, fear and denial. Kiefer was fascinated by this collective absence of memory and was driven to address this head on.
Much of Kiefer's early work is explicit in this. In the Heroic Symbols series and his Occupation books, Kiefer incorporates figures in German army uniform giving the Nazi salute, an act that was banned in post-war Germany. The expected outcry and accusations of Nazi sympathy happened but this was more than just being deliberately provocative for the sake of attention.
Censorship is always a red flag to an artist and the fact that these subjects were considered verboten angered Kiefer but his work also perfectly demonstrated how this complicity of silence ensured that these acts, and therefore Nazism, retained a power, a hold over people.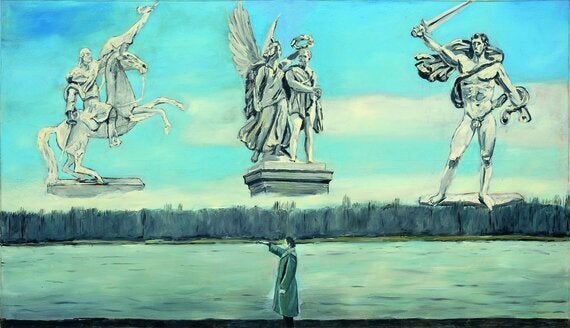 Kiefer's work was also an attempt to reclaim the artistic space that had been occupied by the Third Reich, who exploited art and artists for propaganda purposes.
Kiefer's later works have much variety and depth - he worked on interiors and landscapes and examined themes such as man's place in the world, the legacy of history and mythology, and even the universe itself - but Nazism remained a reoccurring subject.
A favourite of mine is Varus, 1976, a beautiful oil on canvas of a picturesque German forest covered with snow. A traditional winter scene in a traditional German forest, but the snow is spattered with blood and the trunks of the trees seem to be bleeding.
The title of the painting refers to the legend of Varus, the Roman general who was defeated by Arminius in the German forests in AD9. So far, so simple. But Arminius is a German legend and his reputation was used and manipulated by the Third Reich as part of their appropriation of German heroes to exalt National Socialism. Further, snow and ice are often used as metaphors for the Holocaust.
A similar approach comes up again 30 years later in Black Flakes (Schwarze Flocken), 2006, an oil on canvas of a ploughed, furrowed snow-covered field, with the barbed wire a haunting reminder of the camps.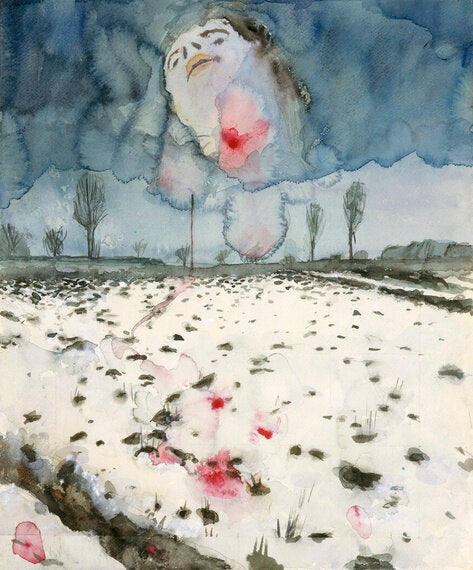 Kiefer's canvases are truly extraordinary. They contain within them such power, such emotion, that it's hard not to be moved by them. They are so vast, literally and metaphorically, that they often require time and contemplation. Sadly the RA hasn't provided sufficient benches in the galleries to facilitate this in comfort so wear comfortable shoes!
But for all the power and politics, there is a versatility in Kiefer's work that the scale of the exhibition really brings out.
Kiefer has created a new installation for this show, Ages of the World, 2014. This piece is a towering pile of discarded objects, such as wood and large sunflowers, and it consumes the room in which it is displayed. Part totem, part funeral pyre, the piece examines the relationship of ruins and the ongoing pattern and cyclical nature of time.
The piece reminded me of Phyllida Barlow's current installation in Tate Britain in the way that the structures of discarded materials assembled together in a rather undefined way is an interesting juxtaposition with the classical elegance of the Royal Academy's interior design.
Kiefer also brings out his dreamy, romantic side in a series of large lead sheets that he has scattered with diamonds, which he has set into the materials. They sparkle like bright stars in the night sky.
Yet for all the emotion in Kiefer's work, it's hard to ignore the technical excellence. Whether it's interiors or exteriors, bricked mausoleums or wooden floorboards, his execution is faultless.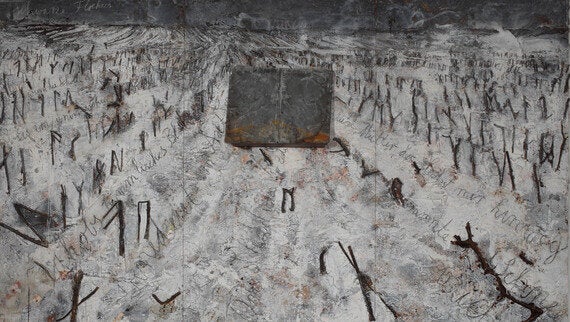 And his compositions are fascinating, whether it's simply in the perspective taken or in the occasionally surreal merging of objects, such as a floating suspended human head in a German forest in Head in the Forest, or the three vacant seats representing the Father, the Son and the Holy Ghost hovering above a planned Nazi naval attack against Britain in Operation Sea Lion, 1975.
But such is the texture and scale in Kiefer's work that no flat image could possibly do it justice. This exhibition is a definite go-see as it's crucial you see these works for yourself so you can take it all in. It's an exhilarating, passionate exhibition that needs to be seen and felt in person.
And please do not be put off if you know little or indeed nothing about Anselm Kiefer. This is a superbly curated exhibition. The pieces are hung in chronological order and there is much explanation and context given in each room to outline the pieces and what Kiefer was exploring at that time.
Royal Academy of Arts, London to December 14, 2014
Admission £15.50 (concessions available)
1. Anselm Kiefer Interior (Innenraum), 1981 Oil, acrylic, and paper on canvas, 287.5 x 311 cm Collection Stedelijk Museum, Amsterdam Photo Collection Stedelijk Museum / copyright Anselm Kiefer
2. Anselm Kiefer Heroic Symbol V (Heroisches Sinnbild V), 1970 Oil on canvas, 150 x 260.5 cm Collection Wuerth Photo Collection Wuerth / copyright Anselm Kiefer
3. Anselm Kiefer Winter Landscape (Winterlandschaft), 1970 Watercolour, gouache, and graphite pencil on paper, 42.9 x 35.6 cm Lent by the Metropolitan Museum of Art, Denise and Andrew Saul Fund, 1995 (1995.14.5) Photo copyright 2014. Image copyright The Metropolitan Museum of Art/Art Resource/Scala, Florence / copyright Anselm Kiefer
4. Anselm Kiefer Black Flakes (Schwarze Flocken), 2006 Oil, emulsion, acrylic, charcoal, lead books, branches and plaster on canvas, 330 x 570 cm Private collection, c/o Museum Kueppersmuehle fuer Moderne Kunst Photo Privatbesitz Famille Grothe / copyright Anselm Kiefer