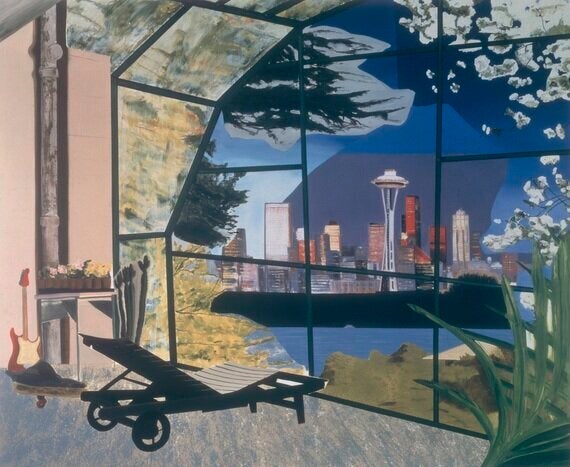 Now, right off the bat, I had concerns with this show. The promo for this new exhibition at Saatchi Gallery said that the show wanted to platform painting "in an age where painting has become one strand among many in contemporary art making". Inferring, at least, that painting was somewhat in decline or overlooked.
Now, where this premise came from, I just don't know. Yes, there are many variations in contemporary art - a key element to art these days is that nothing is off limits, and everything is to be challenged and explored. But I can't, for a second, see that this somehow means painting is on the wane.
There is not a single female artist included in this exhibition. Not one.
The Saatchi Gallery has created this exhibition from the work of nine present-day painters. All men.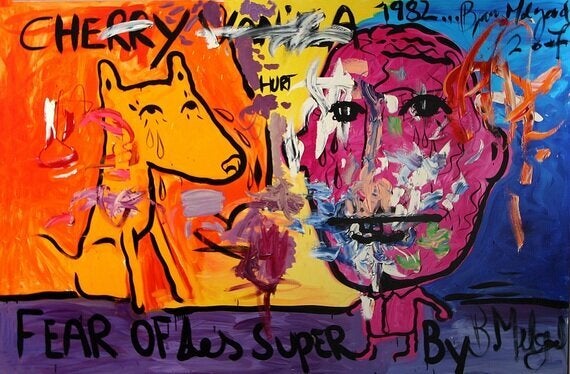 I asked the Press Department for an explanation or statement from the Gallery on the exclusion of female artists from this show - after all, I had hoped they had turned a corner withChampagne Life, a dedicated show for female artists earlier this year. And I thought the Gallery would be keen to build on this, given that Saatchi isn't exactly a name synonymous with feminism. This was their response:
"...the artists for Painters' Painters have been selected because their influence has been seen in the work of British and US art school graduates over the past ten years. Every year Charles attends graduate art schools across the UK to see the best emerging talent from British art schools, as well as keeping an eye on up-and-coming trends in the art world. In the same way that the artists in Saatchi Gallery's Sensation exhibition have now become huge influences on the art world - Damien Hirst and Tracey Emin, the artists in Painters' Painters are leading the way in the medium of painting."
Well, either Charles Saatchi has some serious unconscious bias going on or, well, Charles doesn't believe there is a single female painter coming through the ranks that's good enough to meet his standards. Whichever way you cut it, it seems that Champagne Life was very much a token gesture and that female artists still are not seen as equal in the Saatchi Gallery.
So, given all this, is the actual show any good? No. No, it isn't. And given the political minefield of all the above, this is quite a considerable problem.
Of the nine artists on display, I'd barely get excited about the work of three of them.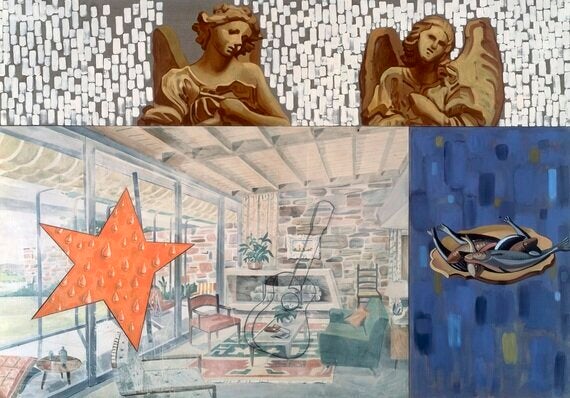 David Salle's collage-style work I always find interesting. The flow of images, often in contrast with each other, is a bit like a flood of contemporary culture, with all the sources of information flying at us all day, every day.
Dexter Dalwood's large canvases offer interesting viewpoints of unusual locations, such as Brian Jones' swimming pool and the Bay of Pigs in Cuba; and David Brian Smith's almost magic realism touch in his large paintings of Gainsborough Farm, 2014, and Great Expectations, 2015, is elegant and enchanting.
But that's really about it. I found Bjarne Melgaard's graffiti-style paintings poor versions of Basquiat and the naivety in Martin Maloney's deliberately simple and rudimentary images of women reading papers whilst sitting on park benches, or out walking dogs bringing nothing new in terms of observation. And as for Ansel Krut's 'sense of humour' with his vase of flowers where the flowers are, in fact, all bottoms... Yeah, not for me. Seems too 'banter' like. Which may well be part of the problem.
Saatchi Gallery, London, to February 28, 2017
1. Dexter Dalwood Kurt Cobain's Greenhouse, 2000 Oil on canvas 214 x 258cm © Dexter Dalwood, 2000. Image courtesy of the Saatchi Gallery, London
2. Bjarne Melgaard Untitled (Fear of Les Super), 2007 Oil on canvas 200 x 300 cm © Bjarne Melgaard, 2007. Image courtesy of the Saatchi Gallery, London
3. David Salle Mr. Lucky, 1998 Acrylic and oil on canvas and linen 239 x 340 cm © David Salle, 1998. Image courtesy of the Saatchi Gallery, London
Popular in the Community