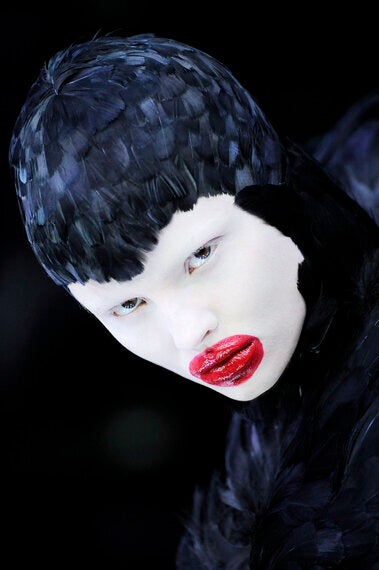 Lee Alexander McQueen was a rare talent - he had that scarce combination of superb craftsmanship and extraordinary vision. And both of these pillars of his strength are on show in this stunning new exhibition of his work.
Savage Beauty is the only major retrospective of the work of Alexander McQueen in Europe. And it is not to be missed as this collection of works by the legendary fashion designer is a masterclass.
The exhibition layout is by theme rather than in basic chronological order. This decision pays off handsomely as not only did McQueen return to certain ideas throughout his career, but it allows the curators to create entire worlds for each theme, immersing us completely in the emotion of the pieces.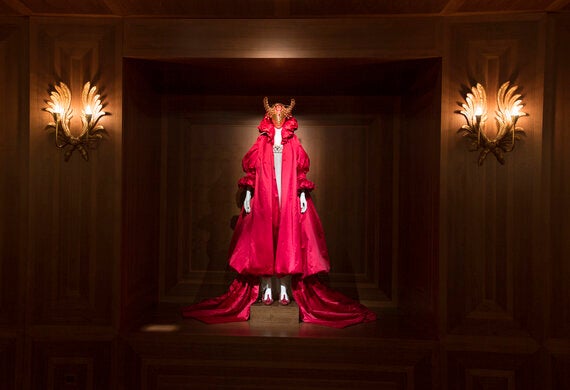 Whether it's Romantic Nationalism or Romantic Exoticism, Plato's Atlantis or a recreation of the inspiring Voss catwalk presentation, each room is heady and exhilarating. Sounds fill the rooms, be it birdsong or music, and we are surrounded by some of McQueen's most iconic pieces.
The Romantic Gothic room is filled with McQueen's darkness, his love for Victorian gothic. His bird-women jet black feather dresses stand alongside lace and crystal corsets, all surrounded by towering smoky mirrors.
And this segues into the incredible room of Romantic Primitivism, where the walls are covered with skulls and crossbones and each cave within is filled with garments crafted from horn, skin and hair.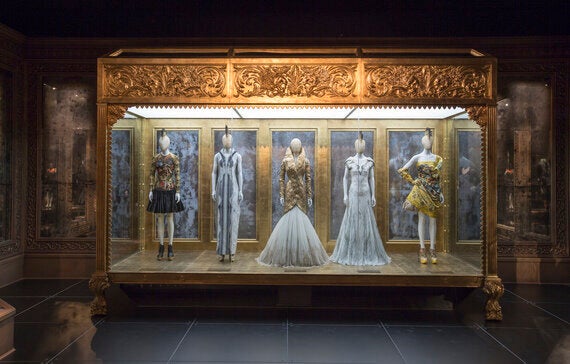 The drama and theatricality is appropriate - this is McQueen after all. But such was the man's talent that not even the emotional intensity of the presentation overwhelms the work on show.
Each piece - and there are over 240 ensembles and accessories on show - stands out on its own merit. And you can see the superb tailoring in each - the seemingly effortless blend of fabrics and objects, whether he's mixing bird feathers with latex, leather bodysuits with crocodile-head shoulder pieces, or crystal-encrusted face masks with red silk gowns.
McQueen drew inspiration from everything around him, whether it was poetry or history, nature or street culture. His collections were infused with these influences. Yet they were always incredibly beautiful - dark but beautiful.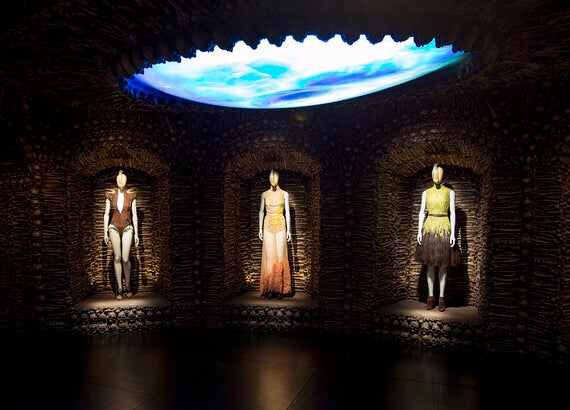 It's that darkness, that subversive side to McQueen's perception of beauty that gave his collections their potency, their power. His works grab you, frighten you even, but they are powerful, sensual and incredibly desirable.
That intoxicating power is reflected in the darkened labyrinthine layout of the exhibition, and this melding of the drama of the curation with the brilliance of the works on show is a winning combination.
Savage Beauty originally showed at Metropolitan Museum of Art in New York but the exhibition has been edited and expanded by the V&A. 66 additional garments and accessories have been included and, reflecting the fact that this show is now in London, a new section has been added focusing on McQueen's early London collections.
The 'worlds within a world' curatorial approach is heady and dynamic - each room is stunning. Yet it's impossible for your jaw not to drop on entering the Cabinet of Curiosities.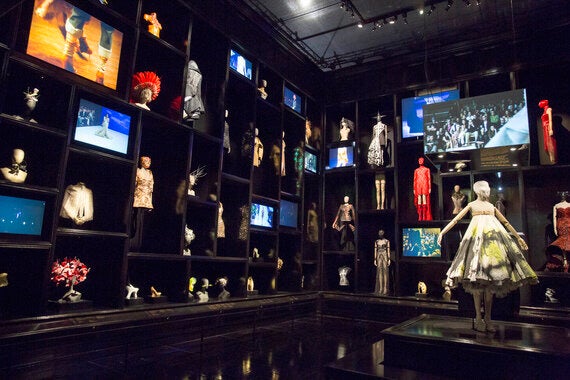 Row upon row of headdresses, shoes, costumes and Philip Treacy hats fill this vast, double-height gallery. Interspersed with video footage of almost every single Alexander McQueen catwalk presentation, the room overwhelms you. It's almost impossible to put into words. You crane your neck upwards and all the way to the top are Armadillo shoes, butterfly headpieces, crystal encrusted dresses... It just goes on and on.
That McQueen was a visionary and a genius is obvious but applause should also go to curator Claire Wilcox and her team who have done an incredible job in completely transforming the V&A galleries. The effort and work that must have gone into creating this creative maze must have been profound.
The V&A are hoping Savage Beauty will be their most successful ever exhibition. And it deserves to be. It is unlikely you will ever see a better fashion exhibition.
God, how fashion misses McQueen. Our world is that much duller without him.
Victoria & Albert Museum, London to August 2, 2015
Admission: £16 (concessions available)
1. Duck feather dress by Alexander McQueen from The Horn of Plenty, A/W 2009-10 © Model: Magdalena Frackowiak represented by dna model management New York, Image: firstVIEW
2. Installation view of 'Romantic Nationalism' gallery, Alexander McQueen Savage Beauty at the V&A, 2015 © Victoria and Albert Museum, London
3. Installation view of 'Romantic Gothic' gallery, Alexander McQueen Savage Beauty at the V&A, 2015 © Victoria and Albert Museum, London
4. Installation view of 'Romantic Primitivism' gallery, Alexander McQueen Savage Beauty at the V&A, 2015 © Victoria and Albert Museum, London
5. Installation view of 'Cabinet of Curiosities' gallery, Alexander McQueen Savage Beauty at the V&A, 2015 © Victoria and Albert Museum, London