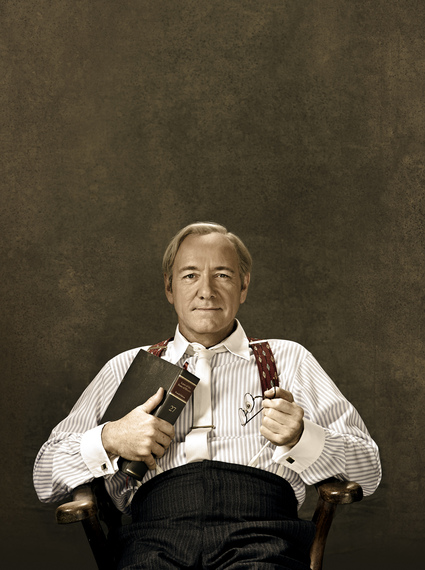 Clarence Darrow is a very passionate, moving play on the experiences and motivations of a famous US union and civil rights lawyer who played a key part in some of the most contested legal fights in the late 19th and early 20th centuries.
In this play, an older Darrow (Kevin Spacey) is packing up his office, reflecting on his life, experiences and the choices that he made as he puts the papers and memorabilia of his past into boxes.
"I've never been sure I made the right choice" Darrow confides. And indeed, for though Darrow was a man who dedicated his life to a higher cause, to the pursuit of justice for all men, this brought with it almost inevitable consequences for his personal life - and repercussions from taking on the powerful.
Darrow was clearly an admirable man but it is Kevin Spacey as much as Darrow who shines in this one-man show.
Spacey's performance felt like an acting masterclass. Every intonation, each deliberate emphasis was such an interesting approach to the text. As Darrow recanted the dark times and the complex legal processes, Spacey's use of both drama and humour brought more from the text, enabling the audience to remain connected with the story being told.
The physical transformation was also obvious with Darrow hunched over and tired, tell-tale signs of a man at the end of a long career of pouring over legal texts and weary from battle.
This isn't the first time Kevin Spacey has played Clarence Darrow - he played the character in a TV series in 1991 (Darrow) and in Inherit the Wind at the Old Vic in 2009. I saw neither of these but there's something very honourable about Spacey's dedication to giving a voice, shining a light, on these unsung heroes from our past, especially as this piece is not without its challenges.
A two hour monologue is always going to be tough and there are passages which are quite dry, particularly in the first half as Darrow recants his early beginnings with his representation of railroad workers and union members.
It's hard for a largely British audience to connect completely with this. Perhaps an American audience would find this easier to follow as they are likely to be more familiar with the Haymarket anarchists, the Chicago riots and these other key events that Darrow became involved with.
But this gets easier in the second half as we move into more familiar territory and Darrow's civil rights work and battles with religious fanaticism. "We are full of prejudices. But we are not born prejudiced" he cries, pleading with us to confront the education of the next generation.
How sad it is that these pleas should resonate with us today, especially given the recent European elections which saw sweeping gains for extremist parties across Europe, and increasing concerns on fanaticism in many religions.
Spacey works hard to keep the audience engaged and with the Old Vic configured in the round, this gives him both opportunities and challenges. The result is a very physical performance from Spacey, as well as an emotional one.
Having the audience so close enables him to reach out and include them in his performance, but it also means he is constantly moving, almost restless on stage, as he looks to ensure every audience member is fully involved and moved by this story.
I imagine Spacey must be quite shattered after each performance but on stage, he handles these challenges so well.
That Spacey is one of the finest actors around I knew before I entered the theatre but his star power was clearly evident in the demographic of the audience. The night I went, the auditorium was filled to capacity with people who confessed they rarely attended theatre, if ever. Some had travelled from across the UK just to see him perform. A couple next to me had travelled from Spain.
Theatre needs new blood in its audiences to survive and thrive, so I found it a telling reminder of why theatre desperately needs its brightest stars to remain committed. They are key to bringing in these audiences.
The play is only on for a limited time as Kevin Spacey is squeezing this in around filming for House of Cards Season 3. It's therefore no surprise that the run has already sold out but there will be 20 Day Seats at £10 for each performance available in person at the Box Office from 10am on the day of the performance.
If you are lucky enough to get a ticket, you will be rewarded with seeing one of the greats very much at the height of his powers.
Old Vic Theatre, London to June 15, 2014
Image credits: Kevin Spacey as Clarence Darrow © Jay Brooks