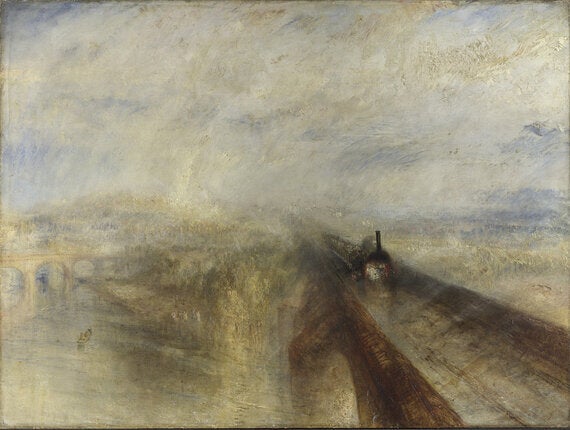 The Late Turner exhibition at the Tate Britain is the first ever museum exhibition of the later works in Turner's career. The works he produced in his 60s and 70s were some of his most remarkable as his understanding of light and colour, which he'd developed throughout his career, reached its climax.
To reflect the scale and skills of Tuner's output in the last 15 years of his life, the Tate has brought together a vast and glorious collection of the great man's oils and watercolours. Many are from Turner's generous bequest he left to the nation on his death but the show also includes rarely seen pieces and loaned works from across the world.
An example of this is Modern Rome - Campo Vaccino 1839, which is on loan from the Getty Museum in California and is shown here alongside its pair, Ancient Rome - Aggripina Landing with the Ashes of Germanicus, 1839. These pieces haven't been seen side by side since 1839.
The purpose of this exhibition is not just to showcase Tuner's extraordinary work from the last 15 years of his life but also to challenge the notion that artistic creativity declines with advancing age.
The triumph of these works and their technical excellence show this contrast between Turner the ageing man and Turner the creative artist. There is a sense of freedom in Turner's works at this stage, as if old age was freeing him of any shackles on pretence or need to court acclaim. But given his age, no doubt Turner must have been thinking about his legacy as an artist.
Despite his advancing years, Turner undertook more than a few overseas tours. A lovely anecdote included in the exhibition comes from a colleague who witnessed Turner hard at work sketching in his book, even late at night, whilst him and others idled away the hours.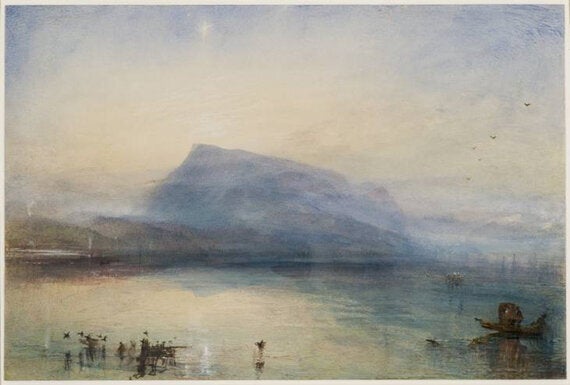 Turner produced a vast array of landscape watercolours from these travels, works that show a master at the height of his powers. Whether it was the Italian Lakes, Mont Blanc or the Rhine, the washes and detail within these works are incredible. The landscapes are so serene yet beautifully reflect the scale and beauty of nature.
As well as these landscapes, Turner also painted Venice - a popular subject for artists at that time. However whereas others focused on realistic representation of Venice whilst also showcasing it in all its pomp and grandeur, Turner's paintings show a beautiful city in decline, its better days behind it.
This, as well as often inaccurate reflections of the city's architecture (whether due to preference or faded memory) angered critics and patrons who found his atmospheric style unsettling. So much so that one set of patrons refused to pay for a set of paintings they commissioned and returned them (how that family's ancestors must regret that now).
But Turner was a wealthy man in his later years, not dependent on selling paintings to survive and so this afforded him a greater freedom in his work.
Turner is often seen as an incredibly modern painter - embracing contemporary culture such as steam-power as well as his paintings reflecting a sense of the impressionism and abstract that would follow him. However Turner returned to many classical themes in his later works, which is highlighted in the exhibition.
Many of the paintings on display reflect Turner's interest in classical subjects such as biblical stories and mythology, themes he revisited many times throughout his career. The paintings that resulted from merging these interests with his mastery of light and colour created some fascinating works.
Two works on the biblical flood Light and Colour (Goethe's Theory) - the Morning after the Deluge, 1843 and Shade and Darkness - the Evening of the Deluge, 1843 show how Turner's unique approach to the subject matter refreshes a common subject, reflecting nature's scale and devastation so vividly in a way that more traditional works were unable to.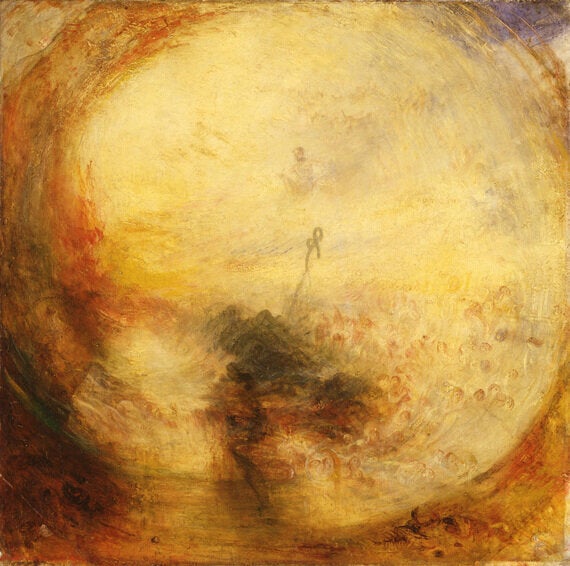 At other times the merging of his modern style with classical subjects can seem a little jarring, such as his Bacchus and Ariadne which seems to have transported the exact composition of the figures from Titian's masterpiece, which hangs in the National Gallery, into a typically Turner landscape.
Up close, the brushwork and the intensity of Turner's work remains awe-inspiring and this can be most clearly seen in his works of more modern themes such as steam-power and whaling, and contemporary seascapes.
Rain, Steam and Speed - The Great Western Railway, 1844, is a famous Turner and this intensely powerful work is on show here, reflecting Turner's fascination with steam power, a subject which few other artists showed any interest in despite its revolutionary effect on British industry. Painted when Turner was about 69, it is a great reflection of how Turner remained bold and motivated in capturing new subjects as well as classical ones even at this late stage of his career.
Turner's works on the sea remain my personal favourite though and the Tate has brought a large number of those together, including works Turner completed specifically on whaling. Though he never experienced a whaling trip directly, Turner immersed himself in field reports on travel notes of such trips to capture their spirit and adventure. The resulting oils and watercolours are an evocative reflection of that enduring battle of man versus nature.
To be in a room filled with Turner's seascapes is like a wonderful assault on the senses. With these huge canvases and the furious, bold brushstrokes, it's impossible to think that anyone will ever capture the power of the sea quite like Turner.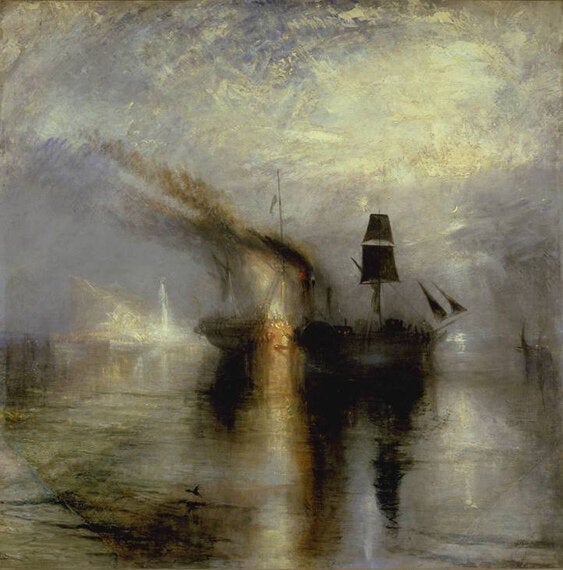 In addition to this fantastic array of paintings, the Tate has also put on show a large number of Turner's sketchbooks. Often used on his travels to capture topography and to details, the books reflect a mind and body that was as keen as a man half his age.
In addition to many great works, Turner also bequeathed the contents of his studio to the nation and the inclusion here of his palette and spectacles adds a personal touch to this outstanding and illuminating exhibition.
Tate Britain, London to January 24, 2015
Admission £15 (concessions available)
1. J.M.W. Turner, Rain, Steam, and Speed - The Great Western Railway 1844 © The National Gallery, London
2. JMW Turner The Blue Rigi 1841-2 Watercolour on paper support: 297 x 450 mm on paper, unique © Tate. Purchased with assistance from the National Heritage Memorial Fund, the Art Fund (with a contribution from the Wolfson Foundation and including generous support from David and Susan Gradel, and from other members of the public through the Save the Blue Rigi appeal) Tate Members and other donors, 2007
3. JMW Turner, Light and Colour (Goethe's Theory) - the Morning after the Deluge - Moses Writing the Book of Genesis, 1843 Oil paint on canvas support: 787 x 787 mm painting © Tate. Accepted by the nation as part of the Turner Bequest 1856
4. JMW Turner, Peace - Burial at Sea, exhibited 1842 Oil paint on canvas support: 870 x 867 mm © Tate. Accepted by the nation as part of the Turner Bequest 1856