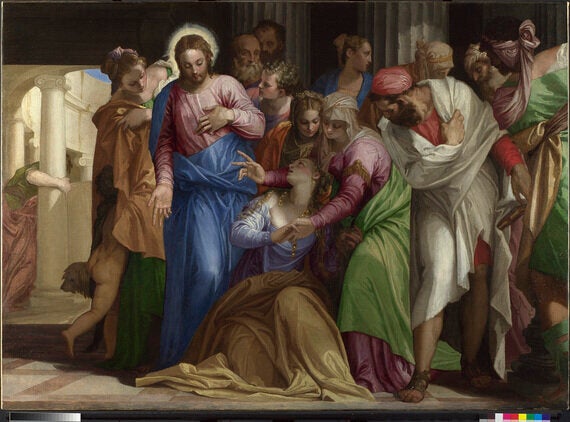 Image credit: Paolo Veronese (1528-1588)The Conversion of Mary Magdalene, about 1548 Oil on canvas 117.5 × 163.5 cm © The National Gallery, London
In Veronese: Magnificence in Renaissance Venice, the National Gallery has brought together a vast and extraordinary collection of work from this Renaissance Master, one of the most influential artists of the 16th century.
With over 50 paintings, many of which are enormous in size, the National has had to completely overhaul its own permanent collection with seven large rooms emptied of their contents to be replaced with these exquisite, rich masterpieces. And the result is a resounding success.
Every single Veronese on show is simply superb, making this one of the best art exhibitions I have seen in recent years.
On his arrival in Venice, Veronese (whose real name was Paolo Caliari - known as Veronese as he heralded from Verona) quickly caught the eye of Titian and Titian's influence can certainly be seen in the rich, bold colour palettes and the huge canvasses.
The Conversion of Mary Magdalene is a perfect example of this with its bright blues and pinks, and its canvas filled with figures, crammed with detail and variety.
The influence of his other contemporaries is also evident in his works, such as in The Temptation of Saint Anthony where the male body has the powerful, muscular physique that we would recognise from Michelangelo. But Veronese had extraordinary diversity in his talents and his unique take on composition and colour is so beautifully reflected here.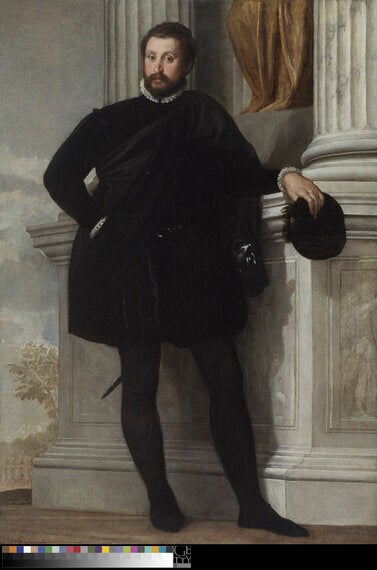 Image credit:Paolo Veronese (1528-1588) Portrait of a Gentleman, about 1560-5 Oil on canvas 192.1 × 134 cm © The J. Paul Getty Museum, Los Angeles
Like many other artists, Veronese too was commissioned to paint the aristocracy of his time but his paintings of the Venetian elite are bold and challenging.
Shown beautifully in the exquisite, Portrait of a Gentleman, Veronese embraced a cool monochrome palette, which is quite startling when seen alongside his other works. Also there is much emotional depth to these portraits, such as here where the patron seems lost in thought.
Nor did Veronese limit himself to portraits or works based on religious texts. He also painted works based on mythology as well as historical scenes, such as The Family of Darius before Alexander. Here, as elsewhere, Veronese set himself these huge challenges of filling the scenes with characters, figures, all with different intentions and different poses, and with such detail in fabric and features.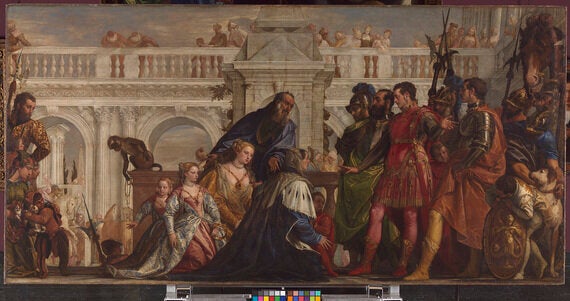 Image credit: Paolo Veronese (1528-1588) The Family of Darius before Alexander, 1565-7 Oil on canvas 236.2 × 474.9 cm © The National Gallery, London
Veronese weaves so much into his paintings. So often in scenes such as The Martyrdom of Saint George and The Finding of Moses, Veronese will also have cattle and horses peering in from the sides - animals that other painters would put front and centre to show off their talents, Veronese executes perfectly but adds simply as accompaniments.
And his construction of paintings is so interesting, ahead of his time almost. Such as in The Dream of Saint Helena (1570). There are two versions of this same scene in the exhibition, hung side-by-side, and it offers a great opportunity to see how Veronese took varied approaches to the same subject.
In the version from the National Gallery's own permanent collection, Catherine, dressed in plain clothes, is asleep in the bottom right of the canvas, with the angels showing her the Holy Cross in the top left of the painting. In the centre? Simply the plain beige background.
It is such a contrast to the version owned by the Vatican, which is hung nearby, where Catherine sits in the centre of the painting, wearing rich fabrics and even a crown.
This is the most significant collection of Veronese's works ever to be displayed in the United Kingdom. Veronese may not be a household name like High Renaissance artists such as Leonardo, Michelangelo and Titian, but one visit to this exhibition shows how much he deserves his place alongside these Masters.