"We were also shooting elephants. The LRA fighters would kill the elephants and cut off the tusks. Then the prisoners were brought to the elephant carcasses to strip off the meat and carry it back to the main camp. During the one year that I was a prisoner of the LRA, I took part in carrying meat from six elephants."
- Testimony from an LRA defector who escaped in 2009.
Joseph Kony personally gave orders to units of the Lord's Resistance Army (LRA) in Garamba National Park in the Democratic Republic of Congo to slaughter elephants and bring him their tusks, according to eyewitness accounts and satellite evidence compiled by the Enough Project and the Satellite Sentinel Project. Their seminal report entitled "Kony's Ivory: How Elephant Poaching in the Congo Helps Support the Lord's Resistance Army" has illustrated that elephant poaching is not only a heinous environmental crime, fuelled by frivolous whims of Asia's noveau riche, but is also being used to fill the coffers of a blood-thirsty warlord and foot the bill for the LRA's disorder and mayhem throughout Central Africa.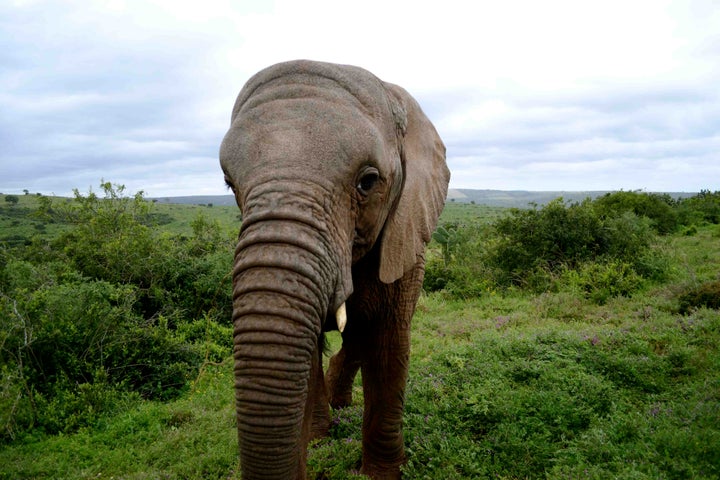 The plight of the African elephant has never been so urgent. Photo by Vidhi Doshi
According to the report, rangers of Garamba park was first exposed to them in 2012, when an 18-year-old woman who had escaped her LRA abductors, reported that Joseph Kony himself had given orders to to kill elephants and send the tusks to him. She also reported that once seen LRA rebels with 10 tusks.
Then, in early June last year, according to Garamba Park manager Luis Arranz, his rangers "encountered a small group of LRA with three to four armed fighters and some children. The group threw their bags and ran away. Some of our rangers picked up the bags, which were full of elephant meat. The rangers also found the carcasses of two elephants without any tusks."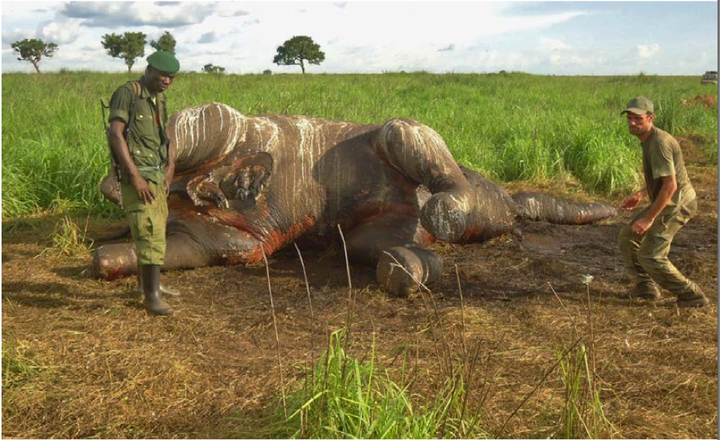 Garamba park rangers with an elephant carcass. May 2012, NURIA/ORTEGA from "Kony's Ivory"
According to an employee of the park authority, "The children tell us that they have seen white helicopters landing next to LRA fighters and that the fighters are given food, guns, and ammunition in exchange for the ivory, which is then loaded onto the helicopters."
Raw ivory, which can fetch up to $1300 per pound is easy cash for LRA rebels who have became permanently established in Garamba since 2005. Ugandan combat forces, supported by US advisers are denied access to the DRC. As a result, Garamba has become a safe haven for the North Ugandan rebel group. Operating in Central Africa's forests and savannahs has given the LRA easy access to elephants, whose tusks prove to be a useful source of revenue for an organisation, which is under-resourced and poorly funded.
Ivory has been transported to Kony through the Central African Republic since as early as 2010. An ex-LRA Junior Officer has reported that a senior rebel leader, Brigadier Vincent Binansio "Binany" Okumu, who was a close confidante and bodyguard of Kony himself was in charge of ivory hunting in Garamba. One eyewitness reported personally seeing Binany transporting ivory to Kony. Binany was killed by Ugandan troops in January 2013, however, the apparatus he set in motion, to carry out a large-scale massacre of elephants remains.
Escapees have reported that the LRA operates in three main groups and eyewitness estimates suggest that a total of 70-100 of LRA's armed fighters along with 150-200 women and children are inside Garamba national park. According to ex-LRA fighters, Kony regarded Garamba national park of key strategic importance.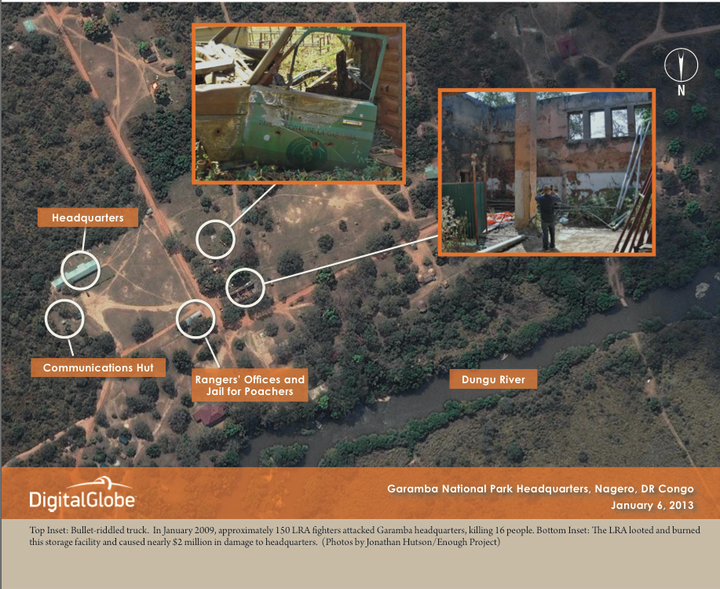 Damage to Garamba HQ caused by attacks by 150 LRA fighters in 2009. 16 people were killed. (Photos by Jonathan Hutson/ Enough Project)
Caught in the crossfire, elephants whose lives are worth less than their tusks, are disappearing at an alarmingly rapid rate. In the 1970s, Garamba National park had around 20,000 elephants. According to the most recent aerial census, around 1800 elephants survive today.
The testimonies of escapees and defectors have furnished our understanding of how the LRA operates and terrorises innocent villagers for no apparent purpose at all. The LRA's despicable human rights violations, including murder, mutilation, rape, abductions of children and adults, sexual slavery, and horrifying massacres were all brought to notoriety by 'Stop Kony', an awareness campaign launched by the NGO, Invisible Children. The heinous war crimes of it's leader, Joseph Kony, were brought to light by the Kony 2012 video which has now received over 97 million views on Youtube.
The LRA is a relatively small organisation, with perhaps as few as 250-400 fighters. Yet it is responsible for civilian casualties of at least 1,260 and at least 2,842 abductions.
The LRA is not the only terror group involved in the ivory trade. Reports that Durfur's Janjaweed and Somalia's al-Shabab have also been noted by park rangers. Congo's political instability and rampant corruption make the nation particularly vulnerable to criminal syndicates.
The report has illustrated that ivory indeed is fast becoming a conflict resource and its illicit trade must be taken more seriously be world leaders. In November 2012, former US Secretary of State pledged $100,000 for the enforcement of illicit trading noted it as a potential security threat:
"I'm asking the intelligence community to produce an assessment of the impact of large- scale wildlife trafficking on our security interests so we can fully understand what we're up against."
£100,000 is a small amount for a nation that has a gross annual income of $15.2 trillion, but Clinton's precedent must not be ignored: leaders from across the world need to come forward and make similar gestures against the abhorrent activities of Joseph Kony and other warlords who are plundering what's left of our environmental heritage to fund mindless slaughter and abject war crimes against innocent civilians.