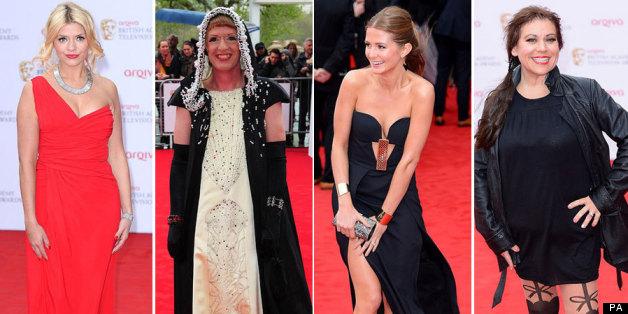 PA
Sitting in the launderette reading a copy of last week's TV Guide, I contemplated my upcoming BAFTA attendance. More specifically, I'd just worked out that by the time I'd stuck my smalls in the dryer and lugged them all the way home down Balham High Road I would have just under one hour to prepare.
'Should I have taken this more seriously?' I wondered, knowing in my heart of hearts that my answer was no. I wholeheartedly disagree with the months of preparation even the least famous of famous people spend selecting gowns and blow dries and facial expressions for these fancy affairs. So rather than skip the dryer and be stuck with a soaked mass of wet clothing for three days, I stuck to my guns, positively reveling in this basest of domestic tasks just to prove a point (and in the process sacrificed half an hour of potential preparation time). By the absence of any feeling of panic, I concluded that I actually didn't care that much. I mean if I didn't look acceptable after 45 minutes, I wasn't going to. Full stop. I took it as a challenge.
If you're getting the impression I don't often go to these events, you'd be correct. Yes, as a fashion writer I go to press launches, parties and all that jazz, but the BAFTAs is of another calibre altogether. So much so, that with Sienna Miller in attendance, my own efforts would surely pale into insignificance. Not worth skipping the dryer for, anyway.
But before we get into all that, let's rewind to three days before, when all this began. I mean you're too polite to say it but you're probably wondering how I managed to slip into such a posh affair in the first place and who on earth would invite me? It was just a normal day in the office when blogger extraordinaire (and good friend) Jai'me Jan of Boy Meets Fashion invited me casually along to the BAFTAs that weekend as his +1. Not much of a black tie gal, my colleagues at work were horrified and a little hysterical on learning of my expected attendance at such a prestigious (and somewhat dressy) affair.
'Can I wear a leather jacket?' I asked, only one third in jest. Suggesting I could make it 'more me' with a tan vintage belt and my prized Oxfam dreamcatcher necklace got the girls in somewhat of a frenzy. Seriously concerned at the ensemble I was potentially going to throw together, my colleagues frantically scoured the web for 'dressy' dresses, one even offering to whip something up for me on her sewing machine. Feeling quite relaxed (and only mildly offended) about the whole thing I brushed it off and headed out for a burrito with a friend in place of their recommended frantic shopping mission down Oxford Street, before meandering home for a rifle through my wardrobe.
Finding an H&M 'emergency dress' in my customising pile (I presume for such emergencies as this) I was satisfied. Trying it on I found a slight waddle occurred - probably why it was in the customising pile - so quite casually cut a slit up each side to allow myself more leg room. Telling my mum cheerily over the phone that I'd solved the problem, she was slightly horrified to hear about my haphazard alterations (although not surprised - I've always been a tad scissor-happy when it comes to my wardrobe; I've even got a box of sleeves under my bed that have been viciously severed from their corresponding bodies).
Gathering some posh heels I used to wear at uni and a slightly battered vintage clutch (something about my ensemble had to be old) I was completely satisfied with my choices.
So, fast forward again to that Sunday with me arriving home with a pile of nice dry washing and precisely 45 minutes to prepare myself for red carpet exposure. Not one for cameras or the colour red, I was somewhat anxious about my premiere.
Having worked in PR in the past I have only ever been the slightly annoying one dressed in black telling people where to stand for the paparazzi to get the best shots. Nonetheless, trying my hardest to appear composed - although I'm unsure how anyone is meant to appear composed in drizzle that is slowly but surely making every strand of your hair frizz up and die - we sauntered past the incredible Olympics-inspired performers before heading up the stairs to the second red carpet in front of the Royal Opera House. Desperate to get inside to save my hair (and therefore my entire evening) I tried to appear calm, channelling a kind of nondescript, I-do-this-all-the-time kind of stare, that in retrospect probably just made me look lost and/or slightly simple. We stopped to talk to a couple of people, posed for a couple of photos (all due to Jai'me's superstar blogger status, nothing to do with me) and we were in. At last.
After that it was pretty easy going, with a nice aerial view reassuringly far from the red carpet but still close enough for me to embarrassingly squeak the names of mainstream celebrities (we're talking Made in Chelsea/Tess Daley/Ant & Dec standard.) This was more enjoyable.
The ceremony itself was a breeze (I'm a great observer, I clap in the right places but draw the line at whooping) although I did realise half way through that not owning a TV at home stood me in slightly poor stead in recognising who half the people and shows winning these television awards actually were.
However, this did not dampen my joy and soon after the close, us mere mortals were ushered out (no celebrity mingling) and sent home. Overall a surreal but very enjoyable evening wallowing in my own relative insignificance which actually made me feel something of a better person. At the very least it made me realise I'm far better at writing about these things than starring in them. I might try and slip into the Oscars next year just to get some more perspective - I'll probably wear Matalan and take my washing along with me to dry.