I had a lot of personal questions that needed answers. Normally, I'm a 'twitter solves all' kinda gal, but on this occasion, I decided some private googling would be best. The answer is: yes, not wearing knickers is the right thing to do.
I had a suspicion that the only bit of my kit that was causing problems, was my pants. I'd tried many different types of pants. Cotton pants, seamless pants, but, no the answer is no pants. Of course it is! How can something rub against something else, if you take the something else away!
Ditch your knickers ladies, and you won't need that vaseline, trust me. I've just realised, I've not mentioned cycling once. This is a cycling blog. Please continue, or not, to wear pants in everyday life. For the record, if your tights have a gusset, you don't need to wear pants. It took me years to work that one out. Gents, do keep reading, I know I mentioned 'gusset', and that is generally a word that makes men panic, but that bit is over now.
Whilst searching for crotch based answers online, I came across an article about cycling gear for ladies. Specifically, for ladies concerned that padding would make their bums look big, and it suggested types of gear that would be 'forgiving'. No shit, padding is going to make your bum look big. It's PADDING, that you are wearing, guess what, around your bum. This article, whilst well meaning, filled me with rage.
These sort of articles, by women, for women, make us think that we should be worried about this sort of thing. I did, for a split second think about what my arse must look like in my cycling gear from behind. I'm quite sure my rear view, whilst on a bicycle, attempting to do a standing hill climb, is not the smallest of sights, but you know what, I couldn't care less whether or not strangers (or people I know for that matter), think I've got a fat arse. The thing I care about is that my arse doesn't hurt.
Things that I am thinking about, other than the size of my posterior include: wearing the right kit for the weather, making sure the bike is ready, is the tyre pressure right, have I lubed the chain, have I got stuff for emergencies, the right amount of energy gels and protein bars for the distance and maintaining consistent pace when I'm riding. I have not once, until I saw this supposedly 'helpful' article, thought 'does my bum look big in this?'
The answer is, or course, yes. It looks enormous, that's a given. I'm in padded cycling shorts, and not just any cycling shorts, bibbed shorts. That have straps, one of which goes up between my boobs. It's the least arousing thing I've ever worn. Yes, my bum looks ridiculous, but so does the rest of me.
And yes, here it is, in all it's enormous glory. MY ARSE.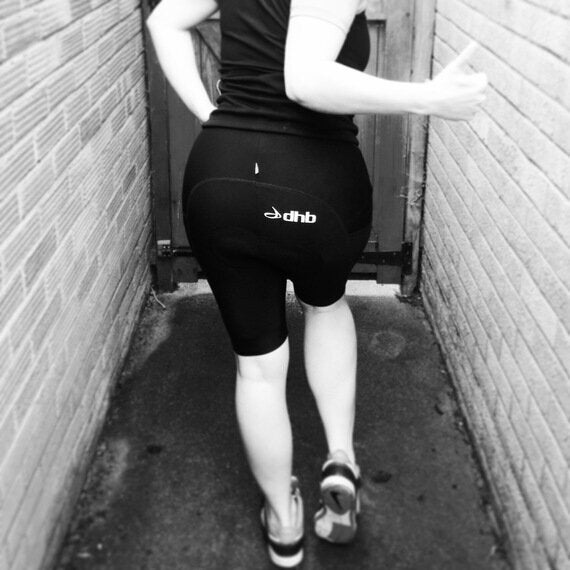 That article ended up with a round up of the best bum disguising kit. Well, mine's going to end with what, after trial and error, the best cycling kit and other stuff I'm going to take with me on the day, which is only six days away. I mean, surely, if I continue to cycle well, my bum will get smaller anyway.
dhb Ladies Aeron Pro V2 Cycling Bib Shorts, £74.99. Bibbed shorts are so good. As I said, not attractive, but definitely worth the money. Naturally, I've given him indoors a private sexy dance in mine, he won't forget that in a hurry. Also, remember, no pants. You'll thank me.
dhb R1.0 Road Cycling Shoe, £44.99. I went with my normal shoe size, as some places recommend going one shoe size up, my actual size is fine.
dhb Lightweight Long Finger Road Gloves, £14.00. These are touch screen gloves, which is not a feature I was looking for, but very pleased they have! I have tiny hands, and their smallest size is still too big, but the velcro cuffs allow me to get them to go smaller.
Can you tell I'm obsessed with dhb? It's really decent kit, very well priced.
These gels are great, but you can only have four caffeine based gels a day, and I'm getting through three on a sixty mile ride. I'll top up, if needed with gels without caffeine.
Map My Ride, £3.99 per month. Map My Ride is a great app (and I've opted for the monthly membership), but it is a battery drainer. I bought a £15 juice pack from Asda, which is light enough to pop in a pocket, and use at rest stops to charge my phone. Look, I really want a map of this. I mean, if I can't post a map on social media, then it basically never happened.
SiS REGO Rapid Recovery, £9.99. This stuff is basically witch craft. 50g of this stuff, after a major work-out will stop your body from refusing to be compliant the next day.
Jointace Gel, £8.25. I've been liberally smothering this stuff on my arms and legs, post ride. Weirdly, it's been my arms that have becoming most sore. (I'm still holding on for dear life, going down hill.) This stuff from Vitabiotics, really does the trick.
Popular in the Community