This week I embraced padded shorts. Needless to say I was shocked to learn what design choices were used on the inside. I mean, basing it on a David Bowie costume is niche.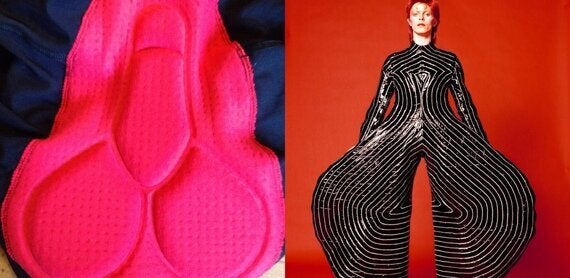 Also, the proper bike arrived this week. I'm borrowing this bad boy from the super folk at wiggle.com. I never thought I could really love a bike, but man, I do. It's sexy, and I mean properly sexy. Anyone that's seen it has stroked it. They've not been able to help themselves.
It's made from carbon, which means that I can lift it over my head, like a proper pro. Naturally this is the first thing I did when it arrived.
And let me tell you pros, it's IDEAL for an over-the-head show off session. I even managed to impress the dog, who has very high standards.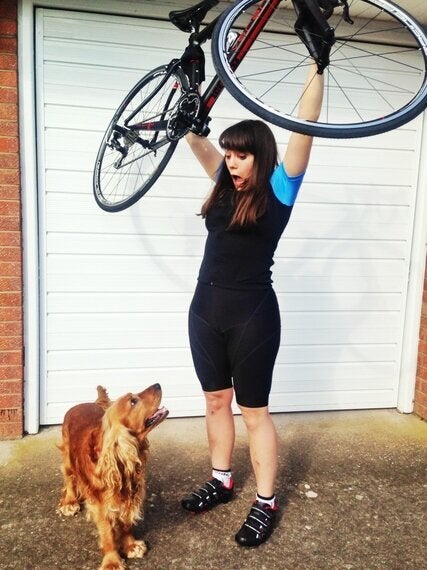 The thing I noticed, when out doing fifty miles on Saturday afternoon (oh yeah, I just casually dropped in that I cycled fifty miles last weekend, no biggie), was that cyclists nod at each other like bus drivers.
Not all cyclists mind, not your common or garden leisure cyclist out on a saunter either, no no, only the full blown bell ends. It's like I'm reverently nodding 'nob head' as I pass and they're nodding 'nob head' back. I'm not having a go at the nob head cyclists either, I've embraced my inner nob head, and man, I am PROUD.
Here's me demonstrating how to wave like a nob head: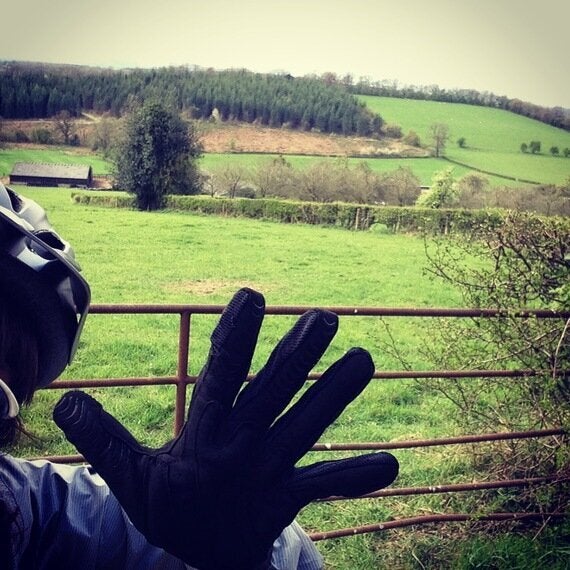 In all seriousness, you don't half need a lot of kit to do this properly, and I admit in the past, I might have been a little judgey of those types who go out on A roads, kitted up to the nines. I know now, it's not a vanity thing, it's not a midlife crisis, or a cry for help, because you're upset you're not Sir Bradley Wiggings, it simply the stuff you need to a) be comfortable, and b) ride safely.
As I said, I embraced padding this week. I've tried some super stylish padded shorts, by Le Col and bibbed shorts by dhb. The bibbed shorts, especially for the ladies are not an arousing item, they're sort of like a cross between a nursing bra, and a cat suit, but on my first fifty mile ride, I was really comfortable. I don't want to go into mega detail, but there wasn't any downstairs lady soreness. Both types of short give you the confidence that you could wee yourself without consequences, which I'm not sure is a good thing.
The cycling tops were super light, I've got a lovely Le Col, top to match my shorts, and I've also got the official Garmin Sharp team top too. I was nervous about going out in the official team top, as I felt this was maybe taking it all a bit far, but the nods from the fellow passing cyclists seemed deeper and more reverent. I was taking this seriously, and they respected that.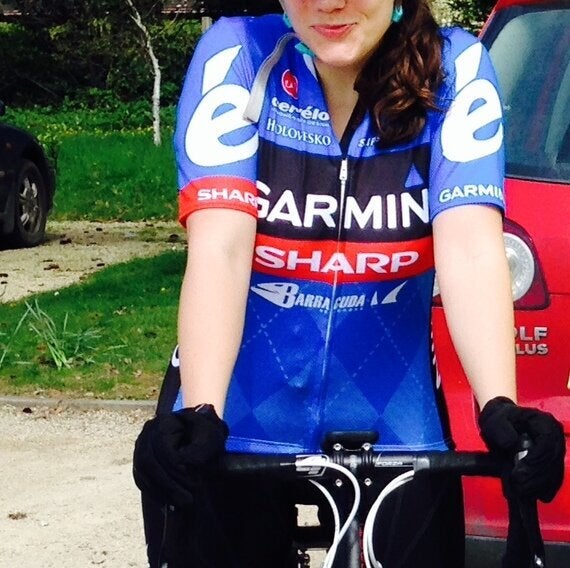 The thing I didn't realise, is that the cycling tops don't provide much sun protection, due to the nature of the fabric. After my fifty mile ride, I got tan lines in the shape of my bib shorts. Just what a need from the least attractive item of clothing I own, a constant reminder of it on my skin! My trainer then recommend I put a sports specific sun cream under my clothes. Cream under my clothes! As if I didn't have enough to think about already. I'm taking no chances with that bib short tan line, and going for a factor fifty, like this one from Ultra Sun.
I also got a cycling specific jacket, as I last week, I was wearing a normal waterproof, which turned me into a sweaty mess. With this one, again from dhb, I was pretty much always a comfortable temperature. Quite a feat in the UK at the moment, when one minute it's summer and the next it's biblical. I've been really impressed with all the dhb own brand kit, from shoes, to gloves (my cycling gloves have special things on the fingers so you can use touch screens!), and socks, you could do a lot worse than get yourself fully kitted out with them.
After the fifty miler, I needed to make sure I could do it again the next day. but I was convinced my muscles would be unusable. I'd been recommended a load of stuff to help with this, and I was taking no chances, I used it all. I took a recovery drink, by Science In Sport, the Rego Rapid Recovery, that tasted amazing. I had a luke warm salt bath, with a whole pack of Dead Sea Spa Magik and rubbed Madform cream into my arms and legs. The annoying thing about this approach, is that I have no idea which product actually worked. It might have been one product, or a combination of all three. I'm not going to take my chances, all I need to know, is that one way or another, it worked, and I can go back out the next day, so after every big ride, I'm using it all.
The hills were a killer. The first seven miles were relentless. I thought I'd be great at the hills, particularly a standing climb, as I love these in Spinning. Spinning! What a lie that is. Giving me false hope that climbs are jolly things one does to pop tracks. Whatever resistance you've been using in a spinning class, it's not enough. Turn it up until you're crying after thirty seconds, and that will give you a better indication of what it's like to do a standing climb up an actual hill.