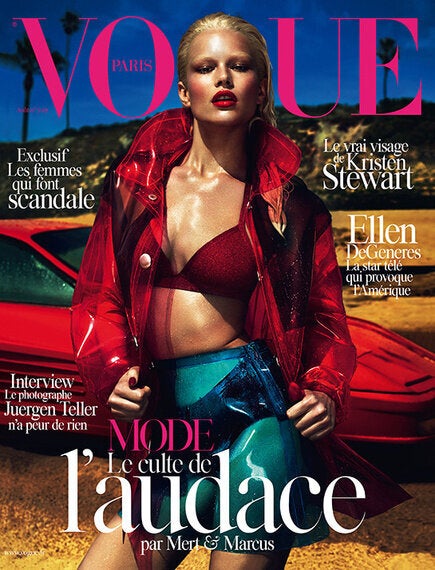 "March 2014. Chanel shows in a high fashion supermarket, recreated by Karl Lagerfeld in the Grand Palais for the Fall/Winter 2014-2015 collection. It was a flash of inspiration that defined the season and certainly caught our attention. And with good reason: daring to be bold is in fashion magazine DNA. This month, a whole issue bursts off its glossy pages, in audacious style," writes Emmanuelle Alt, Vogue Paris editor-in-chief in her August 2014 editorial. Spearheading a magnetic issue packed with bold women from today and yesterday, hot new catwalk queen Anna Ewers in Miu Miu lends her angelic Brigitte Bardot features to photography duo Mert & Marcus, in a neon-soaked fashion editorial showcasing the best of the Fall/Winter 2014-2015 collections - think re-purposed symbolism, color clashes and whole looks from single labels, featuring Jeremy Scott for Moschino, Rick Owens and super stylist Carlyne Cerf de Dudzeele. Our friends on the other side of the Atlantic are also known for pushing limits without crossing boundaries, in the bold approach that is at the beating heart of US audacity embodied for us by screen actor Kristen Stewart and Ellen DeGeneres, who is never out of the news with her ebullient US television talkshow. From female names of note to promising future talent, get set for a creative new season with our August issue, out July 23.
Vogue Paris n°949, on newsstands, your smartphone and your tablet July 23.
Subscribe now, or download the digital edittion from July 23 on Google Play or the App Store for iPhone or iPad.