An eclectic issue full of contrasts is set to hit newsstands worldwide next week, featuring everything from the intoxication of punk fever and a look inside the world of rocker Richard Hell, to an exclusive interview with Julianne Moore and the couture elegance of the Cannes Film festival.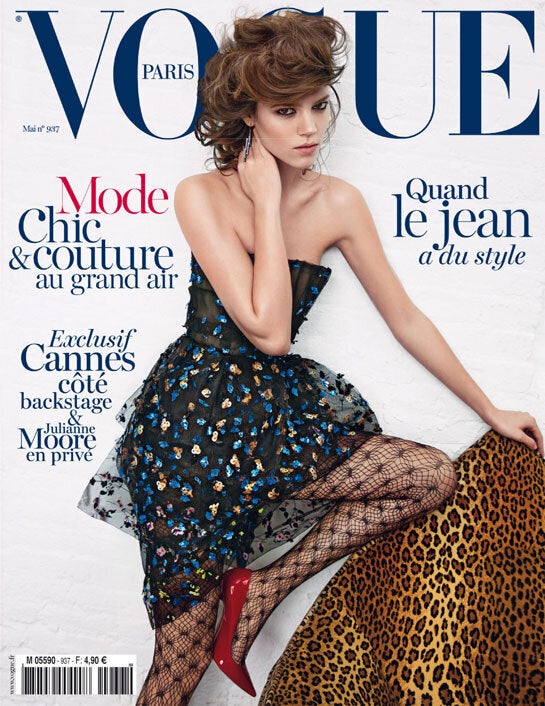 From London to New York, "Punk is in the air," writes editor-in-chief Emmanuelle Alt in the Vogue Paris May 2013 issue. "It's a style and an undercurrent that has been picked up by Punk: Chaos to Couture, a major new exhibition set to open in May at the MET in New York." Capturing the zeitgeist, the cover bridges the canyon-sized gap between two extremes. Freja Beha Ericksen brings together the rebel yell of the Costume Institute's headlining exhibition, opening May 9, and the high-octane glamour of the Cannes Film Festival. Absent from the magazine since August 2011 and the runway since Spring/Summer 2012, Inez & Vinoodh shot the wild-child beauty who brings her own style to couture looks for Spring/Summer 2013 featured inside the magazine. The journey to the center of punk continues with an interview with an original punk rocker, musician Richard Hell, before we set sail for Cannes on the Miss Vogue yacht. Don't miss our private audience with Hollywood heavyweight Julianne Moore, beauty insider secrets from red carpet make-up artistKarim Rahman from l'Oréal Paris and a dive into the Cannes Film Festival by blogger Garance Doré.
Vogue Paris n°937, out April 25.