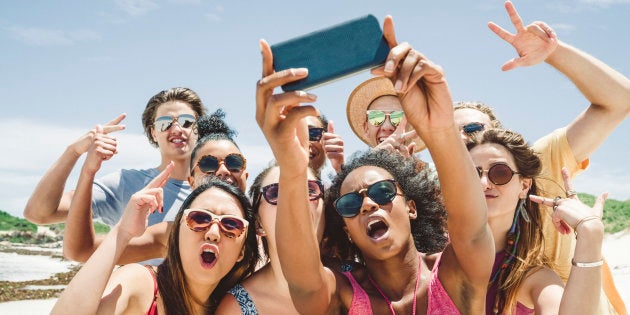 I hate social media, and the reason I hate it, is because hating things on social media seems to be the best thing about it. It's a confusing paradox. Last night someone pissed me off cause they hated something I also hate.
I hated them because they hated the thing I hate, in a snarky and off-putting manner that wasn't in keeping with the more dignified, and quirky way in which I hate things. At least I thought so. I hope me saying that doesn't make you hate me.
Probably the thing that I hate the most about the internet is the "selfie". Not anyone specific's selfie, just the concept. When I went to Japan way back in 2001 I took a few "selfies", because I travelled there alone and needed proof I had been. It was awkward and uncomfortable, and I felt like a bit of a loser for having no friends who could take these pictures for me.
A man alone taking pictures of himself was viewed with the same suspicion as a trenchcoat owner in a play park. That was how it should be. Why was he alone? Was he a murderer? A lunatic? A Backstreet Boys fan?
Turns out he was likely none of those things, just a normal, narcissistic arse like the rest of us. The only thing that prevented us from taking nothing but selfies back then was apparently the stigma, and once that evaporated so did our dignity. Now every second Instagram account is just pictures of the owner's face blocking the view.
We should have seen it coming. It's not like we haven't always been narcissistic. Ever since the days of nobility spending hundreds of peasant's worth of salary on oil paintings, we have wanted nothing as much as to look at our own faces. Coke had its first sales increase in more than a decade when it introduced the idea of adding names to their cans and bottles.
Stop photographing your face, and turn the camera outward. At least then you'll likely get a better view, and I will have one fewer thing to hate.
We as a species are so self-involved, so desperate to be recognised as special, we will actually spend extra money just so we can drink from a can that says we have a common enough name to make printing it economically viable. It's our biggest, most easily exploitable failing. We are idiots, little more than apes. Want proof? What was the first thing a monkey with a camera ever took a photo of? Itself.
I am more than willing to bet that if that ape had access to a computer it would also be posting that it has an IQ of 172 according to the test it just took on Facebook. Taking an IQ test on Facebook should automatically qualify you to fail it. "Only the smartest will be able to spot the..." If that sentence doesn't end with the words, "data mining capabilities of this test", then once again, finding the solution means you don't qualify for the descriptor.
Facebook's entire business model is based on selling our predictability. They are only able to promise that an advertiser will get x number of likes per x amount of cash they spend because they know exactly what we will click on and when.
That's how mundane, and predictable we each are. If you see something on the internet that claims you are special it's probably just selling your data to sex-traffickers or worse, McDonald's, cause you aren't. You, like me, are a number.
We aren't special so we need to stop acting like we're among the most intelligent and handsome, just cause an app told us we are smart, or that we look a lot like the celeb Selena Gomez.
No matter how many filters you use you don't look like Selena Gomez – you look like the selfie monkey. So stop photographing your face, and turn the camera outward. At least then you'll likely get a better view, and I will have one fewer thing to hate.
This post originally appeared on Robertson's personal blog.