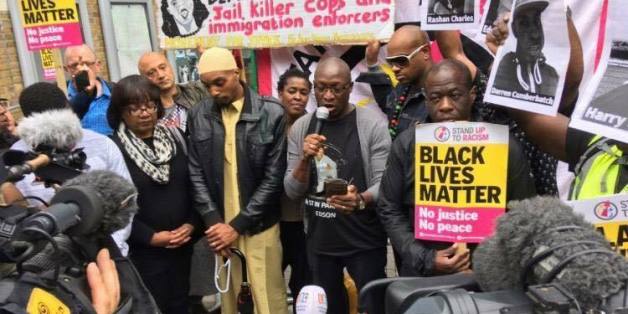 Stand Up To Racism
The deaths of Rashan Charles, Edson Da Costa and Darren Cumberbatch highlight yet again the fate of young black men at the hands of the police. 
At a vigil called by Stand Up To Racism last Saturday at Stoke Newington Police Station in Hackney, the fathers of Rashan and Edson joined Shadow Home Secretary Diane Abbott to call for independent investigations into the deaths.
While we gathered in Hackney, in Nuneaton in the West Midlands hundreds marched against the death of Darren Cumberbatch, who died in hospital nine days after having been tasered by the police.
It seems unimaginable that 24 years after the racist murder of Stephen Lawrence, the issue of institutional racism still burns. Despite politicians such as Jack Straw promising a "step change" in attitudes to race relations at the time of the Macpherson report, little has changed in reality.
The young people who confronted the police in Hackney last Friday night were reacting to that reality - black people are dying at the hands of the police and little seems to be being done.
The fact that Abbott faced a torrent of abuse from the press and on social media for protesting the death of Rashan Charles and calling for a peaceful response shows the tenor of the debate.  
Year after year the Independent Police Complaints Commission (IPCC) investigate the deaths, yet year on year nobody faces prosecution. There have been some 1600 deaths in police custody since 1990 but not a single successful prosecution. Officers involved often remain in post and the protests of the families and their friends are forgotten.
The same process of riding the first wave of anger and then allowing the latest death to be forgotten continues.
But times are changing. In June the decision to charge six men, including former Chief Superintendent David Duckenfield, over the 96 deaths at Hillsborough is evidence that the doggedness of justice campaigns can hold those in power to account.
It has been refreshing that the families of Rashan, Edson and Darren have spoken out straight away and to see a senior political figure such as Diane Abbott MP prepared to come out in their support.
Just as people are pledging that the horrors of the Grenfell fire cannot be swept under the carpet like so many previous disasters, so surely it is time to draw a line over deaths at the hands of the police.
If the slogan Black Lives Matter is to mean anything, campaigners have to make sure that a line really is drawn.
There is another slogan, No Justice No Peace. The authorities are set to reap the whirlwind if they continue to treat young black men's lives with such contempt and if they continue to ignore the anger of our communities.
Stand Up To Racism will continue to work alongside the families of Rashan Charles, Edson Da Costa and Darren Cumberbatch to demand answers from an institution we are told are there to protect us.