Mike spent 30 years working on the railways. After a messy and costly divorce, Mike took out an easy-access loan. And then another. He couldn't keep up the repayments. He tells me he pawned his TV for £50. A few weeks ago, his doctor referred him to the Foodbank. "Coming here was hard", Mike says.
Meet Carmen. Her partner hit her, so she left. Like so many in her position, her benefit payments were delayed. She needed help to feed her children. Punitive sanctions on benefit payments are used four times more frequently than a decade ago.
Today I volunteered at Wandsworth Foodbank. It was humbling. A formal referral is required to receive food, perhaps from a doctor, social worker or probation officer. The referral is exchanged for three or four bags, chosen according to age, family circumstance or dietary requirements.
The Foodbank, just off Northcote Road's bustling high street, is a reminder that our community has become one of stark contrasts. Battersea is in the top 10 wealthiest constituencies in the country. But for all its new-found wealth, its stubborn deprivation remains.
In the shadow of Battersea Power Station's new luxury flats, nearly two in five children grow up in poverty. Last year, 1500 locals relied on food hand-outs. As a new dad, what shocks me most, is that 600 were children.
Child poverty affects life chances and life expectancy. Children growing up poor are more likely to leave school without qualifications, suffer ill-health and die younger.
A few weeks ago, I met Alice. She shares a one bed flat with her two sons, aged 14 and 9. For three years, Alice has slept on a sofa, saving a few pounds every month to buy her children a computer. This has become both a moral crisis, and an economic one.
I believe that hard work should be rewarded. In Battersea, housing shortages, spiralling rents and benefit sanctions have put a cap on aspiration. Under this government, too many children are unable to fulfil their potential.
Inequality is at its highest level since 1940. This Christmas, 900 Wandsworth families will find themselves living in temporary accommodation. The charity Shelter reports 90,000 children in Britain are homeless. Esther McVey, the employment minister, admitted that cutting tax credits and benefits is pushing 200,000 of our children into poverty.
Labour will change this: Reform benefits, build a million homes, give 25 hours of free childcare to three and four year olds, freeze energy bills and raise the minimum wage.
Let's make this the Coalition's last Christmas.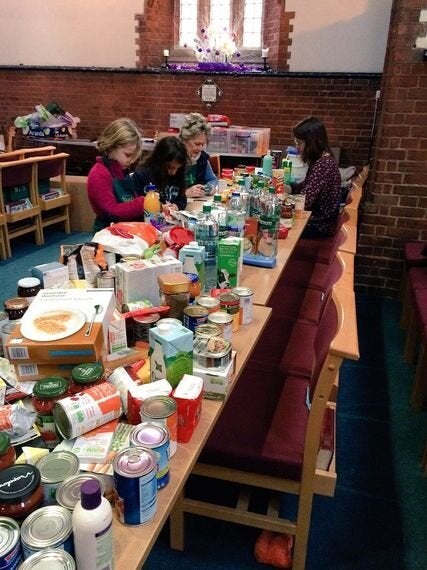 Donated food is sorted by volunteers at St Mark's Church, Battersea.