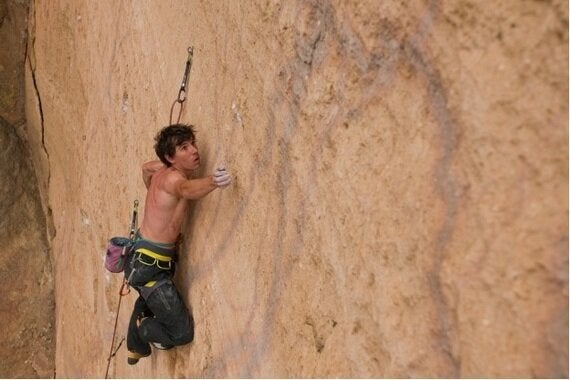 For many of us, just the thought of clambering around to grab something from above the kitchen cabinet is dizzying. But for rock climber Alex Honnold, who makes a living out of vertical opportunities, the picture is very different.
Originally from Sacramento, California, Honnold is best known for climbing some of the world's most famous big walls with no ropes (free soloing). Honnold, 28, is now in the safe hands of a number of the industry's top brands, and looks forward to a solo attempt of the 508-metre-tall Taipei 101 next year.
Earlier this year, Honnold and friend Cedar Wright took on a new challenge by routing through California on an epic 'bike and hike' trip. The pair of professional climbers fastened themselves to the saddle for up to sixteen hours a day before climbing some of the state's famous fourteeners. Over three weeks, Honnold and Wright completed over 700 miles on the bike, 100 miles of hiking and over 100,000 feet of vertical climbing. Reflecting on the adventure, Honnold acknowledged just how tired he was, "The last eight months I've been keeping a training journal, very rough numbers of hours a week, just to get a sense of training. And for the bike tour we were doing almost seventy hours a week of exercise. Since it was all biking or hiking, it was pretty continuous and full-on."
Since finishing the bike and hike trip, Honnold has been up to The Bugaboos in British Columbia and climbed in Southern Africa. His life on the road has informed him of the importance of reading and being attentive to the environment. Referring to his diet during the bike tour, Honnold outlines that he and Cedar were living almost solely off gas station food, "Americana-style kind of stuff. So I was eating veggie-scramble for breakfast and a veggie burger for dinner, like every night. You just can't find good Thai food or good Indian food, or any type of nice vegetarian fare."
Talking about 2014 and the challenge in Taiwan, Honnold has had to realise new approaches to climbing on humanmade structures, returning to a childhood mentality: "Because as a kid, that's all I had to climb on, but I've sort of moved away. I can climb on rocks, that's normal, but to climb on other things, I'm like, why would I do that? It makes a weird scene, people think you're a weirdo when you could just stick to a normal scene with rocks. But I'm trying to break back into climbing on whatever."
Honnold's variety of interests and talents punctuate his active Facebook page. I sat down with him in November to get his further thoughts on the environment, the US government shutdown and plans for 2014. For the full interview, visit zafiriapp.com.