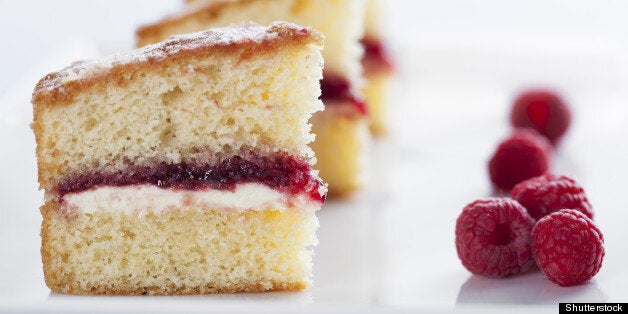 THE CAKE AWARDS IS COMING!
It's recently been announced that I am to host the inaugural Cake Awards - the programme that rewards the UK's very best cakes. I'm really excited to be involved and helping to reveal the winners on 17th July at London's Park Lane Hotel at the afternoon tea and awards ceremony.
Baking and cakes have seen a huge surge in popularity over the past few years and the nation has truly embraced the trend. This event celebrates the very best cakes - from the finest tea room slice to the many varieties on the shelves of supermarkets, bakery shops and retail food chains across the country.
As well as hosing the event, I was honoured to be asked to sit on the judging panel. It was a great experience to work alongside other industry experts such as Bruce Langlands, Director of Food at Harrods and Allan Jenkins, Editor of Observer Food Monthly, trying such high quality cakes and sharing ideas and comments with some of the leading figures from the food industry to choose the awards' shortlist and winners.
We spent a day going through a rigorous process of judging each product, basing our feedback and scoring on a strict criteria of presentation, quality ingredients, recipe innovation, texture, taste and value. We saw and tasted a lot of great cakes.... It's a hard job but someone's got to do it!
Between us we managed to whittle down the entrants to create the outstanding shortlist of 20 products including Tesco for their 'Free From' Chocolate Cupcakes, Morrisons' Heavenly Red Velvet Cake, Yauatcha's Chocolate and Raspberry Rose, United Biscuits', Jaffa Cakes - The Big One and The Garden Café's, Apricot and Coconut Cake. The shortlist also represents the cakes you can make at home, with G.R Wrights & Sons, Ginger Cake Mix and their Toffee Cake Mix named alongside Symingtons' ASDA, Raspberry & White Chocolate Cupcake Mix and The Half-Baked Cake Company's, Lemon & Lime Drizzle Cake.
Finally we had to decide the overall winner, which will be honoured with the prestigious "Cake of the Year" title. This was determined from the leader in each category, with the very best cake being named by all the judges.... It's truly exceptional, so watch this space and you can find Britain's best at the ceremony on the 17th July.
Chocolate and all things sweet is truly in my blood - growing up around baking, cooking and cake-making, as well as having a chef for a grandfather. This has led to my career choice as a Pâtissier and Chocolatier, which I'm very passionate about. My background means I know how much work goes into each and every product in a programme like this. Each cake will have been thought about in precise detail by the experts that made them, so it's great to see these awards recognising that, and raising the profile of the industry overall.
For tickets and event information visit, or to register your interest for 2014 www.thecakeawards.com.