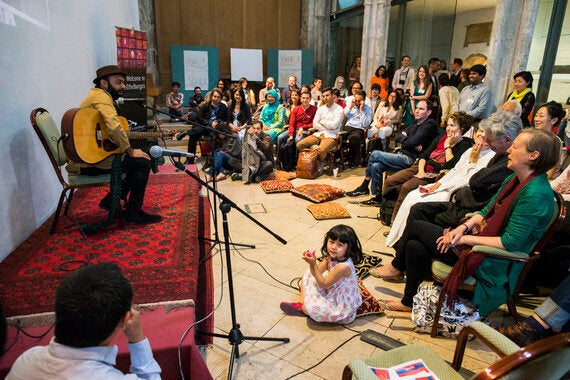 Beyond Belief Festival, during the performance of Fahad Khalid, amazing eastern folk jazz multi-instrumentalist who is inspired by Indian Raags and Arabic maqams.
Have you ever dreamt about exploring the cultural treasures of London but wondering how to access it and get immersed in these wonderful universes?
The Friends For Change programme run by Shinnyo-en UK and St Ethelburga's Centre For Reconciliation and Peace brings solutions to a deeply rooted problem I've observed and personally experienced in modern societies, especially in London. The hyper-diverse metropolis where the world gathers unfortunately lacks of connections between its different faiths, cultures and communities. Friends For Change brought to life one of the most notable alternatives I was given to see.
When I first came to London, thanks to the organisation I was working for, I have been bathed in the city's vivid interfaith world. However, I got deeply affected when I found myself isolated, even within my own faith community. Although people talk about solidarity, togetherness and conviviality, I spent my first Ramadan alone as if nobody invites each other for Iftaar, the breaking of fast.
When it comes to the interfaith sector, there were two main approaches. Either people organise conferences with high level faith leaders talking about analysis of their respective scriptures, either it is one-off musical events with no concrete output afterwards. But this time, I was showed something completely different.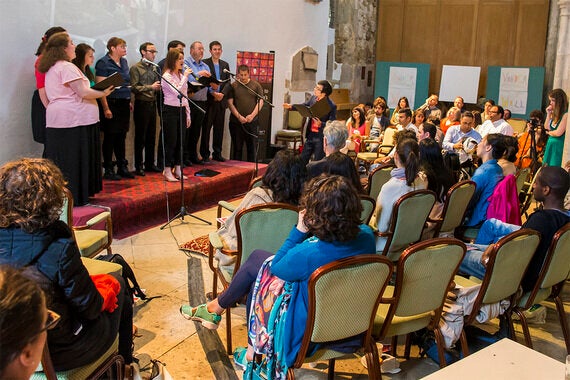 Tabouli is New North London Synagogue's very own a capella group, specialised in Jewish traditional and popular music with an a capella twist.
FFC is a grassroots programme enabling young people from different faiths and cultural background to know each other and build sustainable friendships. Each month we met at a different worship place, as participants come from mainstream and less known faiths: Islam, Judaism, Buddhism, Brahma Kumaris, Sufi, Baha'i and more... and I truly learnt a lot. I realised that although we were walking on different spiritual paths, we were practising a same prayer, that which Franz Fanon once expressed: 'O my body, make of me always a man who questions!'
Each one among us had their own spiritual journey, having travelled across many different spiritualities before finding their balance. They are living proof of Edgar Morin's views on identity as an ever-changing permanent movement.
Having studied governance and conflict management in charities for my PhD, I have to say Friends For Change is an outstanding model. The organisation of the Beyond Belief Festival went smoothly and without any disagreement as if everyone was on the same page. The issues of ego and frustrations I have observed during my 6 years of fieldwork across more than a dozen of charities in Europe were non existent. Consultation and consensus were two major pillars of a non-judgemental group where everyone makes time to listen and understand; and the result was astonishing.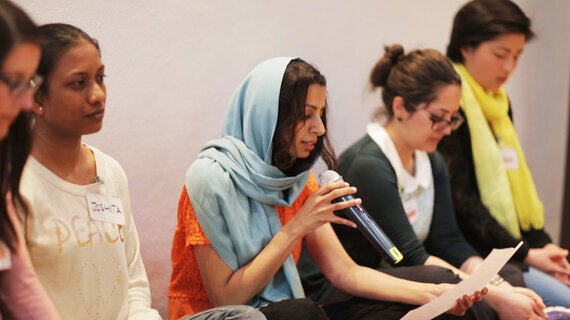 The first time of my life, I attended a multifaith meditation session.
The Beyond Belief festival on May 2015 mixed successfully music, songs, storytelling, formal and informal discussions in a gripping manner; and ultimately crystallised the very essence of its existence: humanity is one and the meaning of our lives is to spread harmony around us. For a few hours, borders did not exist and differences were only glittering colourful jewels of a same treasure.
Finally, the event was not the usual one-off interfaith gig seen in London. Participants all expressed the will to move forward more social action. The festival is an accomplishment and a new beginning at the same time. It carves in the marble of our souls and to some extent in the public sphere, the result of one year of friendship bonding; and from a time of interfaith dialogue, it marks the beginning of a long overdue era, one more of interfaith action.
Related