DEEP breath, head down, arms pushing through in front, legs thrusting me forwards. I'm against the current, the water's flow like a thousand pin pricks on my body. A few more strokes and I'll get used to it. By the time I reach my goal, a set of telephone wires that stretch over the river, I've been swimming several minutes and am used to the temperature. I turn back and, enjoying the flow of the current, swim back to the bridge underneath which I climbed in.
This is the River Nore which flows through the lush countryside of County Kilkenny in Ireland. In mid-summer it's just about warm enough to swim in and its bracing, fresh water has cooled me down after a spell of bowling at the Mount Juliet cricket pitch, one of the world's most idyllic grounds that sits adjacent to this stretch of the river.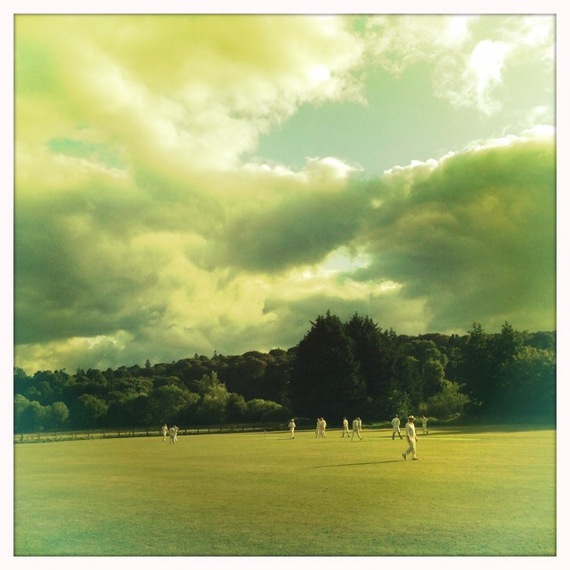 I've bowled eight overs, for one wicket, and my team, The White City All Stars are now batting. As I'm firmly in at number ten, I've got time for a swim. And I'm not just swimming to freshen up after my spate of erratic bowling. I'm trying to work off the effects of last night's Guinness, consumed at The Bridge pub in Thomastown, a huge breakfast at our pretty B&B by Jerpoint Abbey and a couple of pints of Guinness at lunchtime and some sandwiches. And what I consumed at tea just now.
For as anyone who plays cricket knows, it's the only sport whose action is cut by meals. If you start in the morning, you break for lunch. Then at around 4pm you stop for tea. There is no difference between professionals or amateurs. Rain may stop play, tea and lunch definitely do.
And as I churn through the water it's tea I'm trying to work off. Because while Mount Juliet cricket club, nestling on a small plain by the river between trees, woods and fields of cows, is certainly the cricket enthusiast's fantasy of a rural ground, the tea that is served is even more heavenly.
At least it is when we visit. Author and political commentator Peter Oborne has been bringing a team to Ireland since his early 20s. The tour lasts a week (I last a maximum of four days. My body wrenched, lashed and suffered by the shock of sudden movement (fielding), prolonged strange movement (bowling) and unpleasant movement (Guinness - pints by the dozen), I haul back to England before further damage is done.
There is mental damage too. The White City All Stars don't tend to win many matches. We get bowled, stumped, run out and hit around the ground by old men, children, the middle-aged, 20-somethings, 30-somethings, anyone indeed who we come up against.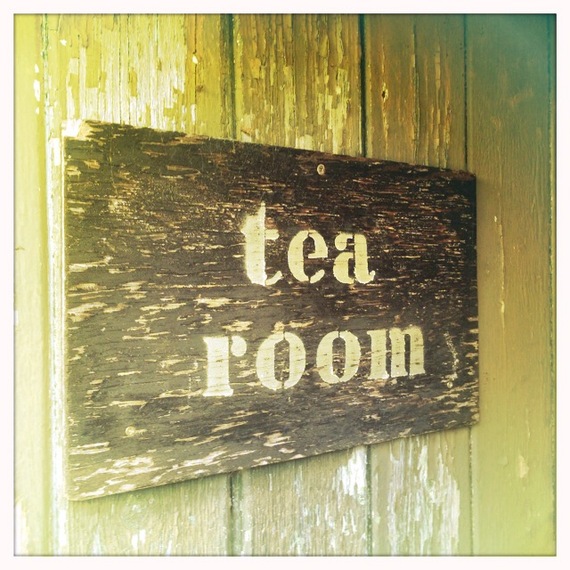 Our fielding is not itself a very pretty sight as we drag our addled bodies across the grass, sticking out toes to stop balls or simply forgetting to move at all as a ball bounces past. Yet that mental damage fizzes out quickly after stumps are drawn, we share drinks and laugh about our hopelessness. Indeed sometimes we actually draw a match. A glimpse at the scorebook seems to record a victory here and there, but that seems to defy reality.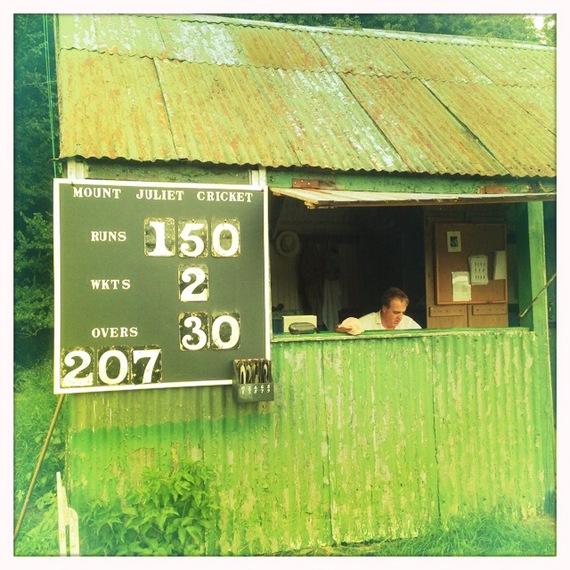 The most pleasant damage, however, is done to the waistline. Of the many matches played on tour, the finest tea has to be at Mount Juliet. And this year being the 30th year the team has come to Ireland and our hosts becoming dear friends, the quality of the tea edged up a notch.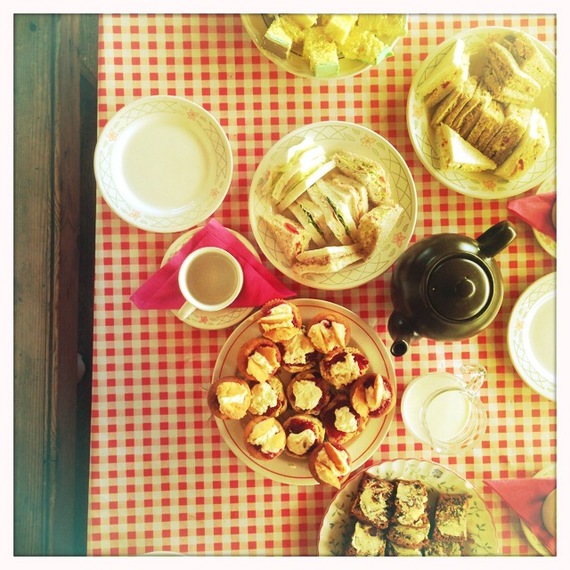 It is much the work of Ann Kavanagh and her lady friends. Ann's husband Tim is one of those old friends who cheerfully mocks us - or at any rate me (and with good reason) - as we come out to bat. So the tea is also a sort of apology for that. But it's also simply a display of incredible generosity.
It is a tea that one should use as a measuring stick against all other teas, cricket or no cricket.
After an innings has been finished and the clock nudges 4.30pm, we repair to one of the old pavilions, the green paint curling up and dropping off the corrugated-iron roof and walls.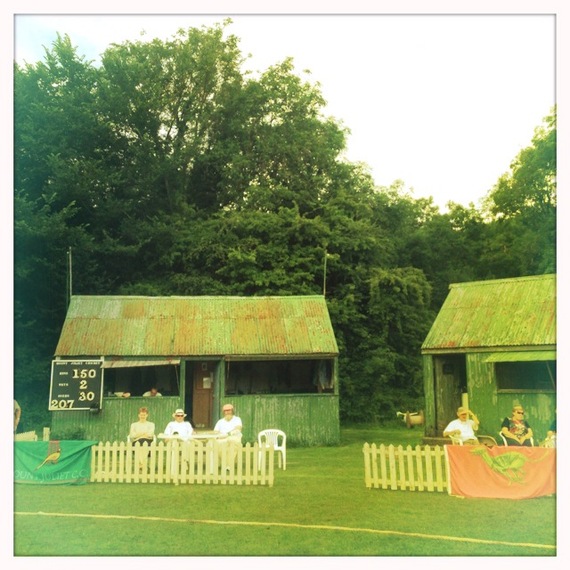 Inside are two long tables spread with a display of breath-taking magnificence. There is nothing like the site of pretty food placed along a table, untouched, fresh and inviting. And for me it sets off a feverish greed. I must try each of every item that I can see. And that's a tall order.
For Ann and friends have made butterfly cakes that burst with cream and jam. Then there are sandwiches of tuna, egg, ham and cheese. There are different breads, nutty brown and soft white. There's soda bread spread with crab or with slices of smoked salmon. There are sliced-up cakes, from chocolate to vanilla sponge with more lashings of cream and strawberry jam. There is apple pie too and, almost finally, a massive cake celebrating the 30th visit of our team. Covered in green icing to replicate the lush Irish grass, it shows a match in progress with wickets and players.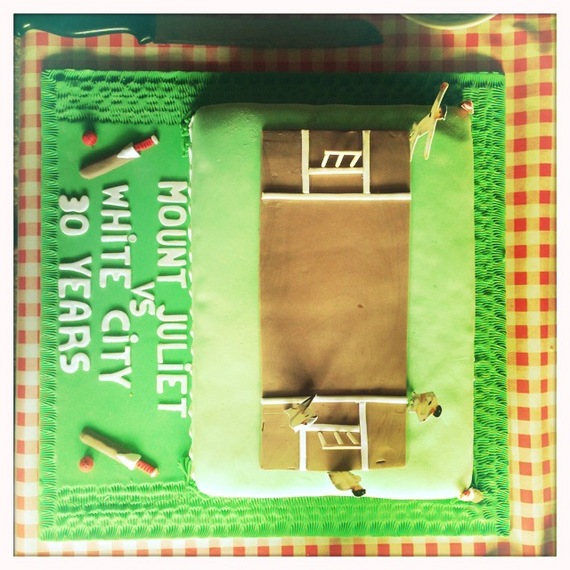 And if that wasn't enough there's my guilty pleasure: chocolate biscuit cake. So I guzzle as much as I can, washed down with cups of tea. Fortunately I can spend much of the time eating as speeches are made, backs are patted, gifts handed out (this year Oborne presents his latest tome, a history of Pakistani cricket called Wounded Tiger) and I cast an eager eye around to see if I missed anything to shove into my mouth.
Hence that swim. I can barely bat anyway, but with all that generosity moving around in my tummy I'll barely be able to waddle out to the pitch. Mind you, I'm normally walking back to the pavilion within minutes and after a swim and the rigours of facing a couple of balls I'll be back and wondering if there are any sandwiches left.