I'm an emotional wreck. My boat of foodie criticism, of which I am both captain and cabin boy, has this week been buffeted by heartless winds and raging seas, before unexpected waters of calm are again suddenly whipped into cruel storms.
Looking forward to an evening at the new stylishly entitled West Thirty Six - not an elegant brasserie between Broadway and Lexington but an old pub in the shadow of the Trellick tower (I should have been warned by the conceit) - I dropped in for a drink at John Doe. Regular attendees will know of my firm liking for JD. I reckoned a glass of dry 3Cs cider, or a sip of Picpoul, would help path a way to a glorious evening.
Up the road and over the bridge and I recalled the previous incarnations of WTS. It has tried on many occasions to present itself as a smart, inn-like restaurant on Golborne Road. Although its last incarnation just felt dodgy. Burly men with Eastern-European accents sat outside talking on mobiles; inside it was empty. It smelt of laundry and I'm not talking shirts and suits.
But now this was altogether different. The interior feels all Chiltern Firehouse. The place is beautifully divided by screens and bars. Staff greet you at every turn. There is joyous and smart bonhomie.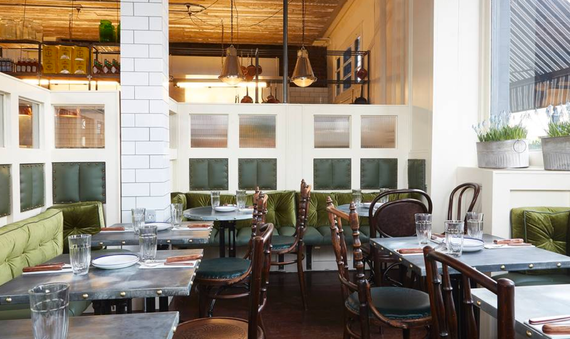 We were led upstairs to a darker area and a cosy table with comfy chairs. Bread was brought to the table. This all felt good. Which is where, ideally (from the point of the restaurant) this review should end.
Nipping to the loo I managed to pull the hook on the back of the door off the wall as I opened it. I promise you I didn't yank it.
I gave it to waitress apologetically and sat down. Then the wait started. We'd arrived at 8.20pm. We waived endlessly to get service. The first waitress looked seriously alarmed when we requested the opportunity to order drinks. It was a 'No you can't kill my father' sort of a look.
But a message was passed down the line. A glass of white wine, a dirty martini was ordered. So we waited.
At three minutes to nine - some 40 minutes after arriving - and with no drinks in sight, we decided to leave.
There is no point signing leases, buying chairs, painting walls, screwing in hooks (badly or not), installing fridges and ovens and hiring staff if you can't actually take and deliver simple orders for drinks.
Why, even the most stressed kitchens understand that if you ply punters with drinks you can keep them hungry, in abeyance AND make money.
Take so many restaurants in the States. The moment you arrived they pour water. Take Bill's on Brewer Street. Whenever I arrive for breakfast they take my coffee order before I've even sat down.
If you can't get this right, you are seriously wasting the money of your investors.
Next, en route to the new Bo Drake on Greek Street, I nipped down into Blacklock. By Christ you are going to love this place. It's in a basement and former brothel on Great Windmill Street and it is a masterclass in how to get a restaurant right.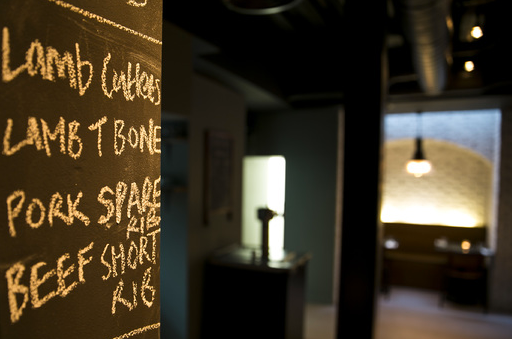 A single idea, a passionate belief, a bold vision, but a simple one.
The guy who runs it, Gordon Ker, likes chops, he also likes good value chops, simple menus and wines on tap - as well as cocktails for a fiver and just one pudding (cheesecake).
So he got his hands on this place, bashed down the cheap stud walls, exposed the brick, built a beautiful staircase and painted everything black.
In the kitchen they cook over charcoal and when they slap on the beef, lamb or pork chops they whack a heavy and steaming 19th Century iron on top.
The meat chars and cooks fast. Then, appropriately rested, it comes to the table with the likes of sweet potatoes roasted over night in the ash pit.
I only nipped in quickly and will return. But I can tell you how wonderful is the offering of wines of tap, and that the mint sauce was the finest I have tasted (not tangy, but closer to a salsa verde).
And the prices are a lesson to every mo-fo ripping you off at every corner round town. Chops are £4, sides £3, carafes of wine from £15.
Thank God for a brief parting of the waves that afforded me a glimpse of this paradise.
For then it was Bo Drake. For some idiot reason I thought the place had something to do with sherry (I was thinking of Drakes Tabanco). But no, this was no sherry-sipping pleasure dome, but a cave of fermented Korean/east-Asian cabbage.
This is how it went wrong. We ordered smoked brisket in a little pancake, baby bobo chicken, Korean lamb cutlets along with sweet potato fries, pickled cucumber and house kimchi.
Out came the brisket - fine but unremarkable. Then arrived two Kilner jars of cucumber and the kimchi. So we ate the brisket. Then tackled the jars. They should have come with the main courses. Who wants to eat pickled cucumber and kimchi on their own. Especially when the kimchi was just watery dull cabbage with chilli.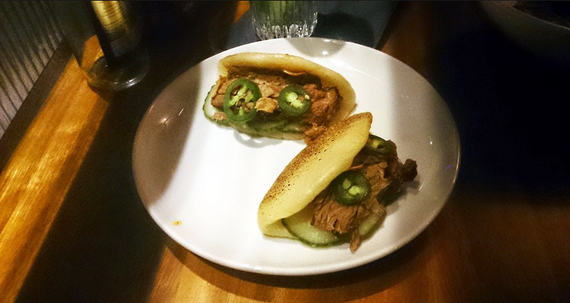 Brisket Bao - 12 hour smoked brisket, mustard BBQ and pickled cucumber
Next came chips. They were like the things you get oven ready at parties thrown for obese kids. You dipped them into a sweet and dull sauce.
That gone and the chicken and cutlets came, both in sweet sauces.
The Spanish waitress was wonderful. Hire her if she gets disillusioned at BDs.
But in today's London food scene, when singularly exciting things like John Doe and Blacklock are emerging you can't get away with being average, no matter how lovely the staff are. And all I ever want is for my ship to pass through calm and lovely waters. I'm not looking for filthy storms, but as I can't predict the weather they have an unsettling habit of emerging when you thought the skies were all out of rain.