It's interesting that so many people seem to be embracing seemingly Victorian concepts. I talked recently about the popularity of arriviste double-barrelled restaurant names, like Percy & Flounders, - words that lend them an air of 19th century genius. (But are of course a 2015 fabrication). There is also a wave of places washing ashore that take inspiration from a similar era, but are a little more Middle Quintile, or dare I say, a nudge further down the social spectrum. Think of Blacklock. That hearty basement of a place, serving chops sealed with the smack of an iron from the Industrial Revolution. The place prides itself on being at the site of an old whore house. If only I could stride down that iron staircase, all long coat and white cuffs and ask if anyone needs some grass scything.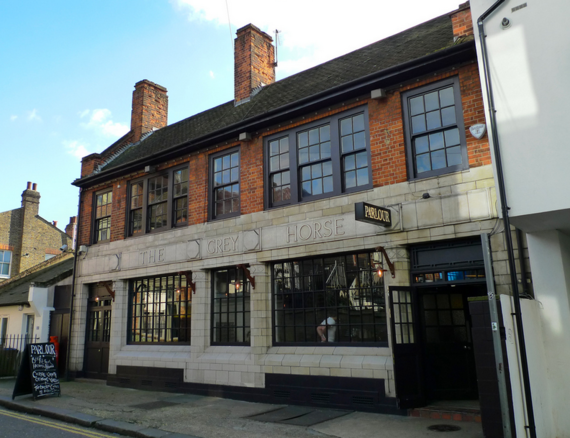 Now up pops Parlour on Kensal Rise. Ok, so it pops up on my register, having been there for a quite a few months now. A more gentrified word. One moves gently into a parlour. Who knows, there may be ladies about. I seem to remember a Victorian spider inviting a fly into his parlour. But the fly was wise to this and refused to be tempted. The spider offered the fly the prospect of many curious things. But what he didn't have up his sleeve was a chicken kiev, or kyiv as Parlour would have it. Neither did he have popcorn chicken nuggets or the charm of Olivia.
There are two main sections to the restaurant. The front bar, which was quiet when I visited and a more snug back area. There's also a very cool private table with views into the kitchen and the wonderful wood-faced pass. I like the idea of seeing my chestnut hummus being passed over a 19th century chest of drawers.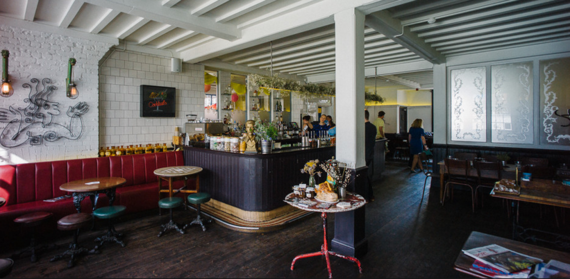 I sat in the front bit with a man called Kevin Gould, a rather brilliant individual whose life sees him move from grocer, to cling-film salesmen, to writer, to retail consultant to photographer though not necessarily in that order.
Out came Jessie, the chef and main man, who you cannot but like. There's an honesty in his eyes, a keenness about him, a natural eagerness and hair that has perhaps been studiously crafted to make him look half way between just-got-out-of-bed-cool-shabby and too-clever-and-focussed-to-give-a-shit-about-what-my-hair-looks-like. Unlike Olivia's hair which is just very, very long and beautiful and could easily be used by princes wishing to scale towers.
The starters she brought out were quite original. The texture of the popcorn and nuggets, the tenderness of the chicken winning over any gimmickry. The hummus - and I don't have the energy to get into a discussion about whether it was hummus, what with there being no chickpeas involved - was a quite a gooey number. More a paste we thought. But no one would order a dish called chestnut paste, hence the hummus conceit. Yet it was tasty and intriguing.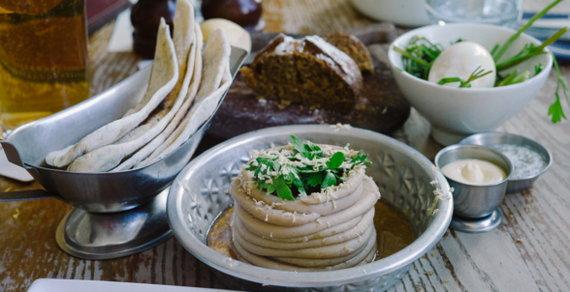 A friend had suggested I order the chicken kyiv, in retrospect a daddy player to the nuggets, but when you eat them so often at home as we do, it's good to eat a proper one. No minced chicken here, a delicious and crisp skin, proper flesh of chicken and plenty of oozing garlicky juice.
We ate this as three groups of people came in separately, two lines of women, then one of men. They were each hustled out to the back bit. I don't take offence at this segregation, I just mention it. Must be a Kensal Rise thing. Some of the men had very large beards. The sort you get in Shoreditch. Maybe they were lost.
Puddings meanwhile are a collection of tea-timey treats. If you can't decide whether to have wagon wheels or cheesecake or bits of meringue and strawberries ask for 'A Plethora' which is a good sort of Victorian word.
'Fetch me a plethora of plated pretty puddings, please Olivia,' you can say reading directly from the menu. I'd like to see the men in beards say that. It would be quite a dainty scene.
This column likes Jessie and his doings and is eyeing up his private little table for a vile and dirty shindig.
Related