Some weeks I have to pinch myself that I am so lucky to dwell in London for a few days each week. And there are two particular reasons I am feeling like that right now.
The first is Rabbit and the second is John Doe. Sod Michelin, with its mincing implore that a place is 'worth a detour'. These restaurants are a worth car crash. I'd pinch Chris Eubank's stupid big truck and drive it through several houses if that was the most direct route to Rabbit or John Doe.
In my wake, as houses were destroyed, the streets of London looking like a jumbo jet had carved a messy landing through Georgian houses, parks, schools and hospitals, I would scatter menus from those restaurants.
As the wilting populace gathered their charred belongings they would peruse the menus, grabbing them as they fluttered through the chilly autumn air and quickly appreciate that my behaviour was totally acceptable.
Indeed they would make haste to those gaffs too.
Take Rabbit, run by the Gladwin brothers. Three bros who have a farm in West Sussex called Nutbourne. One farms, one cooks, one serves. It's a perfect brotherly threesome.
Much of the produce is bunged on the menu and gritty British ingredients, from rabbit to gurnard, wood sorrel to rosehip, are turned into rather more elegant and tender offerings.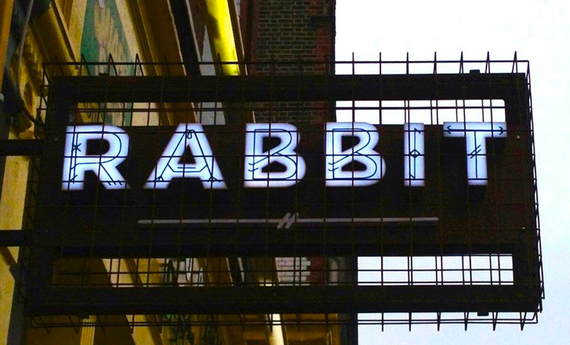 There are little mouthfuls you can start with. Tiny flavour bombs. Gorgeous tastes that make the cappuccinos of frothy bollocks served up in places that bear stars seem like empty pockets of air. They do pate of woodcock, for example, or a mini stack of beetroot, goats cheese and pear jam. You eat it and think wow, this is what England actually tastes like, pure, a little wild, fresh, original.
And yes they do amazing cuts of lamb, very tender, so much flavour assisted by onion squash, for example. But the remarkable things they do are the vegetable dishes.
Any vegetarian who feels they are short-changed by people who bang on about the beauty of British meat will dance down the street when they see what the Gladwin boys do to leeks. Grilled but holding their structure, they come on a little plate as proud and glistening little tubes helped along by yoghurt, cobnuts, honey and other stuff; dandelion and that wood sorrel. There is similar respect shown to turnips (combined with cranberries and tahini) and sprouts. Fresh, wonderful, autumnal, like a stroll through an orchard, combined as they are with apples (and nuts and cheese).
They offer wonderful wine too. We were treated to an amazing South African pinotage (2013 Lam Lammershoek) that was both fresh and mature, light and deep. Try it, you'll see. Not to mention the boys' own fizzy booze from the Nutbourne Vineyard.
The staff are cheerful, upbeat, helpful and enthused. They are in the Russell Norman tradition of waiting staff, which is a very good, well-trained and genuine thing.
At the other end of town - at the top of Portobello Road, in the shadow of the Trellick Tower, two doors down from the best bike shop on the planet (Halfpipe) is John Doe. The chef here is Mark Blatchford who worked under the warmly brilliant and kind nurturing man that is Henry Harris, of the epic French restaurant Racine in Knightsbridge.
There is a Siren-like quality to this place that draws you in. And be drawn in you must, drag yourself in. The man cooks over British charcoal, there is no gas here. But there is Bertha. She's big, blowsy and shit-hot. She's heated by those same red-hot coals and out of her belly come things of real beauty.
We'll take the octopus, for example. You take a seat at the bar, so you can watch the action. The place has a nice minimal, clean design to it; mirror windows deck the hall, that's about it on the white walls.
This is the sort of placed they have in east London, now we have one of our own in the west.
So you sit there and Mark, a man with a devilish grin and slightly mad eyes, rakes the coals the fire singeing his bare arms and then brings out the charred tentacles of an octopus.
He slices these and mixes then with chickpeas, and some squirts of aioli. The octopus is the most tender I have eaten anywhere. Was it chance? No. I went the next night and ordered it again.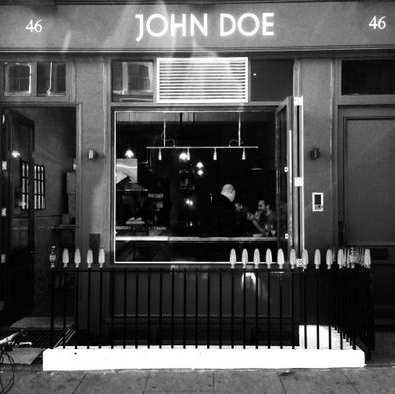 Out of Bertha also came duck hearts on toast. That's right. Duck hearts. On toast. They pop in the mouth, they are gamey, but not in a bloody let's kill Vikings way. You eat nine of them, nine little hearts and think that was nine ducks who ducks who gave up their hearts for your pleasure.
Then out comes a haunch of venison and a long strip of bone with marrow just waiting for you to scoop it out and which sweetens the venison in the best way imaginable.
There were beautiful lentils, leeks and vegetables roasted in Bertha's ash. And all the while Mark lopes about his kitchen playing with fire bringing a physical enthusiasm to his craft that physiologically adds to the flavour.
We glugged soft picpoul and admired the smelly cheese board. If you can't find me where you think I am I'll be at John Doe, eating the hell out of the menu. But maybe I need to temper my visits. I've ruined songs by over-listening, so I'll try to ration my trips. Then there'll be a space for you.