I suppose the idea of calling a restaurant Percy & Founders is that it sounds upmarket, established, classic. A bit like Farrow & Ball, Abercrombie & Fitch, Crabtree & Evelyn. You conjure up a place of tradition, been round for ages, created back in the Victorian era by two geniuses. Of course the reality is pitifully different, conjured up marketing people, some of whom don't shave and wear tight checked shirts with hair, long enough to sweep back, but super trim round the edges.
Yet this bullshit must work, it must reassure us because we swallow the message and then cover our walls with the paint, our backs with the clothes and our bodies with the soap.
So now there are restaurants which do the same thing. And, of course, most of them are brand new, and many are in fact cafes like Baker & Spice, Ginger & White, Tapped & Packed.
There's a reassuring feeling to these names. The places must be right, they're not just the idea of one lunatic, there were two brilliant minds.
So along comes Percy & Founders. The Percy refers to one Hugh Percy, the name of several dukes of Northumberland (antique, posh, English) and the people who founded the Middlesex Hospital on this site in 1755 (worthy, curing). So together this place, through its name alone, promises reassuring tradition, good works with a dash of toff thrown in. The latter might surprise some people - especially those who toil in politics - who disparage the idea of toffs, a term used as abuse. Yet it's actually a part of brand Britain; goes down frightfully well with tourists you see.
So off I went to find this place. And of course I couldn't find it, because like most things that affect a double-barrelled name, they are recherché, nouveau, and brand-spankingly so. This place, indeed is so new that Pearson Square, its address, isn't even on the map.
So don't rely on your sat nav, you'll be cross and in need of a worthy cure, before you set foot in the place. If you still want to go there after this review - and for a few reasons you might - it's at the bottom of Berners Street, or the top, depending on your view - but not the Oxford Street end, right?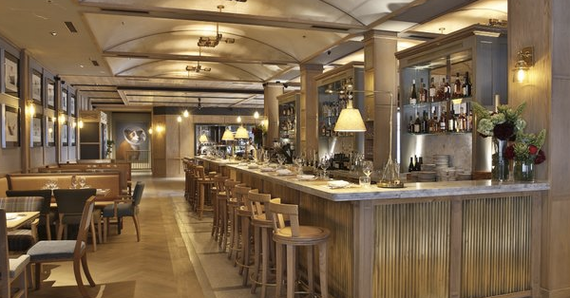 Now: here are some reasons I like it. The veg, the picture of the dog, the service, the wine, the tagliatelle and the truffle chips (with lashings of garlic, an easy crowd-pleaser).
The reasons I don't like it can be summed up in the words: 'lobster and prawn scotch egg'. It's the sort of dish dreamed up by someone who is more clever than instinctive. It's too deliberate, it's supposed to feel on-trend but is more an affront to fashion. Don't reinvent the scotch egg, just make a really good one. If you want to mix lobster and prawn with ingredients like egg and breadcrumbs (or not, I don't know the recipe) then call it a fish cake.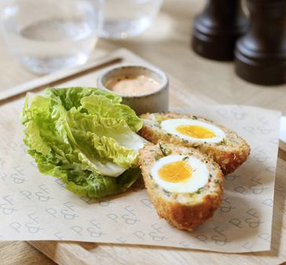 Seeing this dish, indeed eating it, was like chewing on the walls, the floor, the beams, the very fabric of this place. It's over-conceived, it almost feels like a panel of people have gathered to work out exactly what can be constructed to extract the maximum number of visits and money from its customers.
Now of course every business has to think like that, every restaurant must. But there needs to be some magic besides, a small element of chance, the prospect of a creative speck of chaos. You can't plot the definition of atmosphere on a board, but it feels like the people who built this place tried to do just that.
But somehow, through the net, as they plotted to open what they call 'a social destination' (do any of your favourite places really get called that?) came the veg and a woman called Eve.
My plate of veg is how I wish every plate of veg would be. There was broccoli and asparagus. It had been char-grilled, then plunged into iced water, then quickly brought up to temperature for our order. It was perfectly al dente, a sweetness came through with the charring. It was simply perfect.
I also loved my plate of tagliatelle, which was twisted through with nettles and some cheese called Haytor, which apparently comes from Devon. The pasta was topped with a sprinkle of breadcrumbs. I loved it. As I did the minerally and perfectly aromatic Gruner Veltliner from Burgenland, Austria called Timotheus. The label has an illustration of a young girl who looks at you with a very slight sneer, her top lip almost curling. 'Love me, hate me, I don't care' seems the message.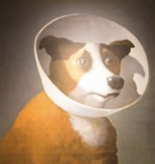 Then there was the brilliant Eve, who brought spirit and soul to this fabrication. So take those elements, plus the cool picture of the terrier with its head in a lampshade and put them in a proper place and the people will flock, leave, and flock back. Otherwise the owners need to just find a way of scruffing Percy & Founders up a bit, a veritable ruffle of a too-perfect-for-its-own-good dandy toff haircut...