There was a restaurant on All Saints Road for many years called Uli. It was run by the immaculate Michael Lin and served a combination of Oriental food; Chinese, Malaysian, Singapore. What brought uniformity to the dishes was of course rice and spice. But Michael was also insistent that customers didn't leave his restaurant sober. Or maybe it was just me and whoever I was with. As we prepared for what we thought was an imminent departure, glasses of brandy, whisky, whatever, would materialise. We would then head into the night filled with thoughts at what a generous restaurateur Michael was and be sure to return soon.
It may have been a clever marketing ploy, but it was also genuine. Michael and his wife Frances were great hosts. And I'll never forget the turnip dish he served. Whatever the chef did with those turnips rendered them soft, dark, cubed, moreish little nuggets with a dash of spice. They were inspired.
Uli was a wonderful neighbourhood restaurant. But nothing lasts forever and he finally sold the restaurant some 12 months ago. Could anything come close to reflecting the warm atmosphere of that small room, the welcome, the consistently good food?
Well the answer is yes. Some restaurants fade, die and are boarded up. Others are sold and become dull chains. The site where Uli was has evolved into something more extraordinary. Uli was a famous neighbourhood restaurant. Wormwood will become simply famous.
The place has been stripped down, re-built, re-sized (the little patio garden at the back is now a bright room with a large skylight). The bar/counter has swapped sides, down the stairs there is a little wine room next to the kitchen. And the walls are simply decorated with shelves of food books.
After a lunch cancellation I decided to get a table last-minute and take the photographer Jean Cazals. This turned out to be a piece of sweet serendipity. For the chef of Wormwood is a man called Rabah Ourrad. He is Algerian and could be a brother of Mourad Mazouz, the inspired restaurateur behind Momo and Sketch.
It turns out they know each other, for Rabah worked in his kitchens at Sketch under Pierre Gagniere.
Since Jean Cazals is food photographer and has produced books with Mourad he was happy to find himself sitting at a table beside a shelf with at least two of his books adorning it.
And as most photographers are sensitive souls who need reassurance in an age when anyone with a phone - and that's everyone - reckons they're a photographer, this made him happy.
Doubtless Rabah and Jean will collaborate on some hugely successful book in due course and sensitive me will simply hope for a canapé and a glass of luke warm white at the book launch.
But back to Rabah. He used to be a rapper, then he decided to start cooking. So he travelled to Barcelona to seek work at El Bulli. 'Do you cook Catalan food,' they asked him. 'No,' he said. So the door was shut.
Unfazed. he got a job in a local restaurant, learning Spanish as the weeks passed, until he had both some food and language know-how.
So he went a-knocking again and this time they let him in, gave him a brief trial then let him stay a while.
A year or so later and he pitched up at Sketch. Now he has his own place. And the results are wonderful. He has merged technical know-how and a natural inquisitiveness with the North African food of his roots and created something new.
Now this is a wild claim of course. It's like making out you have a new joke. You listen, laugh then realise that really it's just an old joke with new clothes.
But Rabah's food really does feel new. Ok so there are some deconstructions and some dishes that feel a little too small, but this spirit of the place and its dishes vibrates with the energy of renewal. And it is exciting.
As the gastro-philosopher Brillat-Savarin once said: 'The discovery of a new dish confers more happiness on humanity than the discovery of a new star.' In which case if you want happiness get to Wormwood. And now in its nascent days that isn't difficult. Dinners are busy, lunches are not. It was ever thus in the early days of great restaurants. OK so it was also ever-thus in the days of shit restaurants, but you'll see that I making a punt here.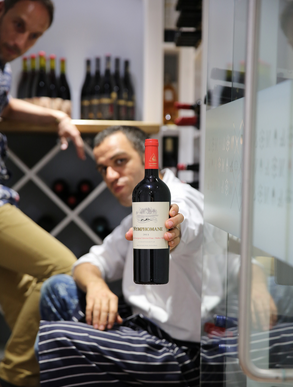 The menu is presented as a collection of dishes priced between £9 and £16. You choose and Rabah decides on the order he'll send them out. It was lunch and he played it well sending out dishes that went from subtle starters to powerful desserts. osually chefs like to knock your head off at main course and ease you back to earth with pudding. Not our Rabah. He plays a different tune.
While the dishes names are a touch pretentious, (L'Aubergine, ForTuna!, Lemon and Lemon II) and I've seen much worse, there was no pretence with what came. An aubergine starter was stuffed with tender flavourings, different textures of aubergine, different mixtures, the pretty little concoction being the loveliest auberginey thing I've had for ages - and I love aubergine. He packs his plates with ingredients - these are not recipes you would attempt at home - but he manages perfect balance on the plate. A lamb and humus dish was sublime. Pulled, slow cooked shoulder mingling with heavenly soft and yellowish humus with some crunch from deep fried chick peas. I could have had six plates. A brandade came. Not a large heavy stew, but with salted cod, the fluffiest potato and a shot across the bows of lemon from some kind of confit he's constructed.
Then came his puds. We tried three. There was a lemon dish with more lemony power than you can imagine yet not too much to make you gag and shudder; I've never had such an exquisite lemon sorbet. It makes you want to look at lemons with a new respect. You wonder how it's possible to extract such flavour from them. Of course it's what Rabah adds to them and the studied amount of sugar he adds.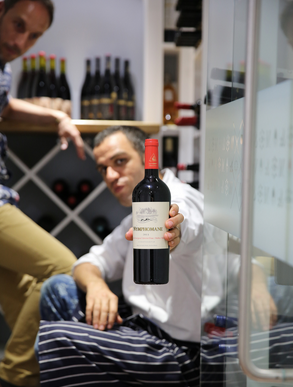 There was a chocolate dish, that was fine - but not dazzling in this company - and 'Jivara and Tonka', an inspirational take on a classic North African dessert. His mix of orange and beans needs to be seen and tasted to be believed.
Wormwood is a place that merges great technique with real flavour. Many chefs dream of doing this - some delusional ones think they do - Rabah does it. And he raps. What a dude.