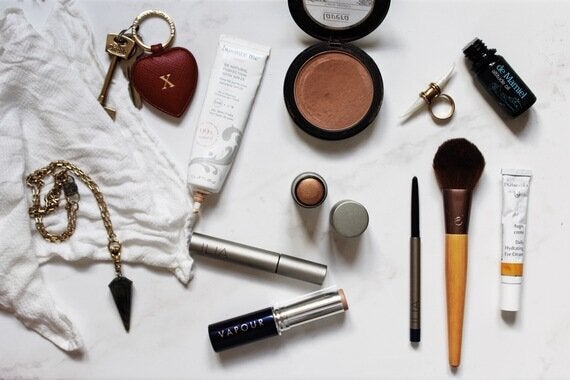 Many, many moons ago when I worked as a model in my late teens, I used to adore the hair and makeup sessions, watching the slow art of transformation with glee, awe and wonder as my blank and sleepy-eyed canvas slowly morphed into whatever magical creation someone wanted it to be. I always longed to become an androgynous alien-like creature of edgy otherworld mystery, and to my frustration was usually made instead to look like a rosy-cheeked English rose nestling delicately in antique armchairs or bouncy Yorkshire heather. (Both were sublime).
When I won a place at Oxford, I decided to quit and became a largely bare-faced, old-T-shirt-and-Converse kind of student, and found with surprise that I couldn't have been happier. Ever since I have never been a huge makeup wearer and on many days I leave the house with nothing more than tinted moisturiser and mascara - and even that feels like a commitment. Eye liner is really pushing the boat out and sometimes feels like a departure from the essence of me. Sometimes - but not always...
I will forever enjoy the art of adornment, but my choices surrounding its many modern forms are shifting, dictated by changing priorities and a more holistic way of seeing the world and the things we buy as we live our lives upon it. Natural makeup has historically been something of a slow burner in the ever-growing wellness scene - until recently, and I am so pleased to be able to share the visionary and inspiring brands which keep me feeling beautiful when I need a little help. It always strikes me as funny that as a conscious collective we tend to care so much about where our superfoods, water bottles and vegetables come from, and yet we somehow disconnect from the impact (both biological and environmental) of the products we use day in, day out, on our most delicate features where the blood supply is the busiest and the need for gentle nourishment often the greatest. Now is a time to un-think everything you think you know about trusted cosmetics brands: swot up, dig deep and ask yourself if you really want to sacrifice the health of yourself and the planet to buy into a billboard-sized illusion of what being beautiful really is.
To me, being beautiful is letting your inner light shine through undaunted, treading lightly on mother earth, trying to live as harmoniously as possible with her and the life she sustains, learning to love ourselves and each other unconditionally and without judgment, and giving our magical bodies the best fuel and ingredients we can. Saying no to cheap chemicals and harmful toxins is a huge step on this path, and as the collective consciousness shifts there are some amazing natural beauty devotees supporting us goddesses on our mission to stay shiny and bright-eyed, wherever the meeting and whatever the weather.
Without further ado, here is what is in my handbag - jewels and trinkets included - tried, tested, loved and cherished. If you buy five new beauty products this year, make it these: ditch the chemical goop and step into a new kind of beautiful.
Illuminator stick (in Sway): Ilia
Foundation stick (in 123): Vapour